Discussion Starter
·
#1
·
Hi everyone,
after yesterdays crap result, returned to the tenth green at sandwich today, got off to a bad start as some bloke had the right hump and was actually shouting at another bloke cos he set up a bit close, he was 30yds away! including threats of cutting line etc, etc, a top matchman he was, apparently! i know his name but he'll remain anonymous for this thread! i think he said sorry in the end! created a bad atmosphere though which you dont need when your tryin to have a days fishing!
anyway, fished 2hrs down, 3 up, now armed with peeler n sandeel. again using 3/0 and 2/0 pulley pennels. much better days fishing, had good sized doggies from the off, soon got bored of that and got out my 1-3oz flattie rod n a fixed spool loaded with 16lb braid. had bites straight away on it, hauling doggies in on it was great sport! :fishing1:
by now the heavens had opened up, just after dead low water had a strange bite, reeled in and there was a bit of a fight, I had a smoothhound! albeit an 18 inch one and sharing a pennel with a doggie! then had a few whiting and pouting as well plus more doggies. good day in the end, shame no bass or skate but hopefully the smoothies are on their way! didnt see any other skate either.
apologies for the crap pics but i didnt want me camera soaked!
base camp as it started to p1ss down!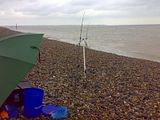 a pouting makes an appearance!