Discussion Starter
·
#1
·
First off i wish to say thanks to Ticketty-Boo for his good advice on the venue - your advice was spot on (but my lack of knowledge of the venue let me down slightly)
I had originally planned a holiday in Fort William, but after making some enquiries about possible launching places, one place was suggested by numerous people as a good location.
Resipole on Loch Sunart. Get yourself a cuppa and be seated comfortably, because here the story begins. . . .
After packing the car and boat on the friday afternoon and grabbing some sleep prior to the long journey, i got a call from Thomas to say he had finished work about 10:30pm. Picking him up i set off on my 375 mile journey to the scottish highlands.
8AM in the morning i was on the site and setup...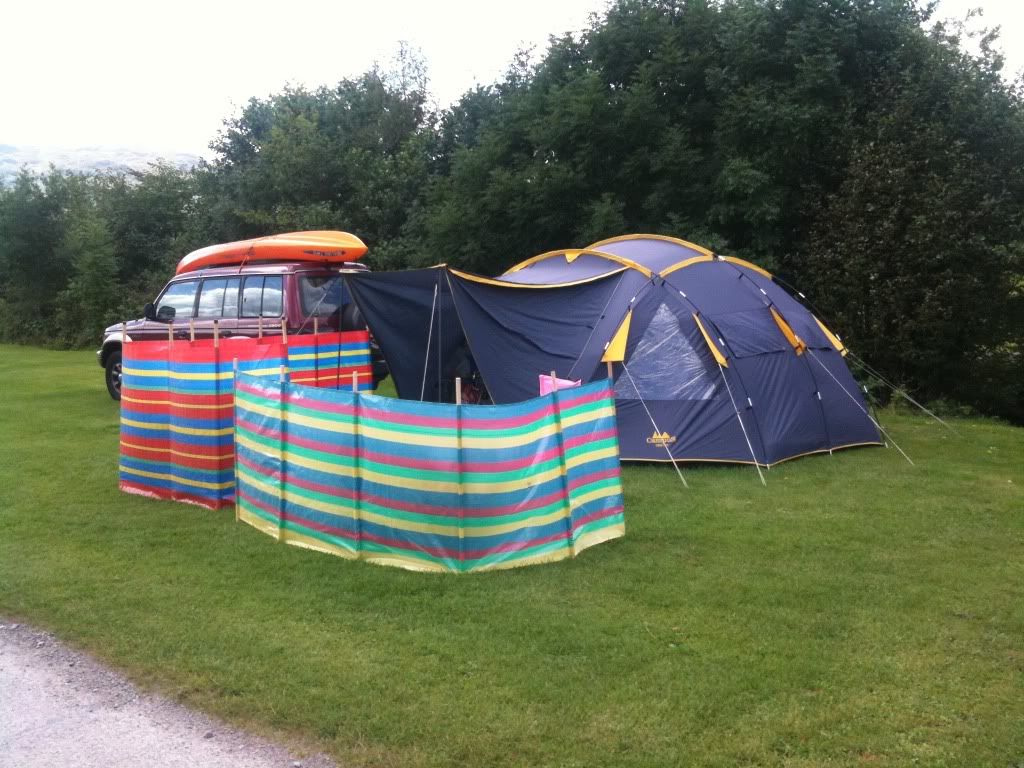 A short nap later i was off exploring my surroundings.
As you can see it's a stunning place !
It wasnt long till i was out fishing, choosing a rocky head a short walk from the site, and setup some feathers, with thomas having a go with small slug-go's
the feathers produced me fish almost straight away, with small pollock and coalies showing a love for them...
and then the mackeral made a bit of an appearance...
the sunset that night was fantastic as the wind dropped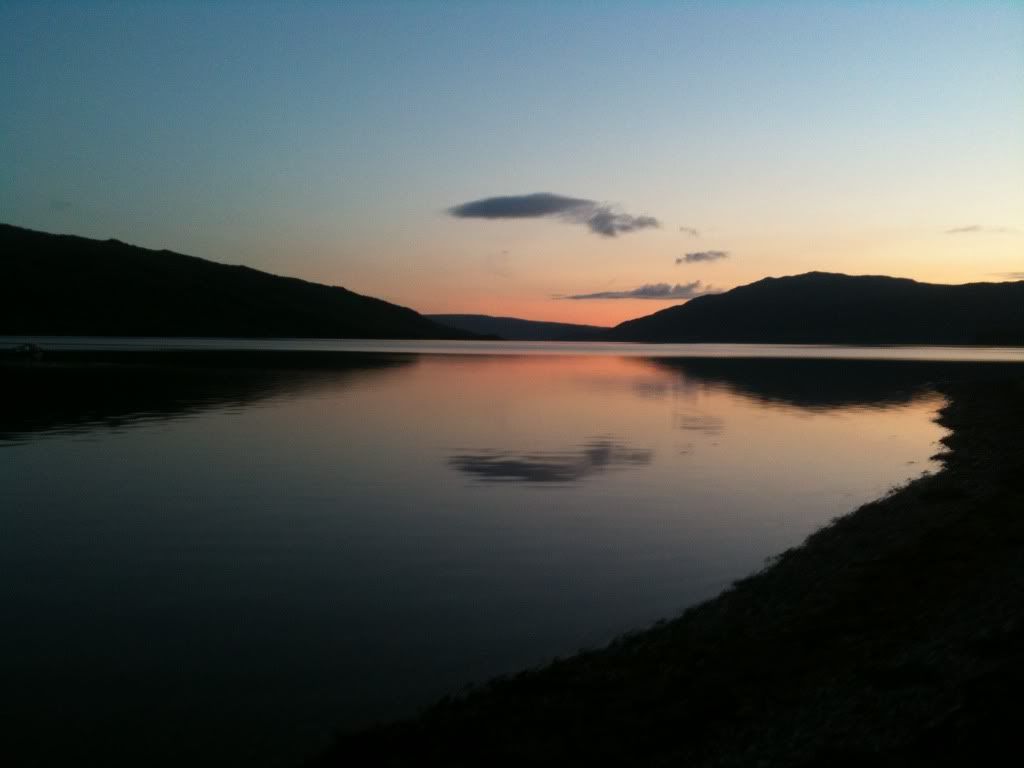 The following day we all went out on the boat on a fantastic morning.
We watched the porpoise in the distance but they are pretty boat-shy so didn't get any pictures sadly, but each time i take amanda out i seem to see members of the dolphin family !
Anyhow it was time to do a it of fishing after having a bit of a race up and down the Loch.
Lauren was the first one into mackeral, her first ever and the smile says it all..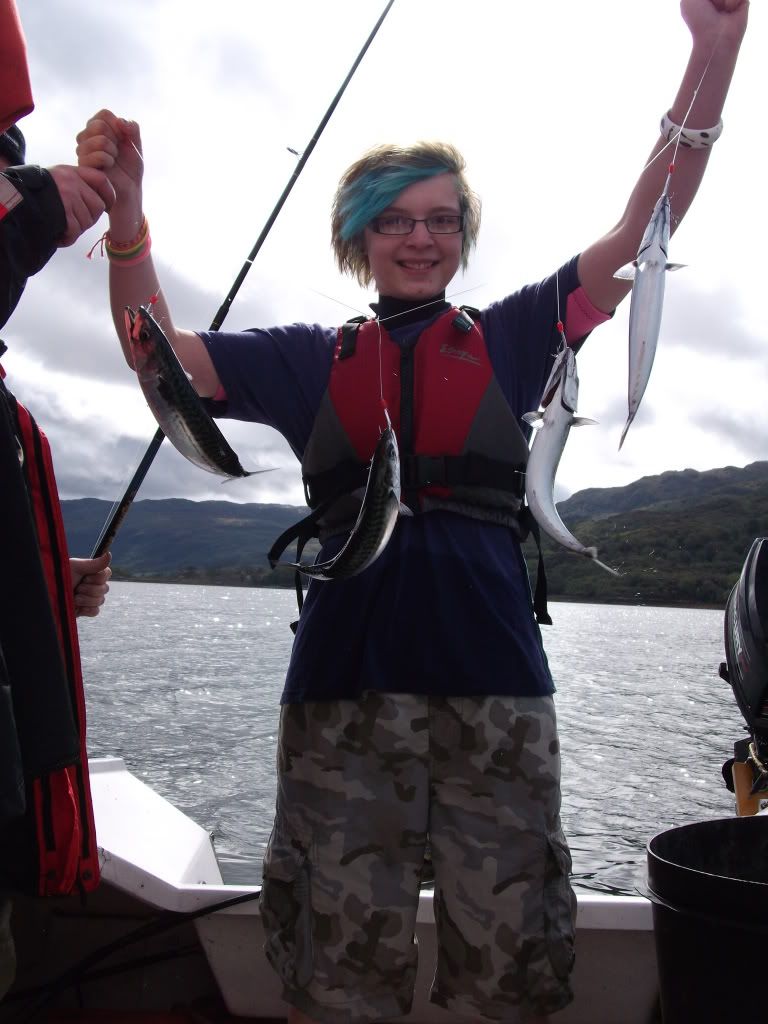 Thomas got his first fish of the trip too, (slug-go's didnt work the night before) but had to do it differently
We all sat round the BBQ that night and ate mackeral till we couldnt move - lovely stuff ! ! !
Myself and Thomas went out the following day to have a "proper" fish, so after getting a dozen mackeral we headed from the shallows (150 foot deep) water where we found most mackeral to be caught, to the deep water.
We located a spot 410 foot deep (dont know about you but thats scary deep to me)
Down went the whole squids and mackeral flappers, and we waited. it wasnt long till we were rewarded with bites and up came these babies. . .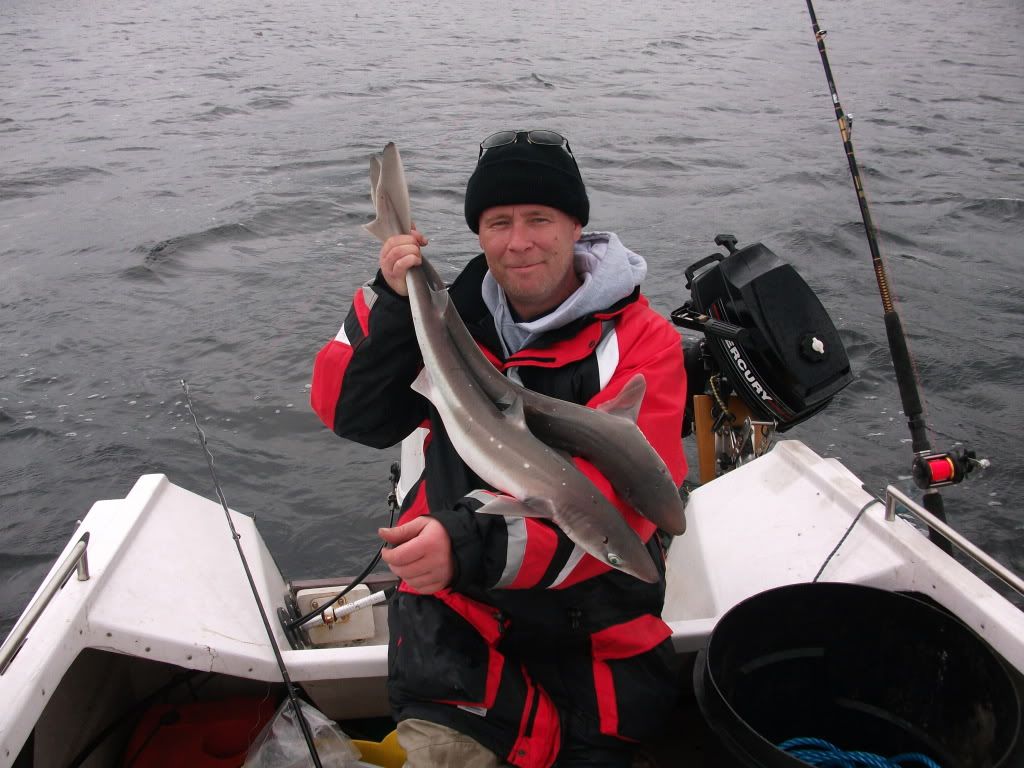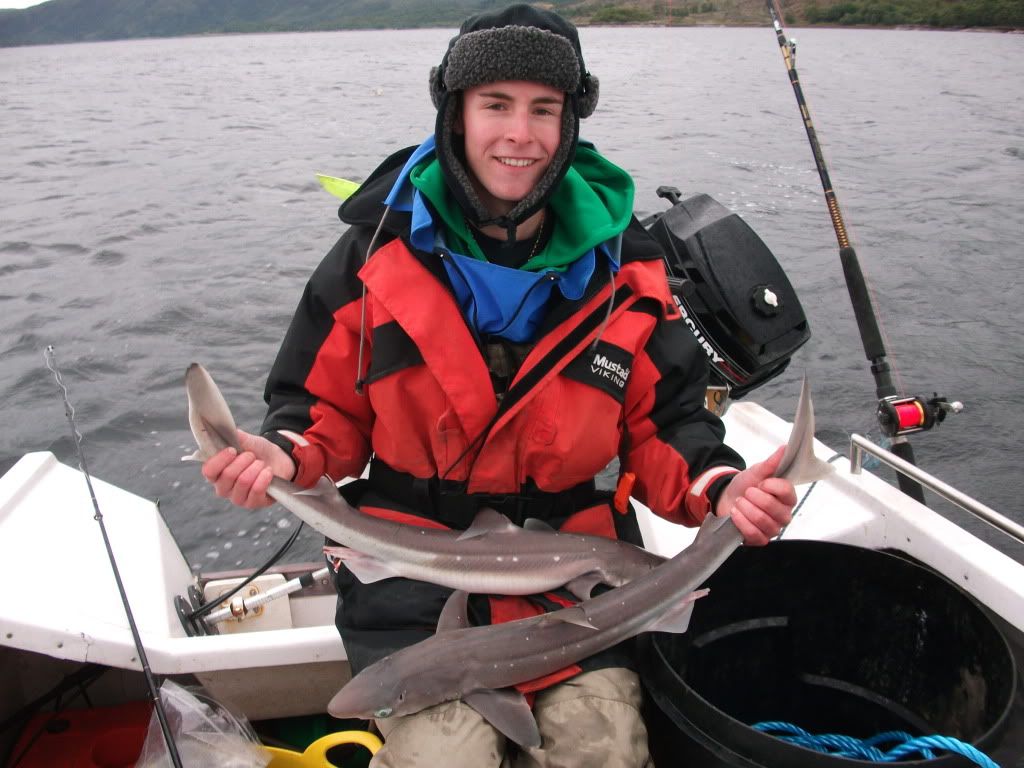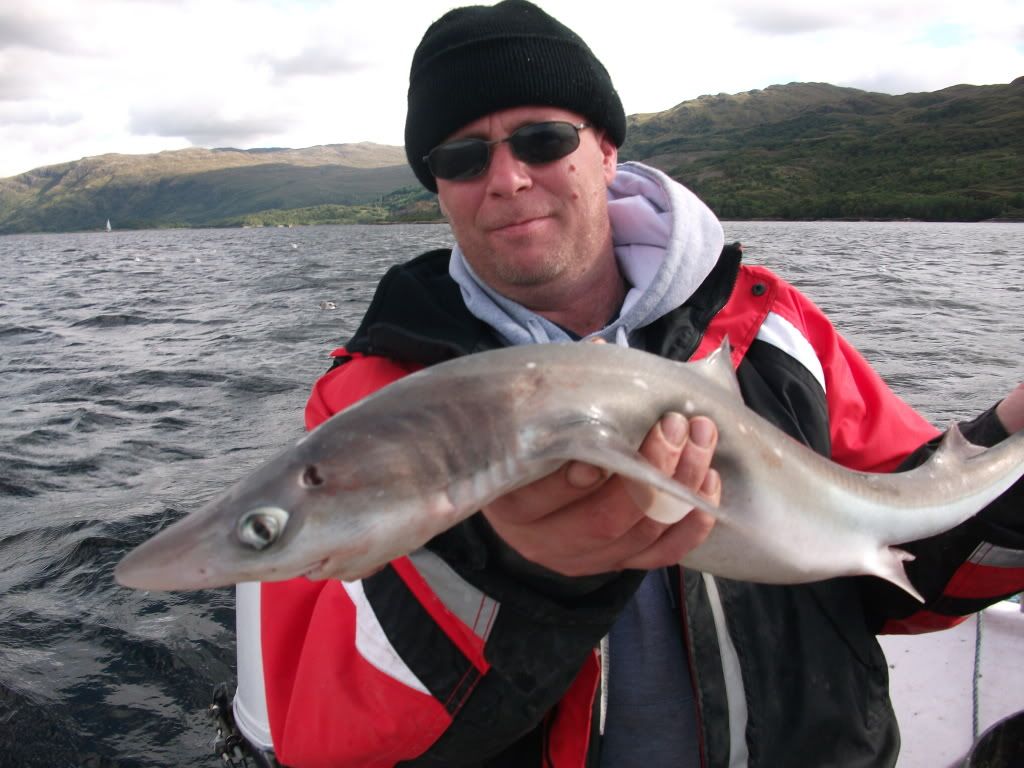 Not monsters i know, but we have never caught spurdogs before and they were our target species for the trip.
Result ! ! !
We had some other trips out around the Ardnamurchan peninsular, and had a bash by the Lighthouse,
resulting in some lovely coloured pollock, and some launce too - livebait !
We stopped at another mark later that evening and had another session, resulting in a mixed bag of codling, 3 bearded rockling, goldsinny wrasse, butterfish (more livebait), pollock, coalies and yet more mackeral (we ate well whilst away i can tell you)
The last night i was determined to get something decent on the livebaits, and the butterfish produced me a fish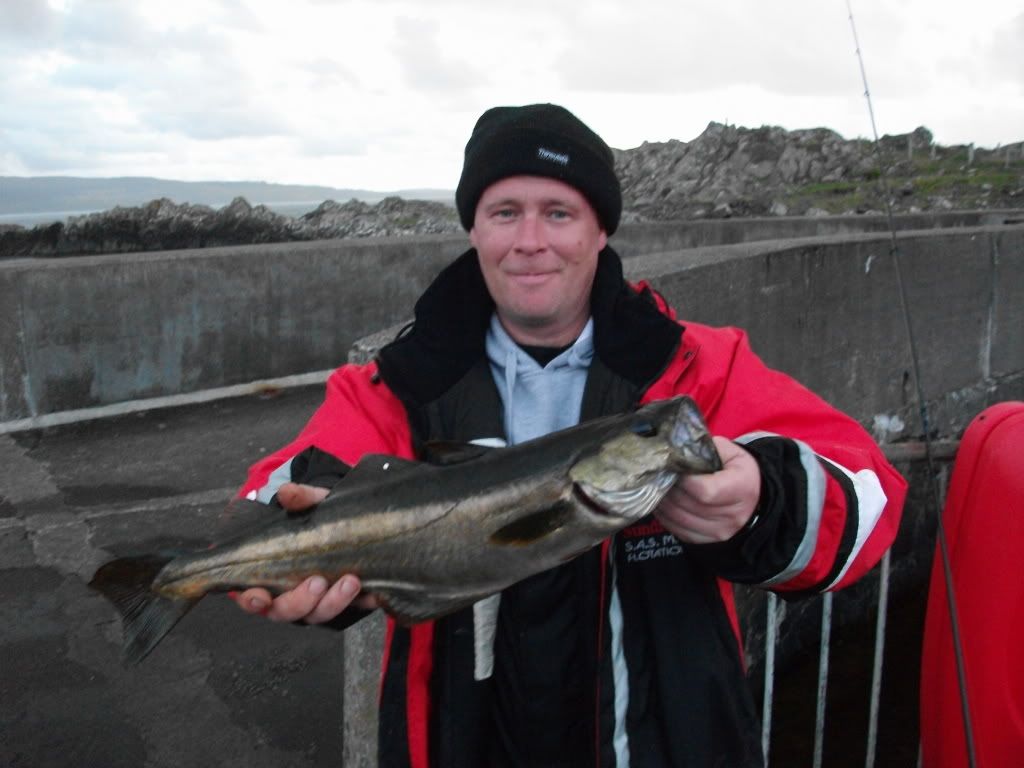 and one for Thomas too
then something a lot better....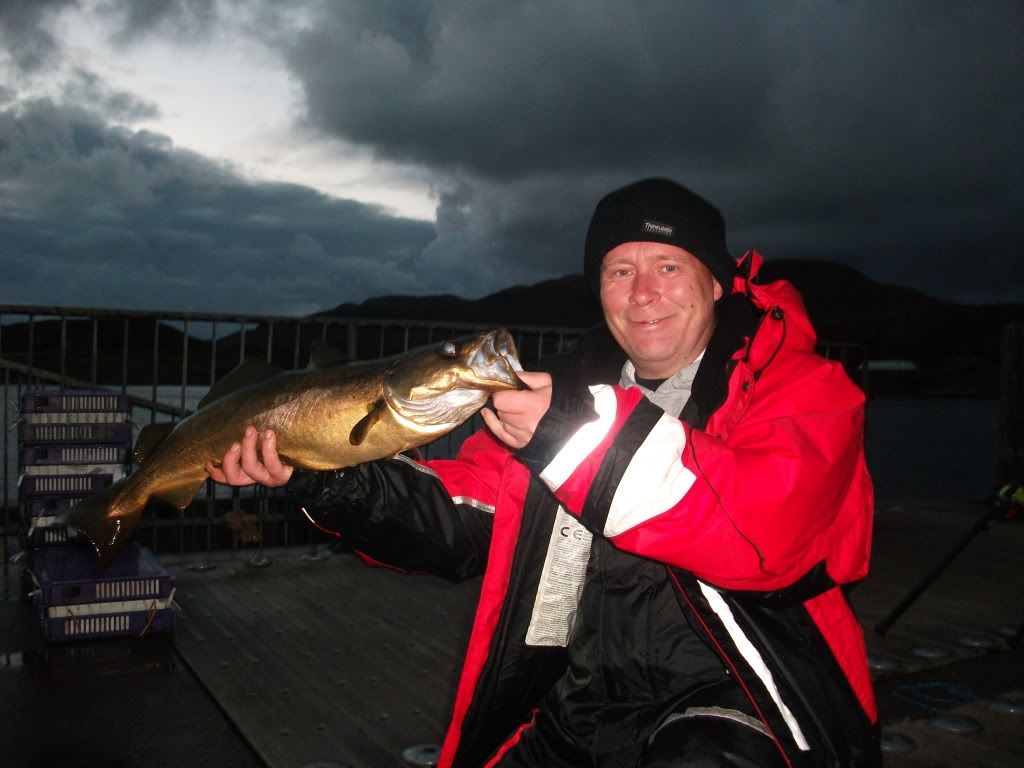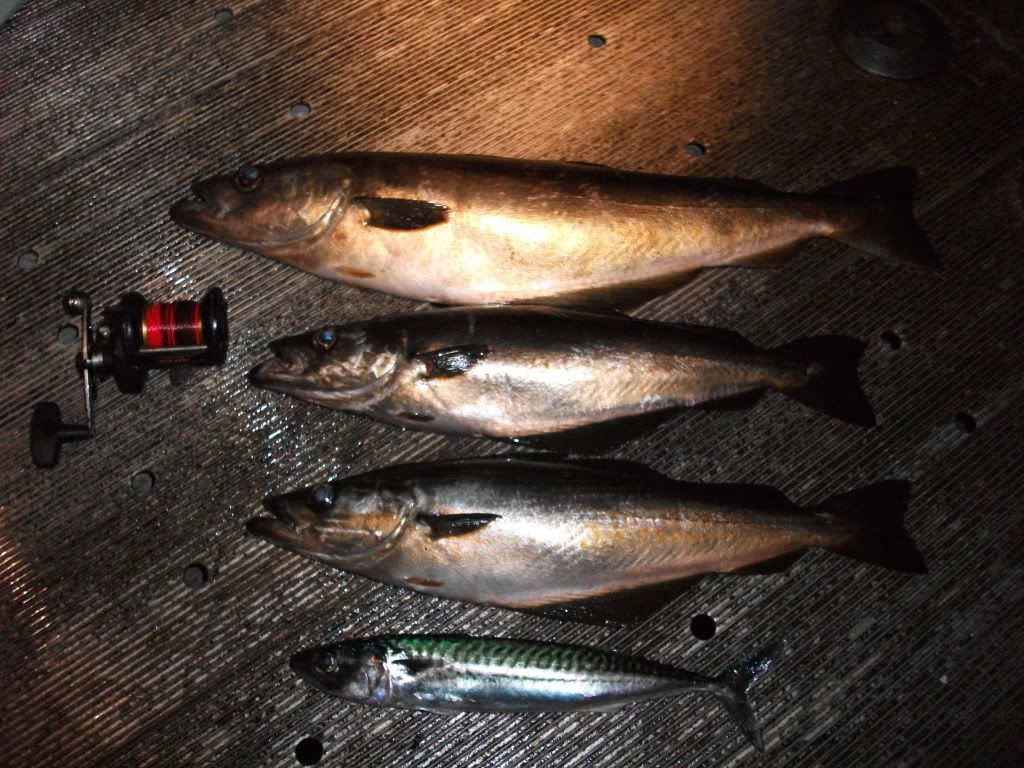 8lbs and i was over the moon. Lauren insisted on a picture too with it . .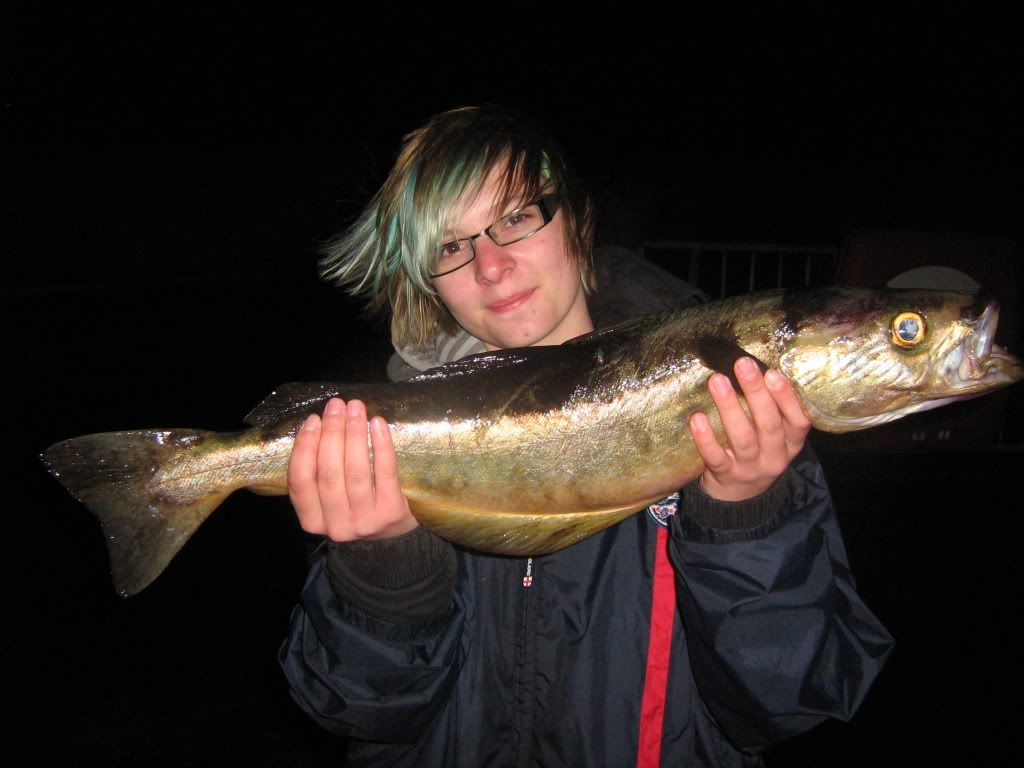 Sadly the Launce were now deadbaits so i opted to freeline one, and was instantly hit by a steam-train of a fish that i never saw after it ripped off about 25 yards of line in a second or two.
Had this happen to me a couple of times but with the trip home looming in the morning we had to call it a night, frustrated by the lost monsters and happy as a pig in muck with the ones landed !
Fascinating to see little green flashes in the water after the dark too - dunno what it was that was phosphourescing, but they were very bright for a second or so !
It was unanimous that the holiday was a success, with the only problem being the mighty midges. The remedy was to wear a fine mesh hood to keep them off our faces, long sleeves and trousers and they became just about bearable.
with a bit of luck, i hope to return in the october half term, and to try to land the leviathans that i lost ! !