Discussion Starter
·
#1
·
Hi Fishy dudes,
Long time no report, but that's work for you. Have been up in Rosyth for 5 weeks now with very little chance to get out. Have ventured along the coast from me on a couple of quick recce trips but nothing to serious.
Well 5 weeks and we had a good easterly during the week so I made my mind up not to fish local but to make the trip up to Arbroath. Rang and ordered 100 fresh lug, popped down to my local tackle shop and got my mussel, crab(30) and blacks.
Did the 66 mile trip up to Arbroath with the plan to fish a Rumness first then move to one of the other later that evening, its not safe fishing on your own at night on some of these marks, and not in these swells.
Well arrived at Rumness and took the walk to the cliff edge and looking at the sea from that high it didn't look to bad, so turning into a mountain goat and now thinking I'm carrying to much stuff, made the slow descent the beach below. When I got down there it was quite obvious that the swell was a lot bigger than expected and even the usual fish marks that should have now been clear to fish where getting swamped by a lot of water.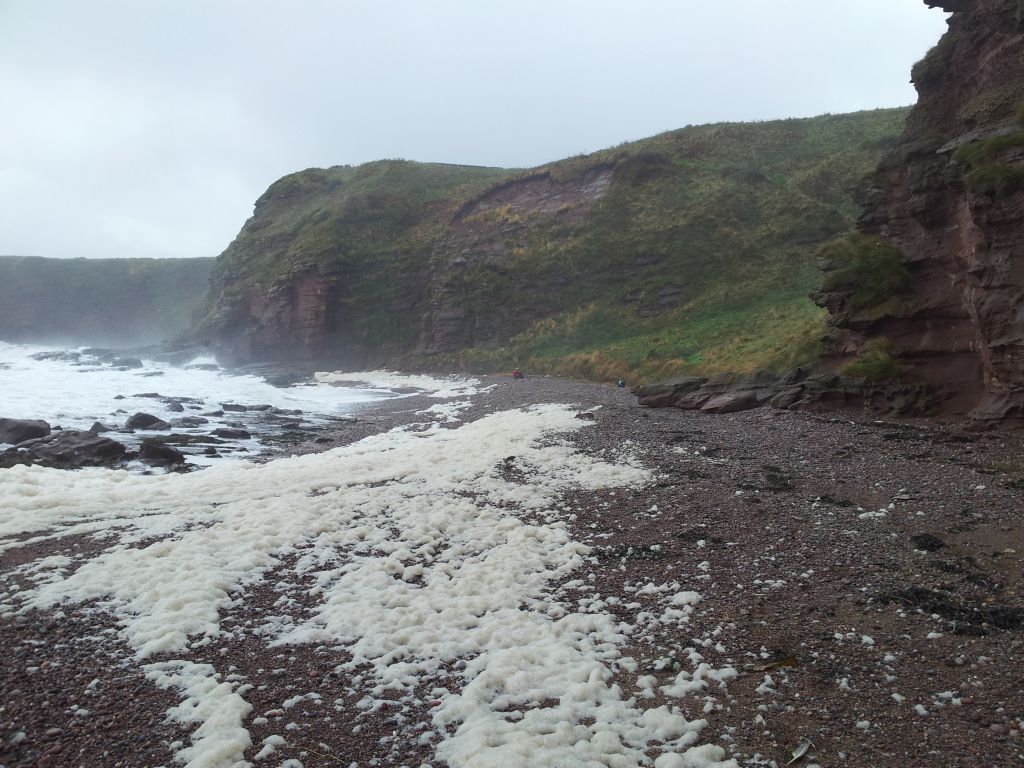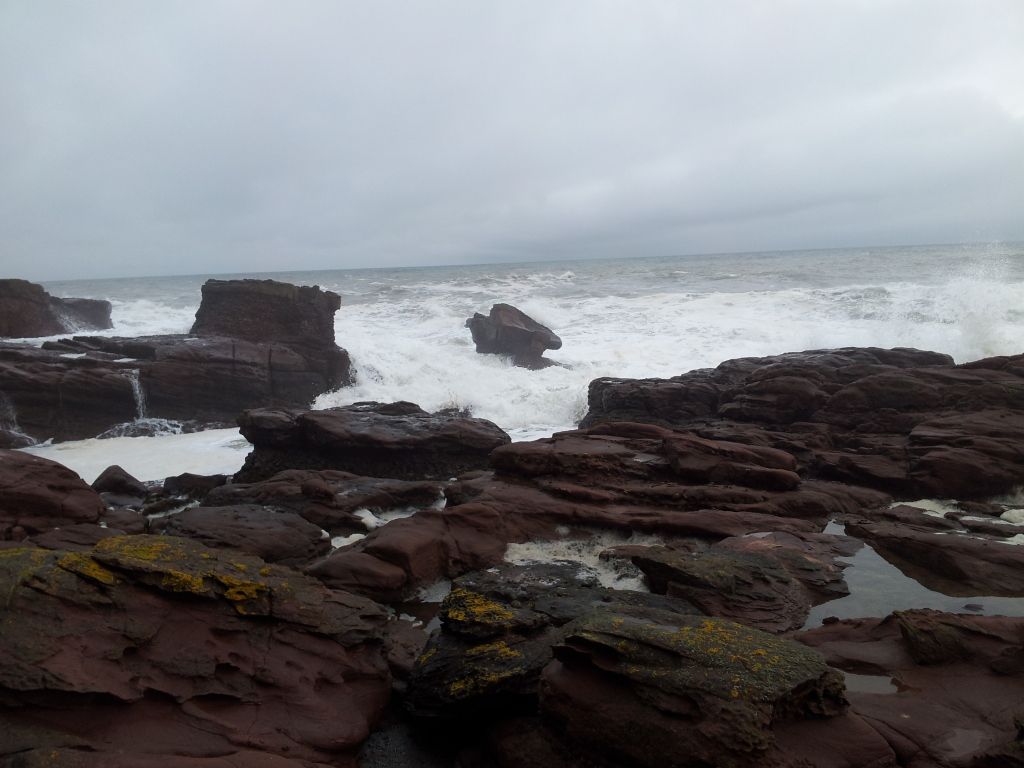 Still I'm here I thought give it a couple of hours and see it flattens out as the tide ebbs, it didn't and I made the decision to call it a day here and go to my mark two earlier than planned. Another member down there as well decided to give it up as a bad joke, he'd had enough, me not yet.
Got to the next mark just as it was getting dark, so a cocktail of two crabs, two mussels, 3 lug,4/0 pennel, 170gram lead. Holding the rod due to kelp in the water it had only hit bottoma couple of minutes and felt a good tug it all went slack so wound down and fish on, not big 2-2 ½ lb but the first of the year and very welcome.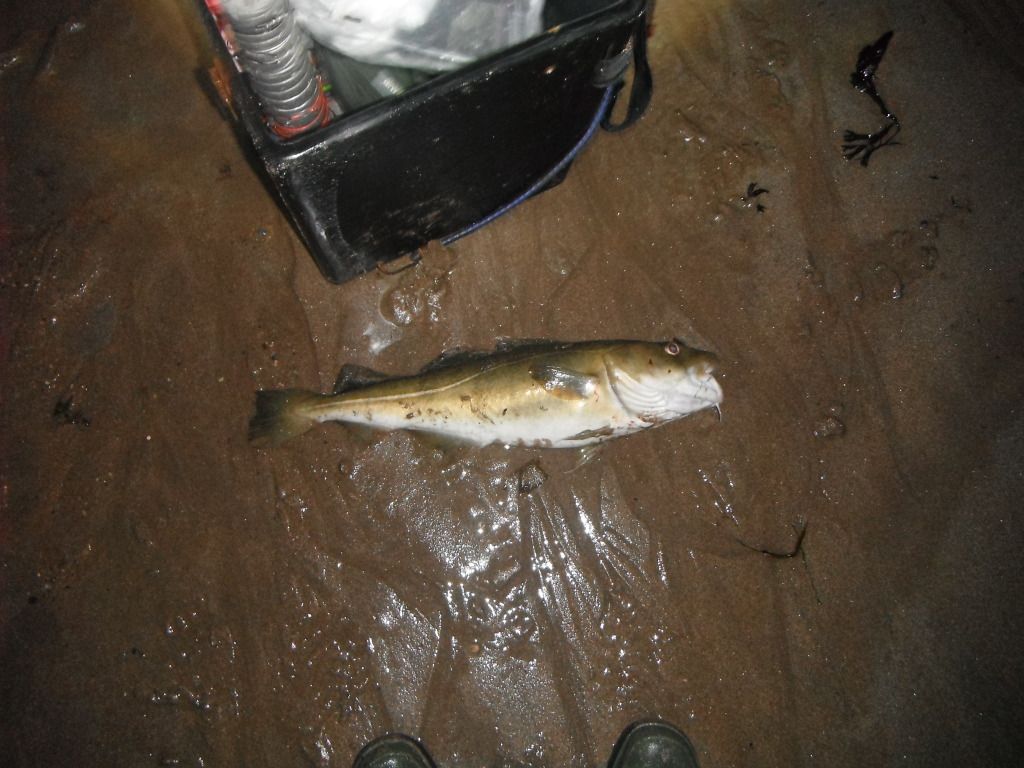 Well this carried on for a while missing fish loosing fish but two or three more the same size. Then better a good long slow pull, hit and the classic nod was felt, a better fish, after taking my time bringing through the loose kelp a big mouth appeared out of the dark. Not my biggest ever Cod but at 4lb 5oz was happy.
By this point I had been joined by another intrepid cod hunter (Geoff) , said he'd been out, when I told him I had had 5 this being the biggest and asked to join me.
I had a couple more before the tide and wind was causing lot of big kelp to be washed up and when I'd lost two sets of tackle to it I decided enough was enough, Geoff had not had a touch so with a two fish I'd given him he packed up and just before he left asked me if I wanted any bait, so he came over gave me a load of mussel, crab, razor. A good swap for the cod I'd given him, so we all were happy.
Time for a kip and Chez Nissan was the chosen B&B, bite to eat first at a local BK and then to the land of nod.
Woke a little later than I would have liked(the car is to comfy), and after a awakening cupper and a quick bite to eat it was back for the morning tide (low to high, high at 1pm). Well the beach was covered with kelp not just the fronds but the whole thing 2 foot deep(forgot the picture). This morning was not going to be easy, and due to getting up late only had about 2 ½ hrs fishing time before I would be weeded out. Ideal opportunity for the Fathom to do its stuff, same bits and baits changed rods over to the Synchro, launched out the first one. Sat down a waited for the response, it didn't take long, tap tap pull, hit. First coddy of the morning on the beach 2lb max.
Unhooked straight back in. Couple of missed bites and then a lost rig . Time for a sit down and relex (don't get angry). So got a new rig out put the 525 back on for a little extra distance. 3 crab 2 mussel bait, Away it went a little further left than I would have liked, just on the edge of the reef (by inches), Holding the rod again due to the build up of weed, drop back and before I could do anything the rod was pulled down, hit. Ohhhh better fish, so slowly bringing it through the kelp got to a point where I could wade out and grab the leader.
Pulled it up the beach and weighed it straight away 8lb 2oz,
Time to sit down again and have a cuppa, thought I would come back later a fish the ebb, it was time for a walk to clear my head and to have a look at some new marks.
When back to the harbor and a few guys had had some fish to 2 ½ lbs, I say fish cos COD was all that was being caught. Time was getting on again and it was time to go back (did think about a couple other places that doubles had come from last night), but no I thought it has done well so far, Got to the beach about 1hr before it was due to start getting dark, and set up by the car(only a short walk to the beach) when I got there one chap was packing away with nothing for his efforts but he was off to the harbor (I thought he'll be lucky this late).
Still in for a penny, same rigs same bait, Fathom and Synchro Combo. Lost rig first cast, lost rig second cast, decided to get out the 525 and put a little more distance on it to see if I could get over the snag, put it out felt it hit bottom and slowly tighten as the lead held. Then it broke loose, no!!! fish, another in the two pound range.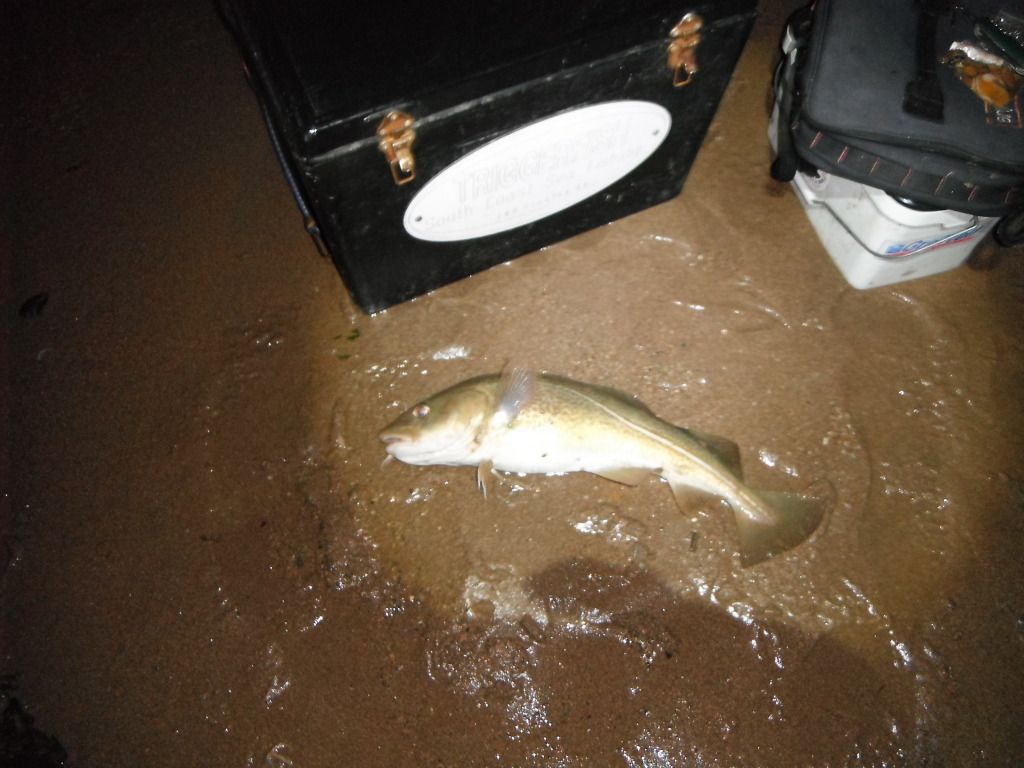 Quickly released back from whence it came. Same again then. Out the cast went, and almost as it hit bottom the tip banged down and I lifted into anther head shaker, this had some real weight and was low and slow with a good old head shake every now and again. (could this be my first double) well slowly pulled him into the shallows and I waded out to see him, not as big as I though (bugger), still grabbed the leader and walked to the sand, mmmm there was more weight there, as I looked behind me I could see another fish in the surf, another cod on the rig I lost only ten minutes before. Unhooked him in the water and pulled in the other, he was badly gut hooked, so a donk on the head for him(not what I wanted )still weighed him and he went just 4lb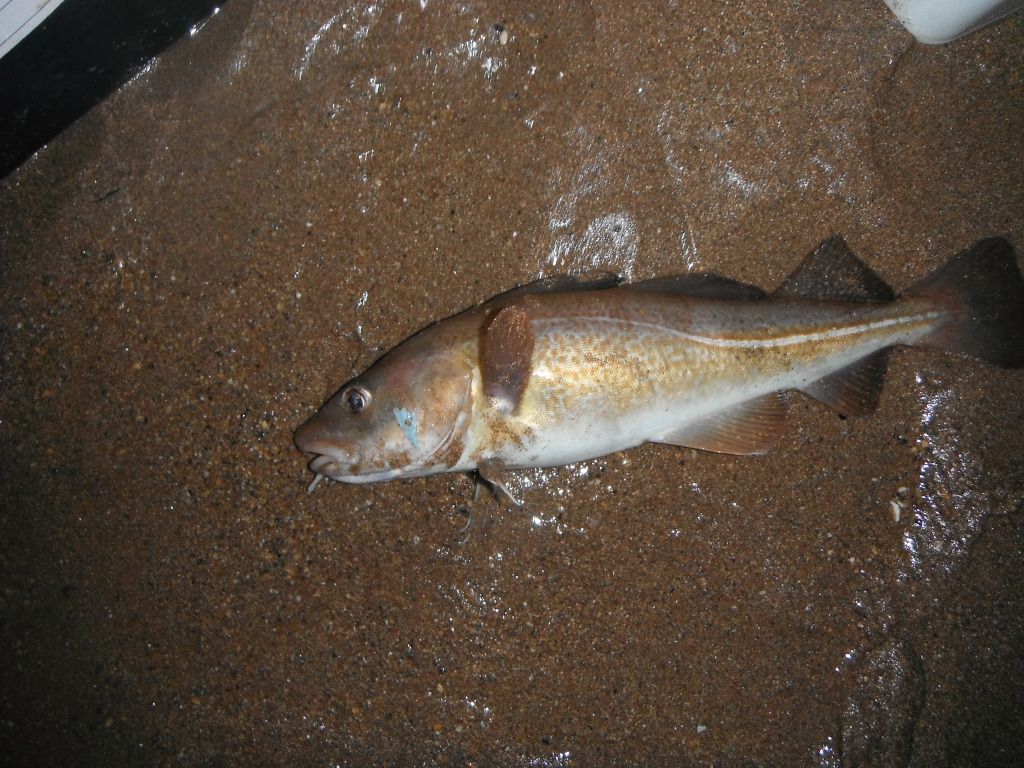 , the rain was now lashing in and thought I'd have a break and head down to the harbor to see if anything else had been caught. It was packed like Blackpool illuminations, tip lights, torches lamp, bells! Had a chat with most of the guys there and nothing had been taken but it was early for there and nothing would happen for a couple of hours yet. The rain was now really coming down so drove to another mark just round the corner called Ballies, an old guy I had seen earlier that day was setting up in the back of his car, we had a quick chat and I handed over the last of my mussel, crab and razor. He smiled, I drove off into the rain for Rosyth.
Total 20 cod from about 2lb to over 8lb , looking for my first double on my next trip
A good weekend, now for the next one, I here there is a blow coming next week!!
My heart goes out to the persons family that died on the cliffs this weekend, Safety is not a dirty word, if in doubt don't do it.
But sometimes you do have to wonder, i saw two guys fishing on the cliffs this weekend 5 ft above the swell in jeans, trainers and hoodies. If one of them had gone in they would never had got out.
Be safe people.
TF