Discussion Starter
·
#1
·
Having not fished for three weeks and with apathy setting in, I looked on here this morning and read King Muppet's report.
I looked online and there was an hour and a half before high tide. A quick look in the freezer revealed some frozen welsh blacks and pink squid. I grabbed what was there and threw my gear in the car and headed sharpish to Holland-on-sea.
When I arrived I looked over the cliff to see lots of people fishing. I didn't want to fish with the crowds so drove up to the haven car park. I looked at the machine and the robbing barstewards wanted five quid to park for four hours, so sod that. I drove back towards the pier and stopped near Kingscliffe. A quick look and there were only two people there.
I hurriedly got my gear on and stomped down the slope to one of my favourite spots. The sea was nice and lumpy and the colour of chocolate. :thumbs:
A local guy I know, Shaun, turned up and fished to my right with the guy who was already there. First casts went out right on the top of the tide and I wandered over to have a chat. I watched him split a squid open and throw the guts away. I grabbed them and elasticated them to my next lug bait.
Nothing on the first cast, but a nice slack liner on the lug/squid guts cocktail produced this nice 2lbs 5oz codling.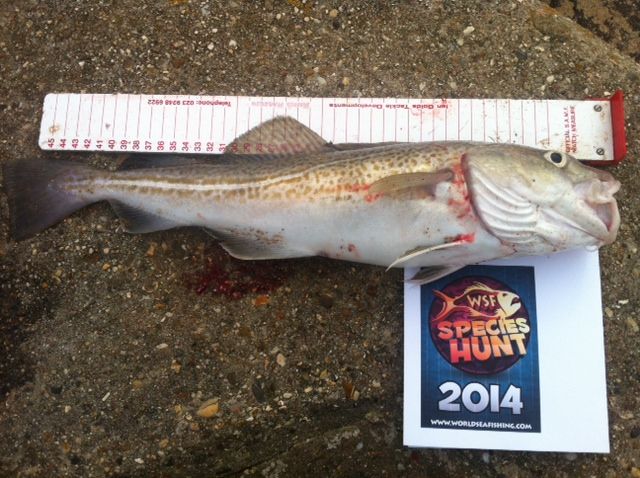 As you can see, I'm doing the species hunt
I chucked the next one out on just plain frozen lug and walked off to have a chat again. Mid conversation I turned around and noticed my rod had straightened, so I legged it over and reeled a vast amount of slack line in. A few sharp taps signalled that I hadn't missed it and I soon swung in a lovely conditioned 3lbs 7oz fish.
After that it was just codlets, but it was great to be out again and the apathy is well and truly blown away. :thumbs: