Discussion Starter
·
#1
·
STAY OFF THE ROCKS, MAN!
There's all sorts of weird sheet going on down there.
Earlier this week I wanted to try a new mark and, having studied the tides, winds etc, I settled on a nice rocky spot beside one of the seven gates of Hell.
Don't believe me?
Well, all I caught was one dogfish.
What, still not convinced??
Explain this, then, this ...
abomination
that came running towards me across the floor of the rockpool I was sat beside. I did video it, but spookily, nothing showed up on playback. I put this down to malign, diabolical influences, and definitely not the lens cover sticking shut.
Jameson's? Mushrooms? Peyote?
Well the camera never lies, my friends, and while Paint Shop might, all I've done to this one is sharpen it up cos it was taken through 4" of water ...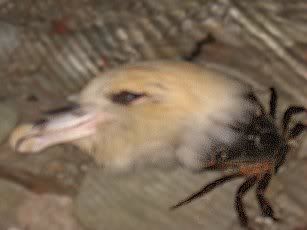 ​