Discussion Starter
·
#1
·
Well got up early for a bank holiday weekend and was in Rays by 8.30am.
picked up some rag, and reloaded the fish baits that I'd used the night before. Then off to Anglesey for the day. First stop
Ty Croes - 09:45-11:00
Got to TC and found that there's a sign on the old slip road everyone used to use warning of clamping and towing of cars, moved to the lay by next to the houses. Unloaded my kit, and marched to the old gate only to be told that a new angler specific footpath has been put in by the houses.
Brucey Bonus contractor! I was worried that access in the future would be a hike from Cable Bay but they've done us proud with a path that leads out between the track down to the old rifle range and the 3 roomed single story derelict building.
As no one gets up at stupid o'clock on a bank holiday weekend I was expecting a low water mark to be free, no such luck, every rock was heaving with my favourite mark already having 2 anglers on it. I elected to fish a high tide mark instead.
Talking to 2 anglers to the side and below to see how they were doing, only to be shown a 9 1/2lb Huss they had caught. I am Huss and Bass cursed this year I swear it!
elected to use both my beachcasters, one with a 2-up 1-down rig with size 6 hooks, the other with 1-up clipped rig. Baits were coming back untouched except for one bite resulting in this
Ballan Wrasse. Elected to move to a more comfortable mark for the mini species, plan B for the day was to head for Mackerel Rock and fish the 'lagoon' for mini species for the species hunt. I was assuming Mackerel Rock would be heaving with anglers, however no one fishes the area inside as everyone seems to get a blood urge on catching 'undreds' of Mackerel.
Mackerel Rock 12:00-17:00
Arrived to find that the rock that is exposed at low water to the left of Mackerel Rock was empty, so I elected to fish that.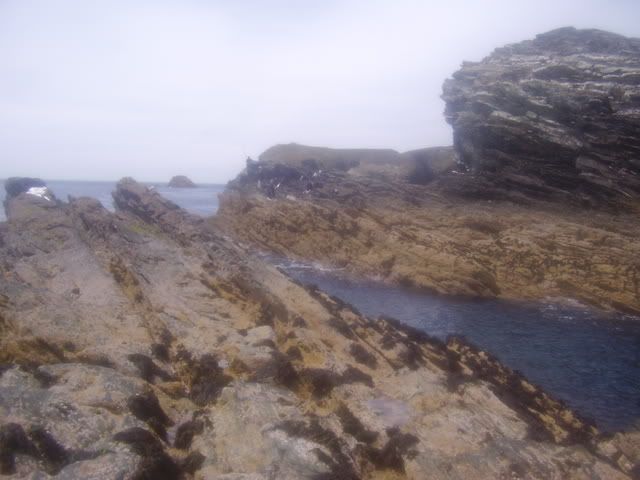 Obviously it would of been rude to ignore the chance of some fresh bait, and they are always obliging when Sabikis are used.
Aimed to catch 10 for bait, ended up with 11. (always the way with feathering!). Set up my 2 beachcasters whilst feathering, one with an 1-up clipped rig and ragworm bait, the other with a 2-up 1-down flapper loaded with a mixture of fish, sandeel,squid and worm baits.
After getting the mackerel, I wound in the motionless beachcasters to find the bait untouched. dropped the 1-up rag loaded rod in close. The result was this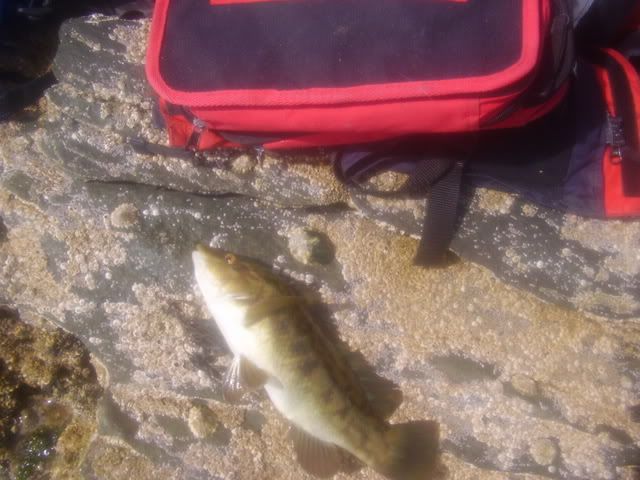 chunky Ballan that fought above its weight.
Then the hordes descended with at peak around 30 people on the rocks, some with young (4-8 yr old) kids, not a place I'd let them go to, considering the swells and amount of lead flying about.
I moved back into the lagoon, packed my beachcasters away and used my plugging rod with either my 2-up 1-down boomed rig with size 6 hooks or a size 8 hook tied to the lead baited with Ragworm.
Caught more Ballans, up to the size of the original one here.
I also had
2 small Pollack, this being the smallest.
A Sea Scorpion
2 Corkwing Wrasse like this.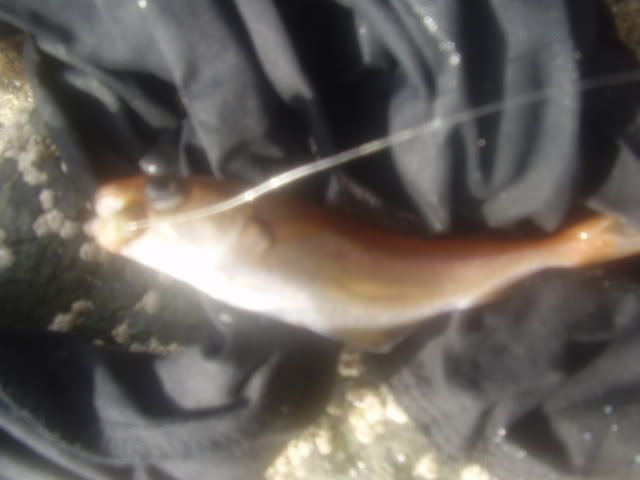 A Poor Cod and finally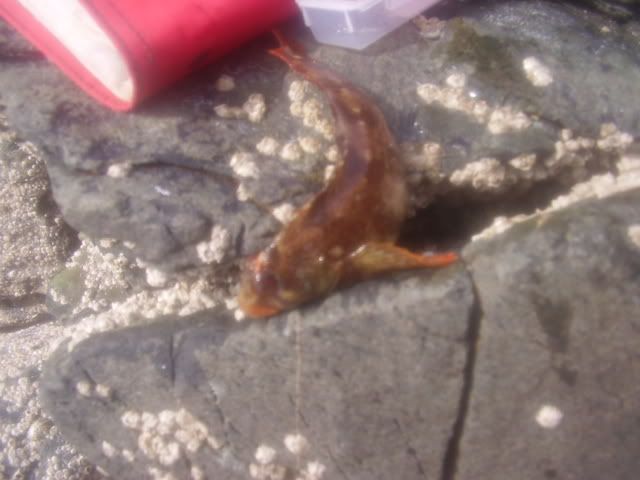 New species for the year, a Tompot Blenny.
In total 11 Mackerel, 10 Ballan Wrasse, 2 Corkwings, 2 Pollack, 1 Sea Scorpion. 1 Poor Cod and a Tompot Blenny to add to the Ballan at TC. From here I moved to Holyhead Breakwater in search of more mini species I haven't had this year such as Rock Cook, Butterfish, Goldsinny Wrasse and Sand Smelt.