Discussion Starter
•
#1
•
Text below copied from the BBC website this morning.
https://www.bbc.co.uk/sport/england/52632639
Angling can 'have a positive effect on mental health'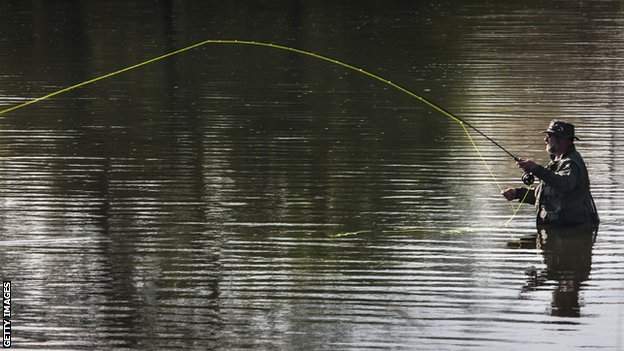 Fishing is one of the sports that people can start to resume doing on Wednesday
Angling has found itself thrust into the limelight since the gradual easing of lockdown restrictions was announced, with both fresh and saltwater recreational fishing being allowed to resume across England.
But why has it been identified among the sports and pastimes deemed appropriate and suitable?
According to Martin Salter, head of policy at the Angling Trust, it's the result of producing a detailed plan to demonstrate why angling is a Covid-19 compliant sport due to its general nature, and earning recognition from the government that it "has potential to be part of the solution and not part of the problem".
"Spending time outdoors and in fresh air can limit the spread of the virus rather than the other way round," Salter told BBC Sport.
"We can help disperse crowds and have a positive effect on people's mental health and wellbeing.
"But it really is incumbent on all of us to realise we're going to be ambassadors for our sport. The spotlight is going to be on us.
"The last thing I want to see is pictures in newspapers and other media outlets of anglers crowding around piers or breakwaters too close to each other.
"We must continue to respect the social distancing guidelines and ensure, when we say to both government and society that angling is a Covid-19 compliant sport, we demonstrate that responsibility to ourselves and each other."
The Angling Trust is also continuing to lobby government for clarity over when and how tackle and bait shops can reopen to support the angling infrastructure, in a similar way to cycle shops being allowed to continue trading during lockdown.
"Those shops are where you pick up your permits, your licences, your day tickets, where you get your advice as anglers," he said.
"A lot of those retailers have been struggling so we've made direct representations to government and we hope they can grant an extension to allow those shops to reopen before June."
While recreational angling is free to resume from Wednesday, match fishing and competitions remain banned for the foreseeable future in line with other major sporting events and mass gatherings.
The coarse fishing close season for rivers and some still waters also remains in place until 16 June.
Some commercial fisheries across England will actually remain closed as they choose to "wait and see" how the sport's approach to coming out of lockdown unfolds.
One that will be welcoming anglers back is Makins Fishery, near Nuneaton, in Warwickshire, but under a series of rules and guidelines, including only allowing pre-booked visits and operating strict daytime opening hours.
Wendell Ward, manager of the three-lake facility, has had three phones ringing off the hook since Sunday evening, but stresses anglers will need to be responsible.
"We have to ensure people can return to fishing in a safe environment," he said.
"Initially I did think it might be a bit too soon to reopen and I would've been happy to wait a bit longer. But if we put the right measures in place and control numbers, people can get back to enjoying the sport.
"I know people have been chomping at the bit to get back out there since lockdown, but I don't want them being careless and reckless.
"Restrictions have been relaxed and reopening is vital for our business, but if people turn up in big groups and car loads, they will be sent away and we'll have to reconsider our choice."