Discussion Starter
·
#1
·
Well after getting bad news about future job prospects thought it only fitting to touch base with the guys and get out for a fishing and casting bash. Thanks to the great hospitality of Hugh and his good lady , Ferdi and I were able to come down and have dinner and break up the rip as well as to go over some casting fundamentals and general BS.
The plan was a simple one , get up at a reasonable time , load up my old truck with the fishing and casting gear and then head down to Golden Beach to meet up with the others and have a fish through the high tide change. Plan was a good one but the weather was to prove a bit of a test with a cross beach wind that built progressively through the morning . This made for less than ideal conditions but given that the side drift wasn't bad and the beach was basically clear of weed we were a lot happier. Baits were a combination of Blue bait , whitebait , squid, Pilchard etc. Rigs were a either standard paternosters or pully and clip down rigs. For myself I had additional float stops on my hook traces to give a little bit mor action to them.
Ferdi , Hugh and I arrived down on the beach first and set up , sending bais out at varying distance to see if we could locate where the fish were.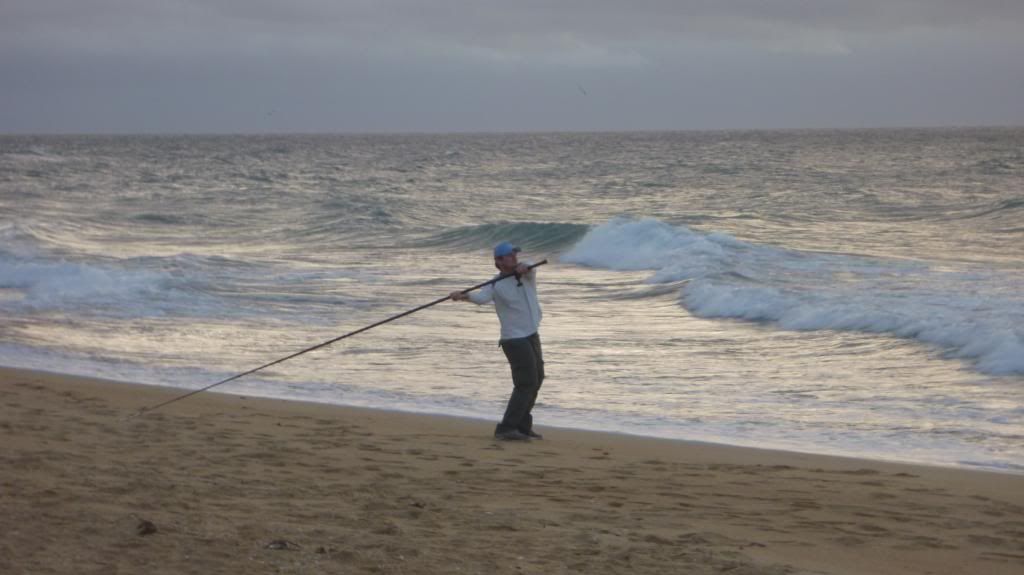 (
Hugh showing good form
)
It was good seeing Ferdi enjoying his first session with the guys and it wasn't long before , Grant, Ronnie & Vinster were also down and slinging the baits out. Grip leads were the order of the day but thankfully the heavier 6 and 7 oz weights weren't needed till later in the session when the winds require a bit more lead to counteract the cross wind drift.
(
Ferdi enjoying the session , though the wind made it mandatory to wear the jackets for warmth )
As we expected from the earlier post and highlights from Hugh about his fishing status down here in Gippy , that it wasn't long before he was fast into one of his exotic catches. after a spirited fight though it proved no match for him. :lol: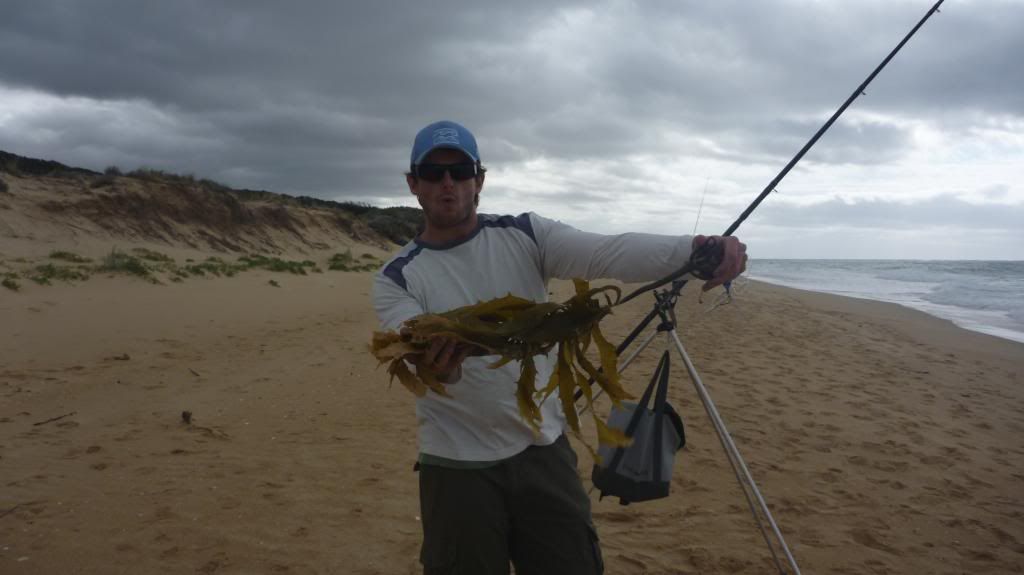 (
Hugh with his exotic seaweed salad fish
:roll: )
The fishing however was to prove quite difficult and whilst we all gave it a good bash some old crippled bloke seemed to be the only one able to get a fish , the first of which as a little sand flathead , the follwed by a sand crab but finishing of with a respectable salmon just to prove that there were a few out there.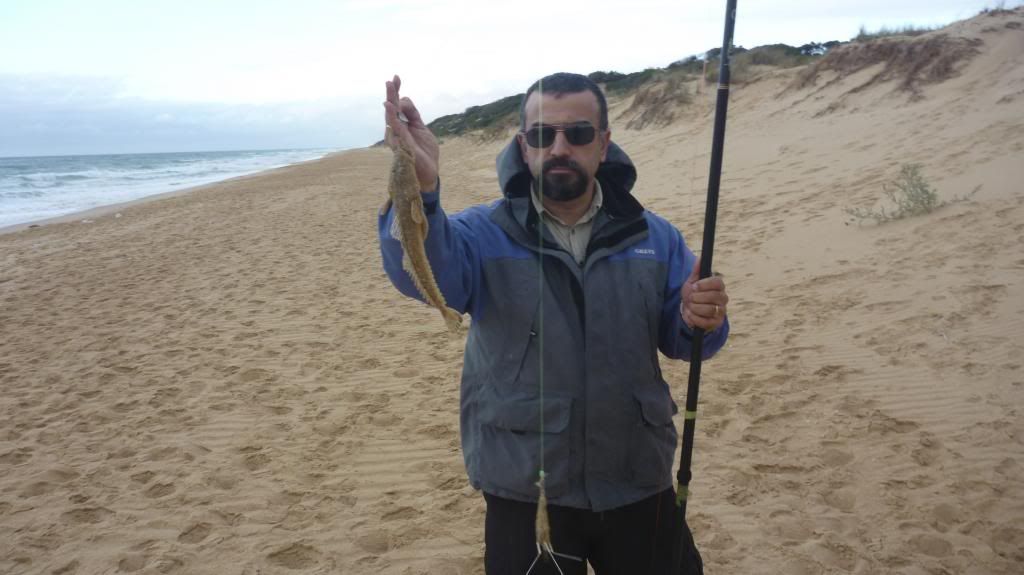 (
Grumpy old bloke with a small Flattie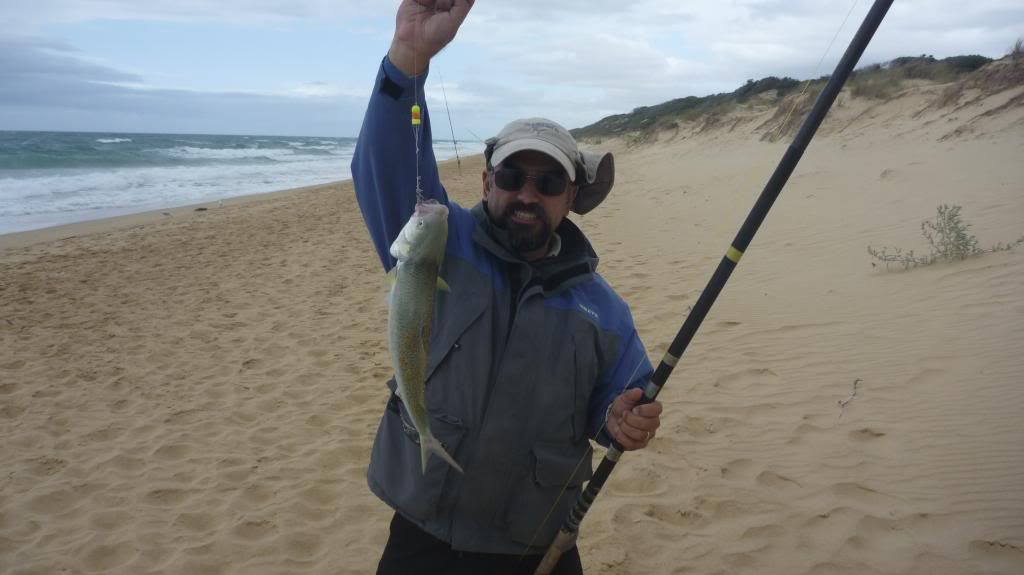 (
Sometime even old blokes try and crack a smile
)
The high was set for after 10.00 am so we continued to fish through the change but as mentioned the wind became stronger and the snad started to blast not only us but also all of the gear . It was decided at this stage that a good feed , a break witha drink and the a session of casting practice would be a good way of rounding off the day.
Well it was really pleasing to see the guys getting into the basics and practicing their stance and working on getting the arms in the right position for a controlled hit . the results were as follows in no particular order.
Ronnie 130.7 meters with the 150 gram
Hugh 151.4 meters with 150 gram ( new PB
)
Grant 174.75 meters with 150 gram)
Sean 100 meters with 100 gram
and our newest member Ferdi with a sweet 142.7 meters doing his first OTG cast for his new PB
Here's the video footage from the afternnon session
Surfcasting Working on the basics - YouTube
Sad to say that I spent the better part of my casting cutting out backslashes and searching for leads
All in all a top session for the guys and a pleasure for me to see them improving all the time