Discussion Starter
·
#1
·
Always a favourite,but not too often is deep frying anything in our household but this combo is always a winner if your starving
one evening.
Any firm white fish fillets work well as do Battered Pork pieces.
Ingredients
Cod fillet ( for 2) cut into chunks
Large Sirloin Steak but into 1 inch strips
Beer Batter Ingredients
75g Cornflour
75g Plain Flour
1 egg Beaten
7 Fl oz Chilled Lager Beer
Vegetable oil for deep frying
extra 50g Plain Flour for dredging
Patatas Bravas Sauce Ingredients
3 Tbsp Olive Oil
1 Small Onion Chopped
2 Garlic Cloves Chopped
Large Tin Chopped Tomatoes
1 Tbsp Tomato Puree
2 Tsps Sweet Paprika (Pimenton)
1/2 Tsp Chilli Powder (medium or hot)
1 Tsp Sugar
salt and pepper
Fresh Parsley to garnish
800g Potatoes (maris/Desiree)
2 Tbsp Olive Oil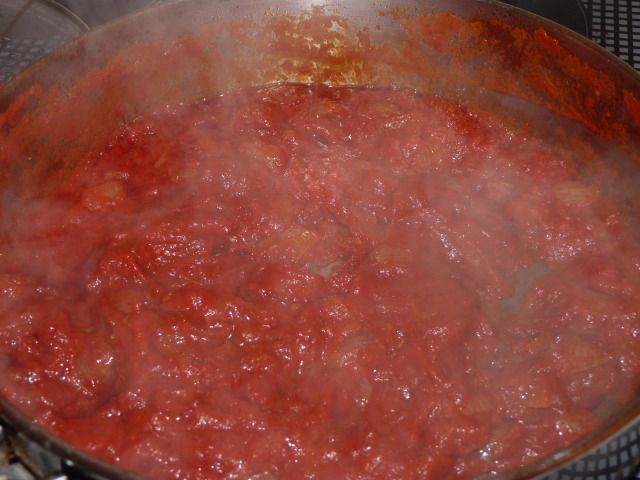 Ideally the sauce should be made a day ahead as the flavours blend that bit better.
Ok,,,,Heat oil in a pan and fry off chopped Onions after 5 mins add garlic and cook through,then add Chopped Tomatoes,Tomato Puree,Paprika,Chilli Powder,Sugar,salt and pepper and bring to the boil,then simmer for 10 mins intill mixture is a pulpy consistency........check heat and add extra chilli if preferred....cool and set aside over night.
(Optional Dip)
100g piece of Chorizo( cut into 5mm cubes)
oil for frying.
for me this is a must have dip for the fish or steak,so fry off the small chorizo pieces untill crispy then set aside on kitchen paper.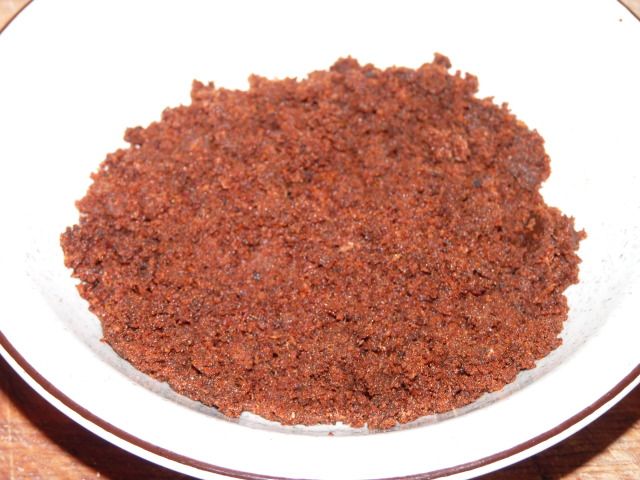 Once the Chorizo pieces are cooled blitz them to a fine powdery crumb and set aside.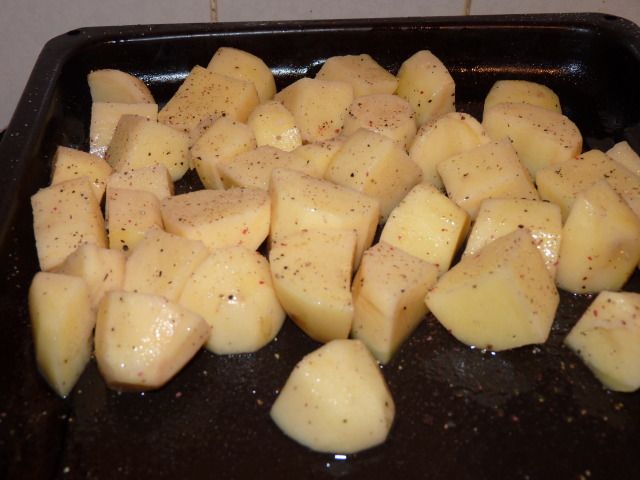 Right lets get the Tatters on,preheat oven to 180c and chop the tatters into 1 inch cubes,pour some oil into an oven tray and heat in the oven for 5 mins,then carefully remove tray and place tatter pieces in tray and season well.....leave to cook for 40 to 50 mins or untill crisp and golden.
meantime.......................
Pour yourself a large "Delboy" cocktail and chill out for 5 mins......lovely !!!!!!!!!!!!!!!
Ok....back to work.
Mix both Batter flours together in a bowl and add the egg to a well in the centre then add the beer and whisk ingredients untill combined ,,,,,dont over work batter its better a tad lumpy.
set aside and chill for 5 mins in fridge.
Heat Veg oil in a wok or deep pan to 180/190 degrees,check heat by placing a small cube of bread in oil if it frazzles nicely your good to go.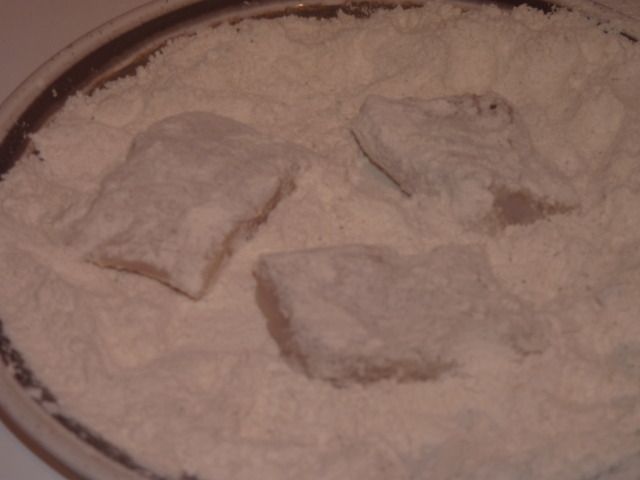 Dredge Fish pieces in plain seasoned flour.
Dip Fish pieces in Beer Batter and lay in hot oil AWAY FROM YOU
and deep fry for 3 to 4 mins.
Remove cooked fish pieces and keep warm in top oven.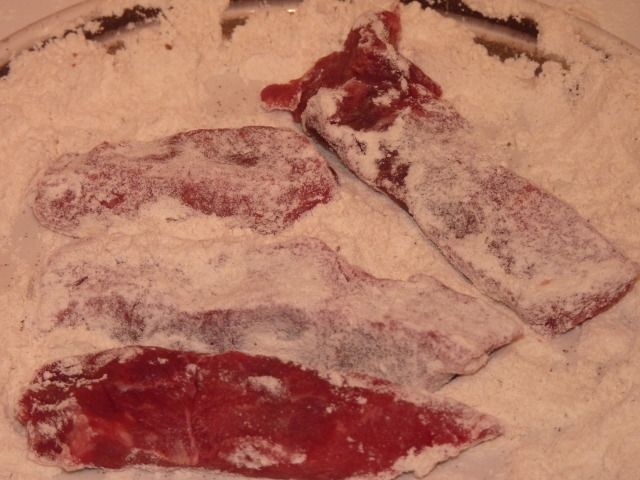 Prep Sirloin Steak and dredge with seasoned flour.( I sometimes like to give the seasoned flour an extra kick with 1/2 a tsp of Cayenne as it helps to add flavour to the steak)
Cook steak strips to your liking ( 2 mins is enough for me)
Drain Steak Strips on kitchen papper and keep warm in top oven.
(cut through to check meat is cooked to your liking)
Once Tatters are cooked ,turn off oven and keep warm.
Remove Tomato Sauce from Fridge and reheat..................
Warm Plates and serve.
Serve with Chorizo Crumbs and Tarter Sauce,English Mustard is always a tasty dip for the steak strips.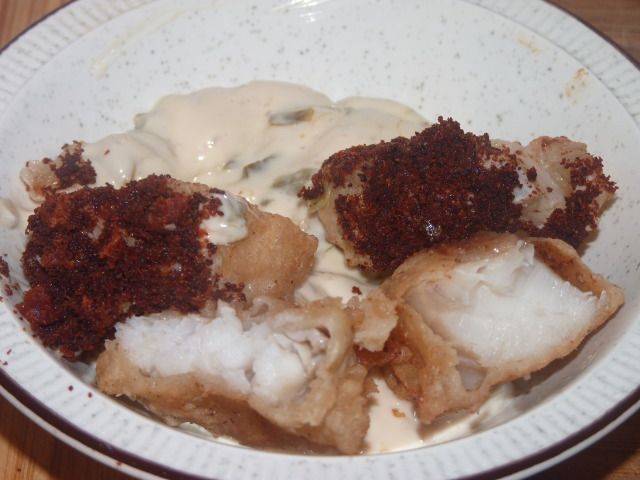 my fav is to dip the fish pieces into the tarter sauce and then dip it into the chorizo crumbs.....its top tucker !!!!!!
refer to next page.................................