Discussion Starter
·
#1
·
Had a day on the wrecks with a group of beginners on sunday - some good fishing, and lots learned!
I have to complete half a dozen or so coaching sessions in the next couple of weeks for a '1st4sport' coaching qualification and this was one of them...
Had a group of individuals booked on 'Crusader' on sunday and this was an ideal opportunity to log some work as some had not fished at sea before.
Day started as usual finding enough mackerel for bait later in the day. After a couple of stops here and there we found enough mackerel and scad to see us through a conger session.
Once this was done it was off to the first wreck for some pollack whilst we decided where to drop the anchor (wind against tide can be a git).
We had a box or so to about 10lb - this chaps 1st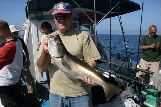 and his: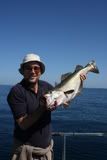 Then off to another for the eels - superb sport with practically every bait sent down being snaffled. Biggest was only about 50lb but a great insight for those that had never done it before - this fella did very well with 20lb gear, catching half a dozen in an hour!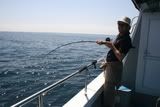 another 1st:
Then anchor up and a look for a cod - 1st few drifts saw most rods into pollack and cod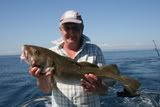 then it went quiet - time to steam home with a few boxes of filleting in the afternoon sun. A satisfying day out and managed to fill in some homework too! :clap: