Discussion Starter
·
#1
·
Bassing to the Max!
Departed from Penarth, destination North Foreland point (hopefully).
We set sail first heading towards Porthkerry for a couple of drifts while Paul made his mind up on whether the weather would be OK to make the crossing.
Two drifts later we were England bound, the Channel was a bit lumpy but posed no problems to a bunch of salty seadogs like us.(Right Howard?)
Started drifting the offshore mark at Foreland with this bass coming after a couple of hours as the tide picked up.
It was pretty quiet out there so Paul moved us inshore to the mussel bed where Kev. and I managed to catch this 3lber. The greedy sod had managed to take both our baits and had two hooks in his gob. Since I had wound it in, Kev. graciously let me have the bass.
A few more small bass were caught but it then went dead so after flogging a dead horse we went around the point to Lynmouth to anchor up on the sandbanks for rays.
Richard.
Simon.
Can't remember this gent's name.
One of Kev's rays.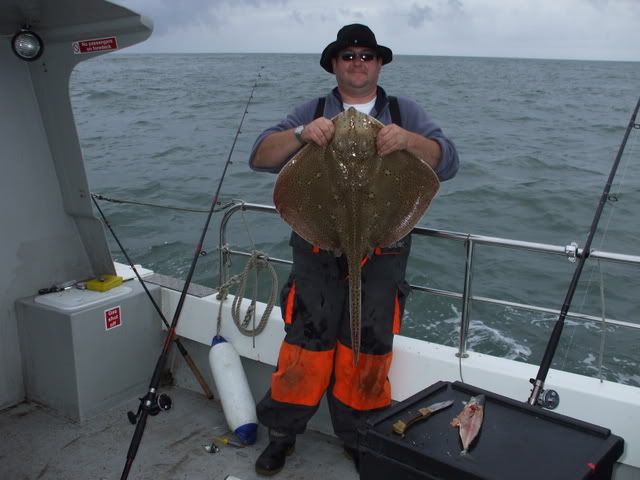 My 14lb blonde(my first blonde)and a PB ray.
Then we went home.
I think we were all a bit disappointed that the bass didn't show in any numbers, only six were caught all day, but the rays went a little way to putting smiles on some of our faces.
A big thanks to Kev for getting the sandeels and to all the lads who came for making a quiet day enjoyable.
PS, big up to Howard for all the groundbait.