Discussion Starter
·
#1
·
Pretty quick report from the last week…
9/2 – 9/3 Boomvang
Tom, Jim and myself headed out Wednesday afternoon for some tuna and made a stop on the way out. Produced a couple snapper – nothing worth writing home about. We then headed out to Boomvang where we found one other boat already there. Long story short – blackfin blackfin blackfin. Lots of them, most small as normal. The ones caught on surface were significantly larger, 20+ lbs and one up near 30.
I finally got a chance to use the new OTI Wave Dancer lure – worked really well. The lure has some great action. I tried a few different ways to work the lure but the one that seemed to be ideal in getting the lure to move was a pretty slow twitch. The lure really bounces from side to side if you get it going right. Unfortunately the yellowfin just weren't there in a lot of numbers especially on the surface but no doubt it'll work. I was using the Nemo color. The new paint on the OTI lures is awesome as well. It held up great to fish and the hooks bouncing on the belly.
Tom did manage to pick up a yellowfin on the chunk, nice 40-50lb variety. Jim caught at least 40 blackfin on jigs throughout the night to keep himself occupied! I grabbed one or two throwback yellowfin on jigs as well.
Tom's yellowfin
Chicken Canyon – 9/5
After a pretty worthless Friday morning at work I headed up north. Our original plan was to head out to Wilmington Canyon for an overnighter, but the seas sucked Friday afternoon for a 28' CC so we opted to stay closer in and just go out Saturday. Michael, my dad (Tbaker), Ty (ty2philly) and myself headed out early Saturday for a nice long run from OCNJ up close to Chicken Canyon. Normally I wouldn't throw the spots out – but given that we were greeted with at least 50 boats I don't think it's a big secret! The seas were pretty sporty on the way out but once we got there it laid down and was very nice.
I started out jigging an OTI 200g Jager in green and within about 20 minutes or so hooked up. After 5 minutes, the hook pulled (8/0 gama siwash). Kind of annoying, but hey that's fishing. The fish wasn't huge either so not too big of a deal. Given how quick we got into the bite I thought it'd be a good day but from there on out it was pretty slow.
A couple hours later Michael comes tight on a fish. Short while later a 46" (50lb) bluefin hits the deck. Mike's first tuna! Nice fish, they've got a lot of fat on them now so the sashimi was excellent later that night 
A couple skipjacks and a chicken mahi later we headed in. Not a banner day but it was good to get out. The weather out there was great too – it was a nice break from the sweltering heat down here.
Mike and his tuna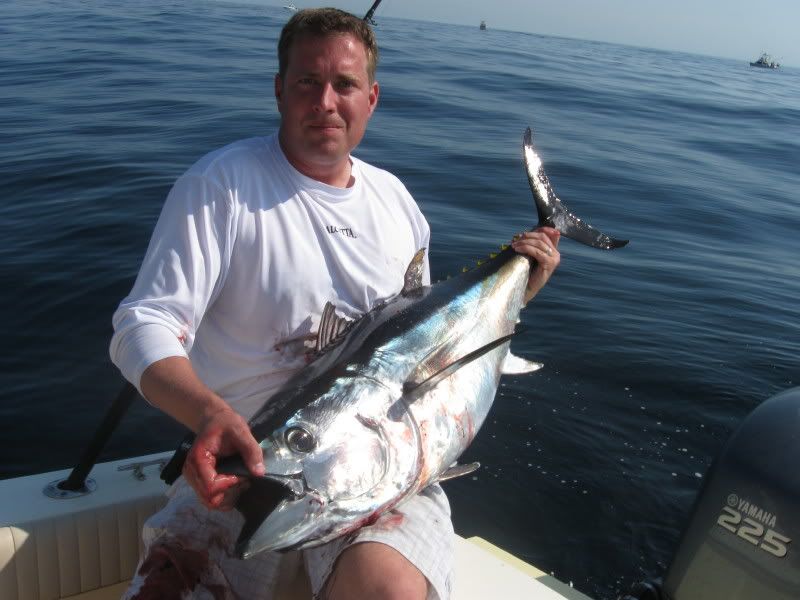 Me preteding I caught his tuna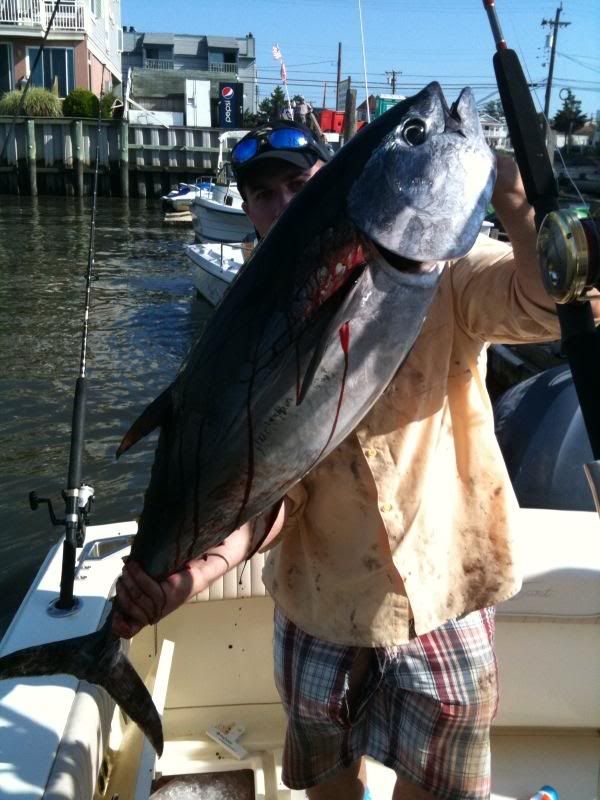 Butchering