Discussion Starter
·
#1
·
A group of friends and I chartered the Lady Nicola out of Boston for a tope trip in the wash. We sailed on Friday in moderate to fresh southwesterly wind which made the sea fairly rough. During the trip we had plenty of makerel and three tope runs.
The first picked up a makerel flapper but dropped it leaving a huge mouth print of its teeth on the bait and the second was lost when the same anglers' shock leader knot snapped a couple of minutes into the fight.
The third fish was hooked by novice angler Ady. I had set up four pals with 25-30lb mono to softish rods and the usual 150lb mono leader to a 10/0 o'shaunessey with the barb squashed. When Ady had the fish on I said 'Whatever you do, do not try and stop it running.' using a bit of experience from fishing for tope in Wales last year. I set his drag so that with light pressure the line would peel off. He played the fish in for around 30 minutes to the side of the boat and during the fight it made four or five gliding runs. However right at the end of the fight Ady was getting tired loosing his patience, he clamped his thumb over the spool in an attempt to drag the fish toward the boat. Big big mistake, the fish wallowed, turned in the tide and the line snapped like a gun shot. Gone.
Ady now wants to come on more boat trips.
Here are some pics:
An early victim of the rough weather
Fish on. A tope runs off with the live makerel bait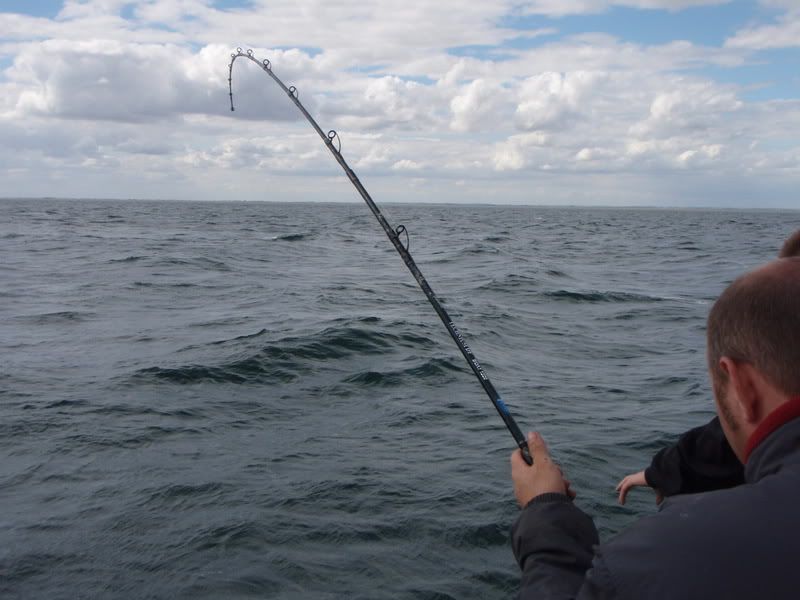 Almost there.....a great fight for thirty minutes.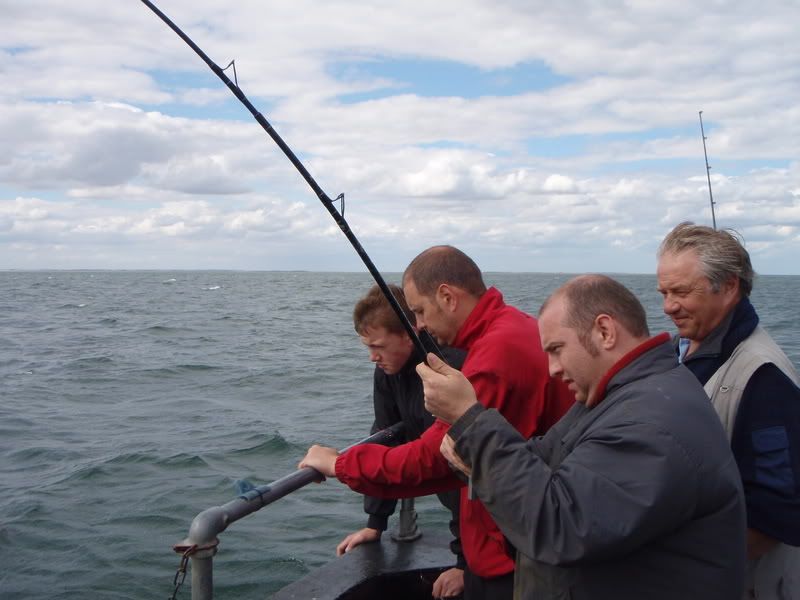 The last glimpse of the tope near to the boat. estimated 35 to 40lb... then disaster... crack!
Back in to port.