Discussion Starter
·
#1
·
Had a pal of mine Dan from Faversham come down today.He is new to boating and has bought a old cruiser boat in kent.
Weather looked good so told him to get up early and get to Brighton and I would see if i could get him a fish.
Took a cruise out to about 12 miles on a mirror flat sea to a wreck and lined up for our first drift.Just as the wreck started to appear on the finder i said "Get ready" and we both hit into fish. Nothing big just a Pollack each about 5lb but to him it was a great catch. had a few more drifts and the fish just were not interested so of to another wreck. This time it really made his day with a 6lb`er.
After a few drifts and some more Pollack around the 5-6lb mark he hit a good one and the rod went over in a really good bend and he got on board a 9lb`er.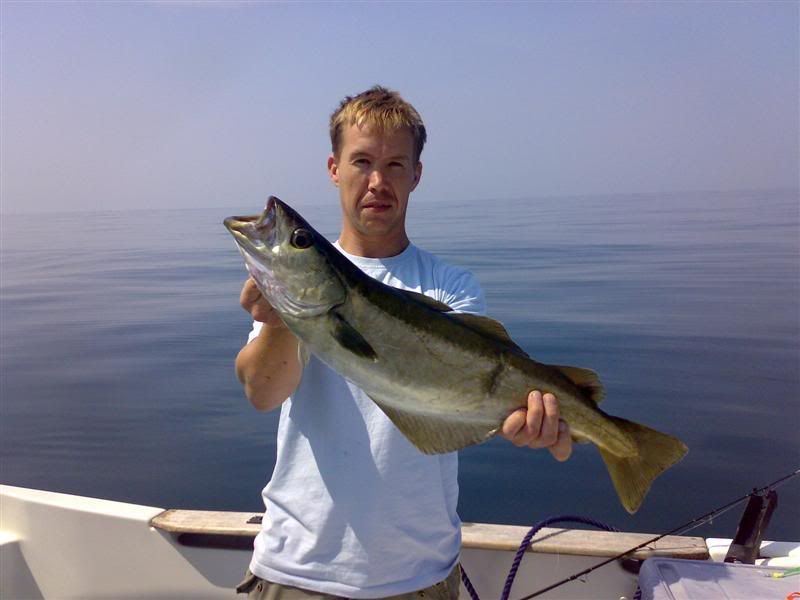 It made me smile just to see the look on his face as he as only ever caught small fish like Whiting..He couldn`t stop looking in the cool box at the catch and saying " I didn`t expect them this size!!" :roll1:
I only managed a 6lb`er but it didn`t matter as i was chuffed to see dan catch a PB
Had a go at anchor for an hour on the way back and had a few Dogfish and Dan had a Bream about 2lb which i just found out was dinner tonight and was very nice.
A great day all round and glad my pals trip from Kent wasn`t wasted, also nice to see the wrecks providing the goods when needed.
Alan