Discussion Starter
·
#1
·
Fished off the big rock last night, 2hrs down and three up, with the big low leaving me a lot higher above the water than usual. No wind, no swell.
Used mackerel, squid & sandeel on two rods – one big bait on the bottom at distance and the other under a float, close in. The float was a bit of a disaster though: hadn't had it out long, and just had the first bites when the ledgered bait took off ... quietly, tracking left to right, barely moving the rod tip and snagging the float line before I noticed. Had the first dogfish though.
This happened twice more, the last time knotting so tight I had to cut it, so I switched the light rod to a 1-oz lead and 4" sandeels.
Every bait was catching but nothing exciting. It was like Crufts out there, and I was pulling more dogs than I do in my crimson Testarossa. All good fun, though, with barely time to sit and watch the meteors in the clear, moonless sky. I lost count of how many fish I had – a few good sized ones amongst them but the best was this, my first single-pennel double-header!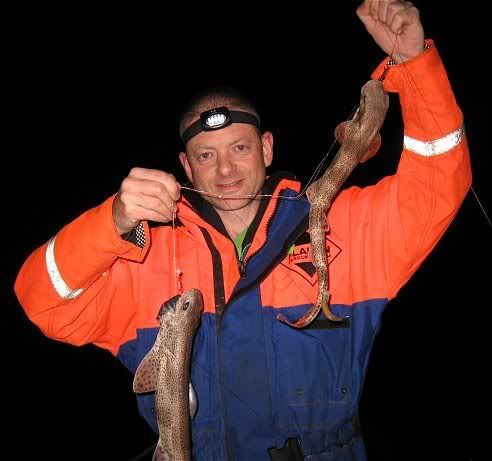 [
they pulled the hooks apart – the pennel wasn't really that big!
]
Got home at 5am, up since 7.30, and búgger me if I haven't only just worked out why I've been seeing seeing double double for the last half hour half hour.​
:blink:​