Discussion Starter
·
#1
·
30.09.12 It was blustery, raining & miserable for most of the day then around 4 30pm it began to ease off or so I thought. Desperate to do some fishing I decided to go to a beach close by, with spring tides at low water it was ideal. Hubby agreed to dig fresh bait for me
We arrived to find four people already fishing & the sea looked ideal. I`d just cast out about 50 yards into the surf with a freshly dug worm when the heavens opened & the wind howled ( thank god for floatation suits! ) Steve wasn`t wearing his & was soaked to the skin in minutes.
After 10 mins it was time to check the bait for crab activity, it was ok but replaced anyway, this time the cast was about 40yards, I set the rod on the rest with line wound in fairly taught in the strong wind but still bowed, a couple of minutes went by then rod tip bounced upwards & the line went slack I grabbed the rod & wound frantically while walking backwards then struck..briefly there was contact but the fish was still powering towards me it was just a case of trying to keep up with it. About 10 yards from the beach he decided to dart sideways, using the surfs pull to try to make an escape, I could tell he wasn`t a big fish but he could have been lightly hooked & I didn`t want to loose
him now, so on the next wave I persuaded him on to the beach, a beautiful fat little Silver of about 1.5lb & he was lightly hooked, Steve had come over by now hoping to see a 3lber so he wouldn't have to have stew for tea lol, he helped with release while I took a couple of pics.
The heavens opened again & looking towards the Orme where the weather was coming from, it was going to be a long spell so Steve headed home to dry off
(he`s never really taken to beach fishing, sadly)
The tide was was starting to come in by now, the rain was horizontal & the wind howled, the other fishermen all had there backs to the weather as I did & I thought to myself we must be mad but in a strange way it was enjoyable & great to be there. Nothing happened for a while then there was the smallest rattled on the rod tip as it nodded down & up in the waves, I reeled in to find a this lovely Bronze coloured Whiting.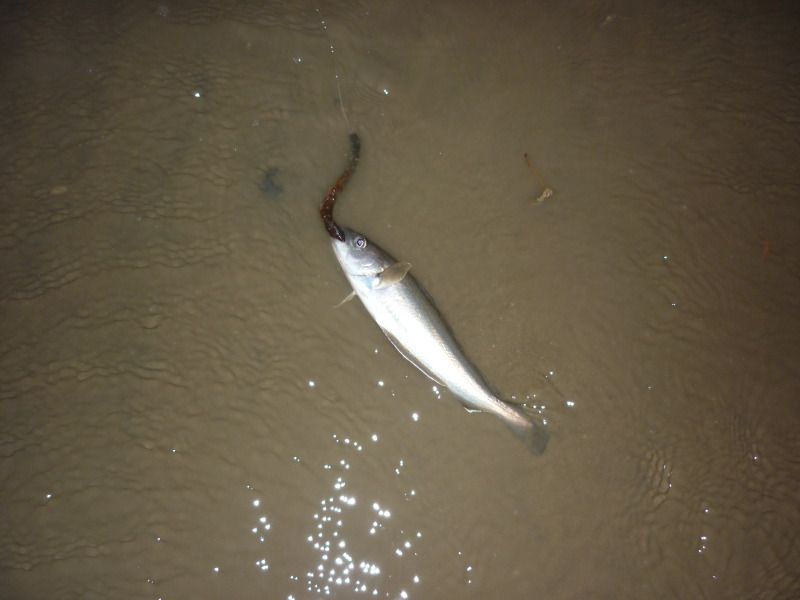 The rain had eased by now, the sun was setting near the Orme in a window of clear blue sky, which made the haze of fine rain turn orange & a vivid rainbow appeared over the sea opposite three fishermen further along the beach.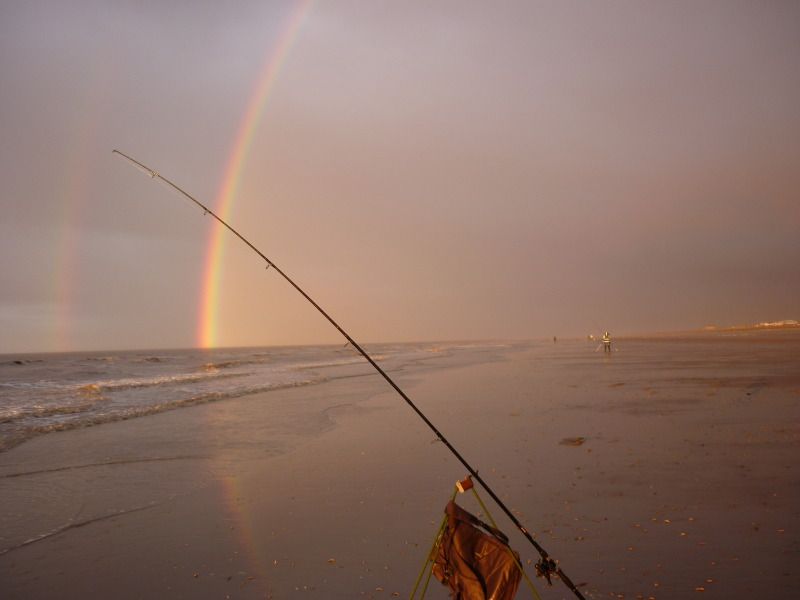 As I was packing up to leave a man who had been bait digging came over & told me that one of the men at the end had caught a whopper of a Bass, who I now know to be Carpman. Very well done to you for catching the gold at the end of the rainbow.