Discussion Starter
·
#1
·
Catch report and information on the venue for other interested anglers all rolled in to one here, so sorry for the long post.
Having never fished there and having talked about going there for a while, we decided to give it a go today, so myself and the rest of the Barry Dock Blankers, Sparkypete (My bait elastic smells like Porthcawl Pier!), Ninjadai (Well it's a day out innit!) and Phil the Float (I have a drawer full of Mars Bars at home!) all piled into Phil's car and got down there at 6.30am this morning.
First impressions - well what a stunning venue to fish! Easy access with parking nearby and absolutely spotless! The staff obviously take great pride in their work environment, it was a pleasure to fish there. With toilets on site, a cafe, plenty of bins it's about as posh as it gets for a bunch of hairy anglers.
Took some pics, the first pic below shows the breakwater facing away from the barrage looking out to sea. Fishing is only allowed on the seaward side although you can put a dropnet down the inside for bait. You could easily get 40 anglers on there or even more and the railings are nice and high so no worries with taking the kids there.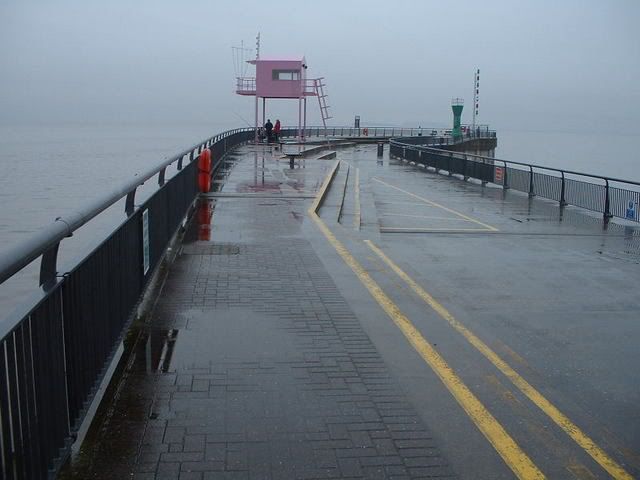 The second pic is taken facing the barrage, with the toilets on the right hand side at the far right of the barrage, takes about 2 minutes to walk there and it's a pleasant walk with views into the marina and the barrage gates themselves.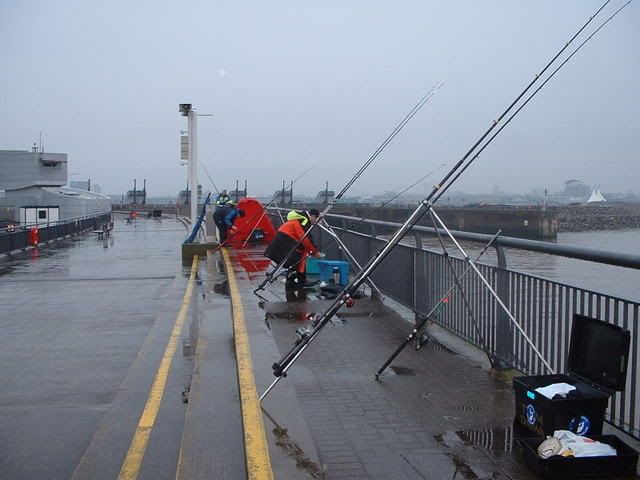 We left the place as we found it, spotless, and I urge anyone else going there to do the same. Use the bins, don't leave bits of un-used bait around, and use the toilets, otherwise we stand to lose an exceptional fishing venue. Must point out that the staff are helpful and take great interest in the anglers, some of them anglers themselves.
Anyway, on to the fishing. Phil and I tried the float but being a big tide the water was flowing too fast and it was too murky, so anyone wanting to try float fishing here might be better on a mid-range tide to be honest, but we did try.
It was a bit quiet until high tide when we started to get bites. Phil managed a couple of whiting, Pete pulled in a couple as well, and then just after high, about 9.00am my bass rod started bouncing around like mad. I was using a 1 up 1 down rig with a 4oz plain lead and held bottom easily with it.
Anyway, picked up the rod, wound the slack in and struck to find some weight on the end and it was kicking and darting around, eventually got an eel up to the surface, decent size as well, easily over a pound. Brand had a running commentary as Pete was talking to him on the phone.
Quick pic and chucked it back.
Pete was then into a nice flounder which weighed almost 1 1/2 pounds which he followed with another slightly smaller one about an hour later, the second one had a chunk missing out of him!
The rain stopped about 11 o clock and it warmed up, turned into a cracking day with virtually no breeze at all, and we finally packed in about 12.30pm.
So in summary, not a lot was caught but being a quiet time of year that was to be expected really, although we did considerably better than most of the other anglers there today, not much came out at all. I can see this becoming a popular venue so I recommend you get down there before they start charging to check it out first while it's free before shelling out the dough for a permit.
I'd love to try again on a mid range tide soon when the weather warms up as the potential for catching fish here is very high. And finally some pics, Pete with the biggest of his 2 flounders and me with the snotty.