Discussion Starter
·
#1
·
The big day finally arrived after 4 months and 5 cancellations due to the weather.
We all met at the Coral Cafe in Newhaven around 7am for breakfast and left the harbour at around 7.40 for a long steam out to the first wreck. About 1 1/2 hours later after a choppy ride in the force 5 easterly made a little more comfortable by Frank Shaws spacious Blythe Cat we arrived and it was time to get the fish that had been waiting so patiently for us.
A wide selection of Shads, Jelly worms and various lures of all shapes, sizes and colours made their way 220 ft to the rusting hulk below. Within the first few minutes the first fish were on board, a few codling of around 4lb and a couple of Pollack about the same size.
The first shad I tried a had a couple of good takes on before I realised I had left the plastic covering on the hooks:doh: . What a wally I felt as everyone wet themselves laughing and Frank taking the P big time.
I had the last laugh though a few minutes later when after switching to a luminous squid about 5" long I caught a 4 1/2 lb Tub Gurnard.
I think everyone had caught something by this time but Frank declared that mine was the best specimen so far.
We tried a few more wrecks close by with many more fish coming to everyone else but me despite trying out just about everything I had in my well stocked lure boxes.
Peter was getting Bass on the stern of the boat, one being a nice fish of 4 1/2lb while Mick caught a 9lb 7oz Pollack right next to him.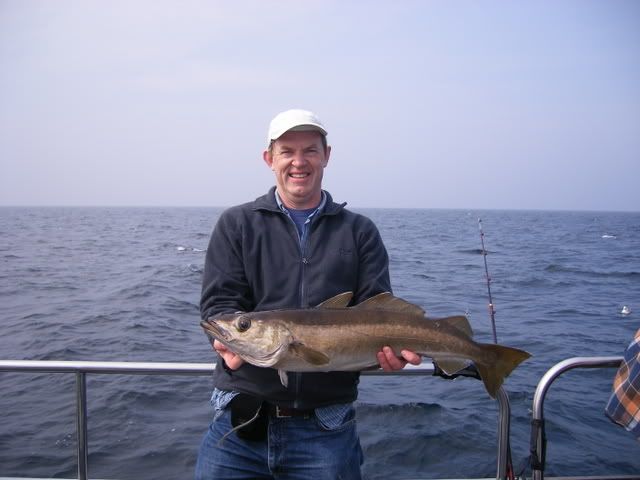 At the bow Ray battled for a good few minutes with a cracking cod of 10lb 8oz caught on a leadhead supplied by Frank. There had been a lot of whispering going on between Frank and Ray and we wondered what they were up to, We found out when Frank netted the cod and we saw Rays secret leadhead lure .
All around me fish were being caught, Mick was busy using a Hokkai Rig with a small pirk on the end to get some good size mackerel and the occasional Pollack. Arthur and Dave were practising catch and release on a regular basis, no one told them that you are supposed to get the fish in the boat before letting it go
. Niall was bringing in a steady stream of Cod and Pollack along with Graham nearby. John on his first ever fishing trip had 3 nice Pollack around 6-7lb and what was I doing? Still trying to catch something other than a single gurnard. I lost a couple of good fish but at the end of the day still had not improved my tally.
We must have lost well over 20 good fish today but still ended up with a respectable catch between us in challenging conditions, a force 5 easterly and quite a swell.
Franks jokes alone made the day, most could not be repeated on here or probably anywhere in France Germany, Israel or Africa. The constant banter and P***taking was great fun even if most of it was aimed at my lack of fish.
The journey back in was a bit quieter as we were all so tired but Guy, the deck hand did a fantastic job of gutting the catch while we relaxed.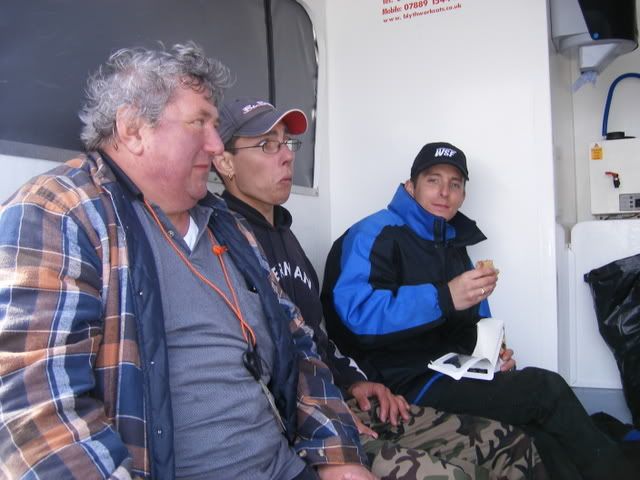 All were agreed that the day was a resounding success and that we must do it again sometime (any volunteers to organise it
)
Frank says that Sunday should be a better day than today, better tide and better weather, so heres hoping!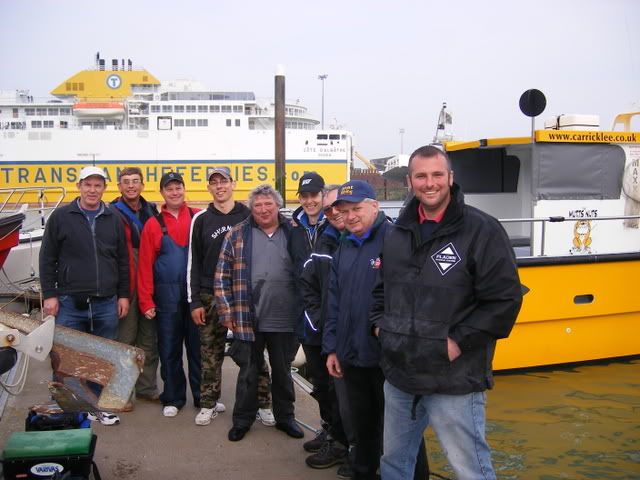 Left to right are:
MickP_Dorking
Scrottocks - Arthur
Graham T
Johnno24
Dingbat - Dave
Niall
Pedro the Fisherman - Peter
Myself
Raymondo94B