Discussion Starter
·
#1
·
Again we all met at the Coral Cafe for breakfast before the trip and we were on the boat by 7.30am in bright sunlight and a light breeze.
The sea conditions were perfect once we left the harbour, absolutely flat calm.
The first wreck was over 20 miles out so we quickly set up and then enjoyed the ride.
When we arrived Frank said that the fishing would be hard going because of the May Bloom that had appeared in the water since fridays outing.
He was not wrong:uhuh: . The fish were reluctant to show in any numbers and most of the fish were smaller than the previous trip. Groomyd (Dave) was the first to catch a notable fish for us all to beat, a 16lb 4oz Cod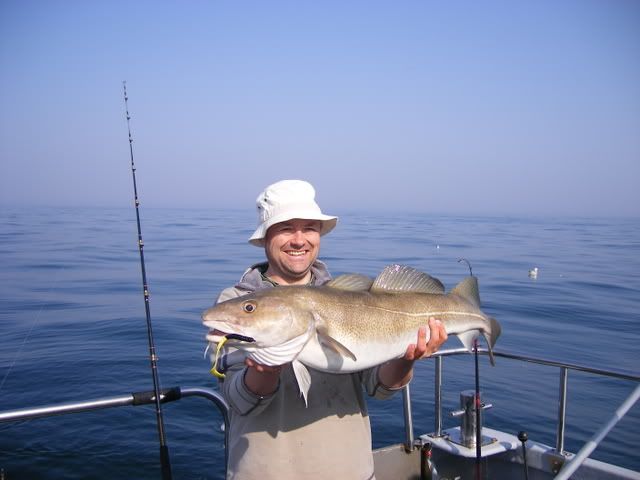 Jamie Donnelly surpisingly was not showing any signs of the sea sickness that he (and us) were expecting and had his first ever codling, not massive but he was over the moon with it at 4lb
I was catching as well as I did the other day
, absolutely zilch!
And then Thedeesbees (David) caught one of 10lb 8oz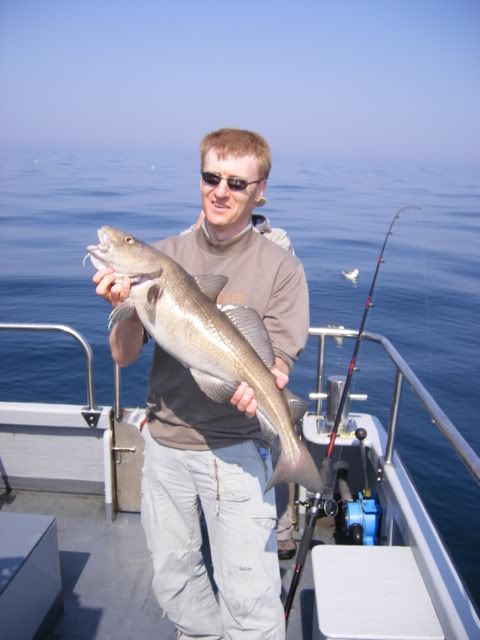 We tried several wrecks without anything bigger coming aboard. There were a few Pollack of around 4-7lb and a few mackerel. Guy (the crewhand) caught a surprise Pilchard (I have never seen one that has not been in a tin, so took Franks word for it) on feathers which went back leaving a blizzard of shiny scales sinking into the depths.
At the end of the day my tally was 1 Pouting, Jamie had a Pout and the Codling, Rickangus had a couple of pouting and the others had 2-4 fish codling and pollack each.
Despite the disappointing overall catch the weather could not have been better, the company was great and everyone enjoyed themselves.
The prizes were allocated over the 2 days and were as follows
Fladen Solid C Rod donated by Frank and the Penn 220 reel donated by myself went to Groomyd for his 16lb+ cod
BFM Smock donated by Boat Fishing Monthly to Ray for his 10+ cod
BFM Fleece to Thedeesbees for his cod
DVD's 'You should have been here yesterday' by Frank went to Jamie Donnelly and MickP-Dorking for their fish.
I won the Blanker of the Day prize for my double effort, the prize....A day out on my own boat:clap2: