Discussion Starter
•
#1
•
2 reports in one.
2 nights back I went to Lee Bay and fished ½ up and 3 down on a pretty small high, tucked into the rocks as far left as I could go. Bait was maddies & a 3oz flowing trace on a bass rod.
Not a great deal of action but several bites once the slack water started to drain. The fish came eventually though, all exactly on the keepr mark (all got lucky and went back though) ... including Quasimodo the Hunchbass there at the top. Great sport off that one as well on the thin rod ... deserved to fight another day, I think.
##​
Then Instow last night, where the beach continues to steepen and drain out to sea – there are a few spots developing which will be relatively deep on a bigger high soon (all the fishing here is in just a couple of feet of water, but that doesn't phase the bigger fish. Sometimes.)​
Only had 90mins to fish it up, and not very many manky rag left, but I'd obviously picked the right spot! Got only six casts in before it turned ... and every one came in with a bass on the end. All schoolies though, starting with a pair at about 4oz and gradually increasing. Nos 4&5 were over the pound mark and the last one, right on the high, came in at 1½ and fought like a demon (love this new light rod!)
Unfortunately though, despite the barbless hook he was deep hooked and bleeding, so although I tried to return him, he came back in belly-up and is now awaiting medical treatment in my fridge.​
Instow is fine up to the high, plus 30mins if you're lucky, and then the fishing dies a death. Decided on one last cast right on the half-hour after - expecting the 100% fish-rate to be broken, but just as I was packing up my other gear the rod went over. Struck into a reasonable fish which fought well for a minute before the hook pinged out of it's mouth.​
Well ...one single blank cast in a night ain't bad, I thought, wound in and found I had caught, after all!​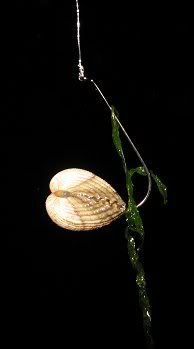 :clap2:​