Discussion Starter
·
#1
·
Our latest boat trip from Canvey Island on Saturday started off a bit breezy from the South but at least dry, that did not last long though as the rain soon came down, but at least the wind eased off. We left Canvey at 8am and an hour or a little after were anchored off the Medway.
The first hour was a few tongs and dogs, and then I had the first Cod, not that big but at 5lbs 8ozs worth the wait. A few minutes later number 2 was on its way to the boat, again I was looking at my first cod's twin. Same weight.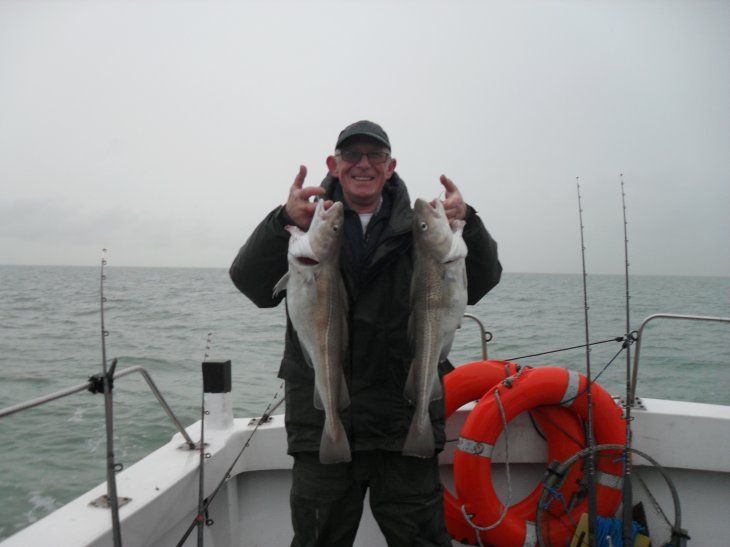 All through the rest of the ebb it was slow with a few tings and dogs. As the tide dropped out completely it was decided to make a move back to the Essex side in search of some cod.
A short while later we were anchored in about 60 feet of water but no tide as yet to speak of. The first hour was very slow with just a couple of dogs and ting. As the tide started to flood and darkness descended a few more fish showed an interest in baits, yet more dogs and tings, The sunset, the first we had really seen of the sun, was beautiful and with the onset of darkness we had hopes of a few more cod.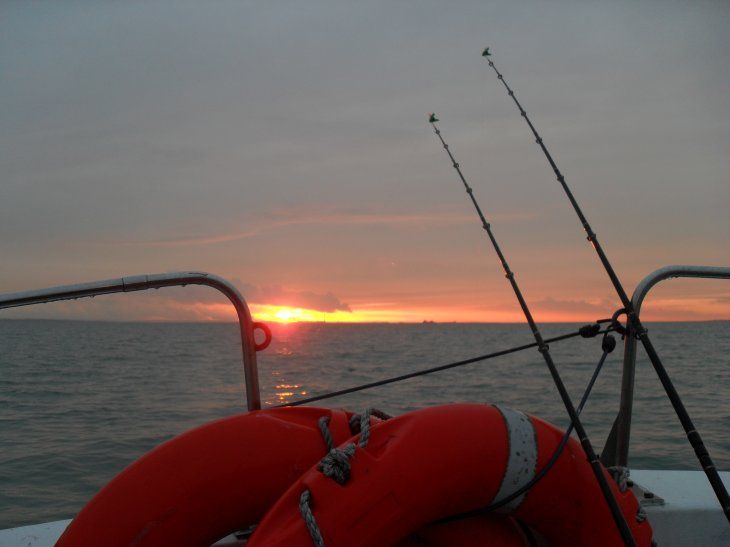 Then my rod arched over as a descent fish took off down tide. A few nod nods and the skipper says "don't lose it that looks like a good cod" but then it just went heavy and after a few minutes a Roker appeared on the surface. Duly netted it tipped the scales at 11lbs.
I quickly followed this up with a small codling of around 1lb 8ozs. Shortly after Jason (
Wet Wipes)
had a decent pull down and a cod of 6lbs 4ozs was duly netted.
A few minutes later he had another of 4lbs 8ozs.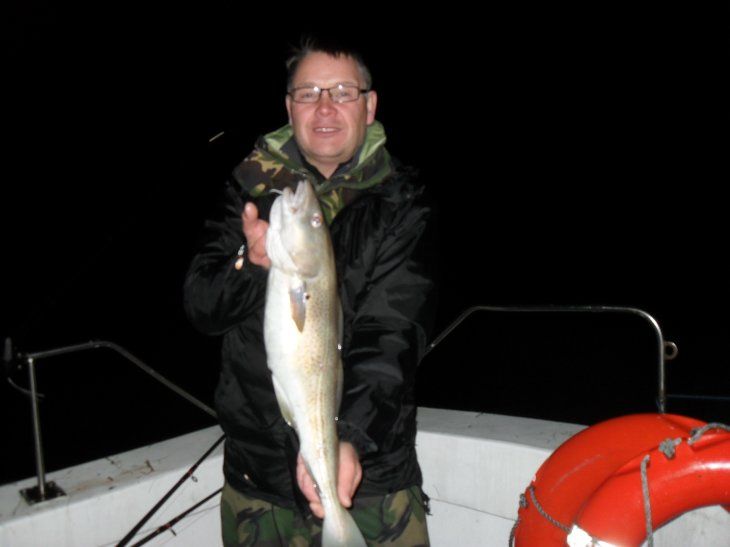 Apart from tings and dogs that was it.
I did lose a rod and reel overboard near the end of the day in a freak casting situation. The line parted in mid cast, probably after the huge tangle the line was involved in damaging it shortly before. The rod being past the vertical when the line snapped the rod went down and bounced off the guard rail, springing it from my hands and after bouncing along the gunwale it dropped into the water. Surprisingly it floated but in the strong tide it was swiftly lost to sight in the pitch darkness. The reel was a green abu6500 and the rod a Penn 16lb class Powerstick. If anyone should find them washed up or whatever I would be grateful of a pm.
Other than that it was a pleasant if somewhat wet day with 5 codling and the Roker plus tings and dogs. Few more pics.