Discussion Starter
·
#1
·
Hi,
So a brand new summer month and the Danglers had a rare trip east out of the haven yesterday. It was a Sunday so no firing on the ranges and we were clear to turn to port as we steamed out on a calm morning with the promise of sunshine to come. As if the excitement of trying a few new marks wasn't enough, we were also on a new charter boat for us - Atlantic Blue, skippered by Paul Martin.
First up, we drifted a few isolated rock marks on the way down, the plan being to bag up with mackerel for use as bait later and to see what else was around. We had coley, pollack, codling etc.
Then we fished some of the offshore banks hoping for a bass or two as the tide built. We had plenty of codling and pollack, a launce, sandeel and even a gurnard and a wrasse.
Eventually the bites died off so we headed to our tope mark - glad for a sit down for a while after being tossed around in the offshore swells.
This mark had done well for us a few weeks ago, our tope session only hampered by the complete lack of mackerel to use as bait. So, lesson learnt, here we were bagged up with a grand total of.....no fresh mackerel. Again. It is surreal - and worrying. Fortunately we had all brought frozen this time for just such an emergency. Think about it - having to use frozen mackerel off Pembrokeshire in August. It's not right.
Nothing much happened for a while apart from the inevitable doggies until the tide slackened and turned, the wind pushed us around and someone said "we're almost out of bait so maybe head back and do some more drifts on the way". That was the usual cue for zzzzzzzzzzzzzzzzzzz as Pennar's ratchet screamed off with a tope on the run. Sadly, a few hours of inactivity and theorising had left him as unlike a coiled spring as a damp paper bag and sadly the tope dropped the bait (probably from the surprise of actually finding a bit of mackerel in the water).
Then a minute later, Malcolm's reel went zzzzzzzzzzzzzzzzz. He seemed to have it under control but then the fish spat the hook.
Another minute later and James showed us how to do it and landed this approx 20lber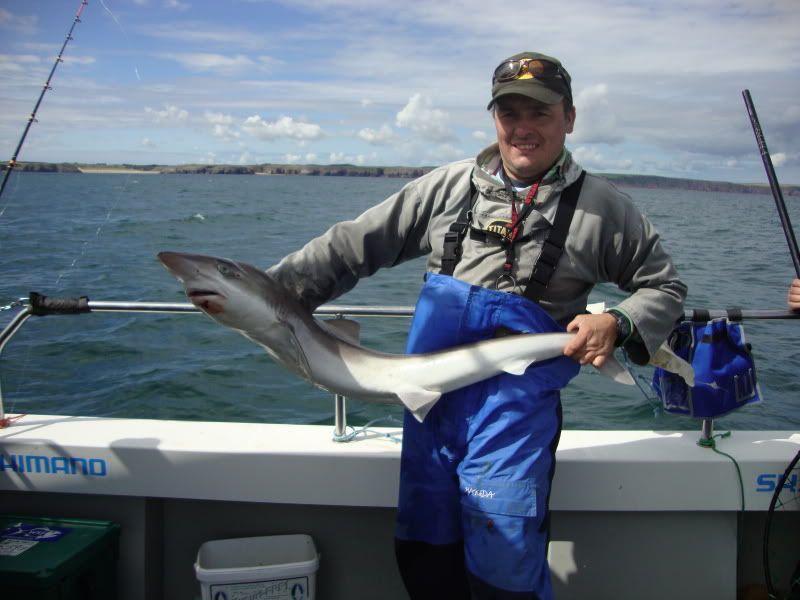 Good work fella.
Then Pennar had another run and used 75 years of exerience and nerves of steel to land this approx 30lber
Well done Greg - you deserved that one.
So with no mackerel left (again) we used last hour of the trip to drift the stunningly beautiful coast really close in, admiring the climbers gripping the granite cliffs hundreds of feet up. The scenery is just spectacular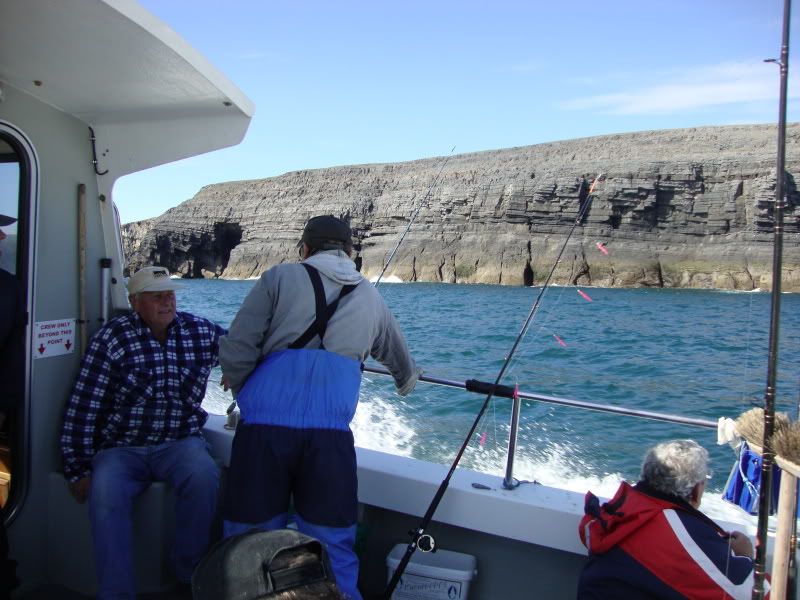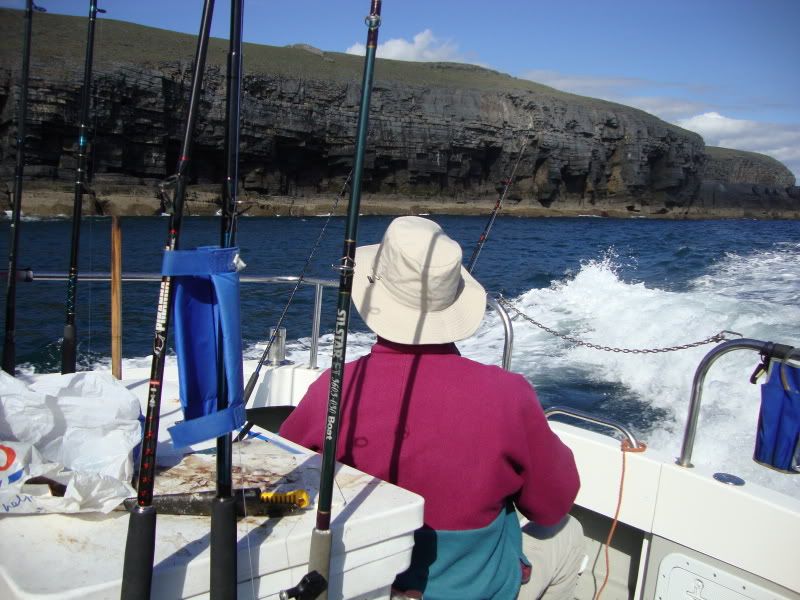 The fish had gone off the feed completely by now but at our last mark, we did have 1 mackerel - the single specimen of the day. That is just so so worrying.
So back in to Milford for tea and medals at a little after 6.
So a day of sniffing around and trying a good few marks and different fishing techniques. A massive thank you to Skipper Paul and his deckie on Atlantic Blue. A lovely spacious and fast boat and Paul did everything he could to make our day out an enjoyable one.
We had a reasonable variety of species and a good mixed day. The Danglers are out bassing next, then some Swansea breaming and then we're off on another sharker.
Cheers
Ian