Discussion Starter
·
#1
·
Mangaged to get out fishing during the week with a mate in tough weather conditions.
We had a cracking sesh for our efforts!
First cast out into the drink and I managed to beat the blank with a
7lb4oz
s.eyed.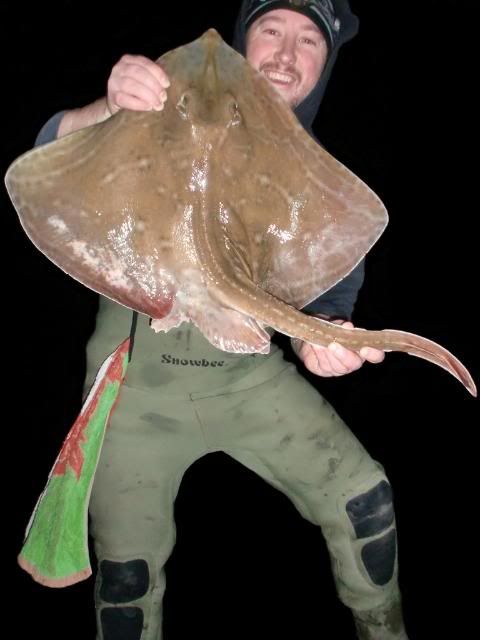 The fishing was quiet for the next hour, until a sudden slackline bite fell to my mates rod. He wound into it,
and after a good fight this
15lb
billy bonger was a cracking fish to christen his new rod with!!! I hope he
appreciated me getting wet while landing her?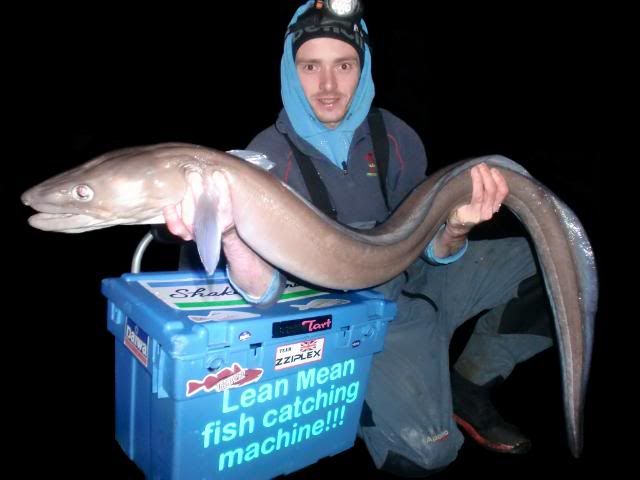 No sooner had the splashes settled from the following release of the eel, he was in again on his other rod.
He reeled it in close to our feet and saw it was another angry double figure eel attached. This one, though,
was wrapped up in his whiting rig, of course, the inevitable happened while trying to handball it out -
the rig parted and it was gone!
The tips of the rods remained motionless for a while, giving us time to notice the wind picking up, this added to
the cold chilly night. But soon to get the pulses going again, something was taking a fancy to my large squid bait.
Picking up the rod, a solid pull over of the tip registered she was on. After a cracking fight, a pi$$ed off butch & broad
head surfaced in the swelly chocolate soup. The next battle is landing it. Luckily, my mukka was willing to return the favour for my earlier wetting I took on his behalf. After a few tricky moments, we had her in our arms.
A
19lb14oz
SchLOOOOOOOOOOOOOOOOOOOOOOOOONG-GA
!!!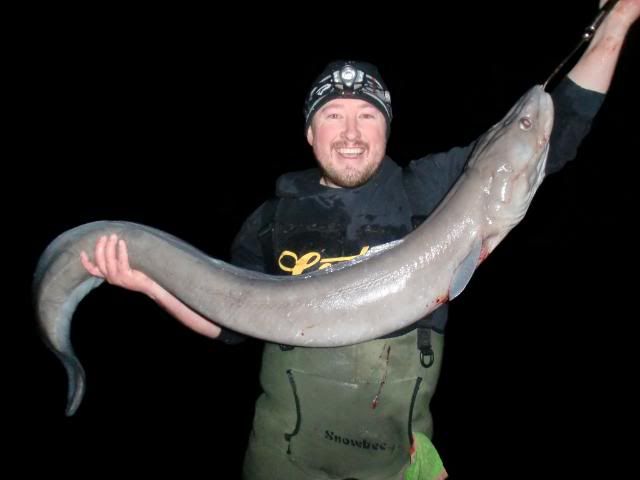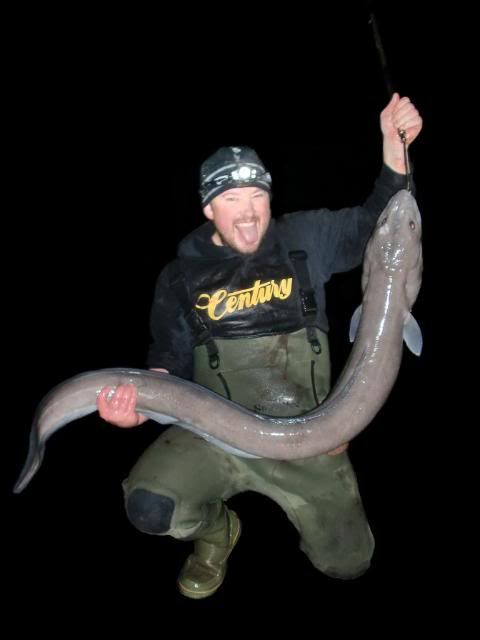 After the SchLOOOOOONG-GA was returned, with myself being left more slimed up than a kid in Pat Sharps fun house;
a speckled sea rat was the session ender and it was time to head for home.
It was a cracking nights worth of fishing. We got wet, bantered, cold & windy, swelly seas and the fish were biting.
Happy days!!!
Browny.