Discussion Starter
·
#1
·
Hi everyone,
well after much looking at the weather for the last few days and a lot of checking all the gear my partner and I went out from Minnis Bay in our Avon rover 3.1 inflatable dinghy.
The conditions were perfect and it was days like this I had bought the dinghy for.
Launching this time was made easier by the addition of some transom wheels that I made up the other day out of some old aluminium, a pair of wheels (I cheated and bought these), some stainless bolts and a bit of being inventive.
This was done as it is a bit too heavy with everything in it for my partner to help me carry.
Having arrived at the slipway about 12:30 and noticed there was a sailing dinghy race going on, I asked one of the guys there where they were racing. He pointed out the course to me so we headed up towards Reculver out of the way and anchored some 300 yards form the old sewer pipe at Plum Pudding island.
We started fishing using squid and ammo frozen sandeel and it wasn't long before I had a whiting of about a pound.
My partner Corrie then had two whiting, one after the other, and I thought I was going to get beaten today.
This wasn't to be when I reeled in a doggie of about a pound.
Corrie then had a small doggie just before my rod was almost pulled out of my hand with one of the hardest bites I have ever had in all my years fishing.
A short battle was then had before Corrie just about managed to get this into the net.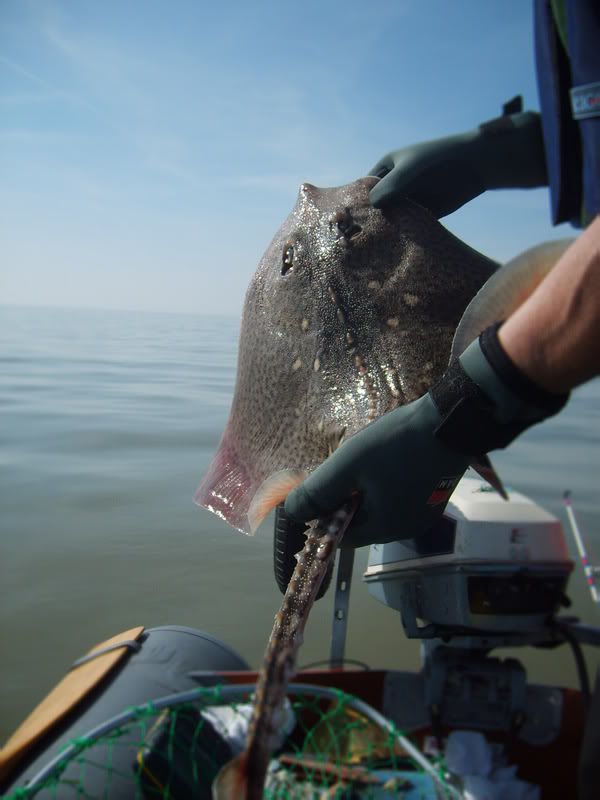 This is my personal best thornback but when we went to weight it, we found that I had left the scales (both sets) with all the beach fishing gear at home.
I don't know what it weighed but it was over 10lb at a guess.
If only I had brought the scales...
Corrie and I went on to catch more whiting and I had two more thornbacks before we packed up and headed back to the slipway around 17:30.
While we were packing up, a few more boats came in and I spoke to a couple of people and they had caught loads of whiting early on in the day before they had thornback and one nice bass of about 6-7lb.
If the weather is ok Sunday we will be out again.
Ron, if you read this, you were right! She wants a proper boat now.
Malcolm.