Discussion Starter
·
#1
·
Decided to have a fishing session yesterday (Fri 1 Jun), well England were on TV and everytime I watch them underperform I have the urge to throw a 5oz breakaway through the telly. Started packing the kit up and realised my digi camera wasn't working, changed the batteries to no avail. The hail storm at Rhosneigr last week has killed it. I was forced to rely on my mobile phone camera for the weekend.
Dropped into Rays just after 7 to load up on bait, and headed for the Lleyn Peninsula.
Got to a beach where there was a fair amount of swell, even given the flat calm wind and set up 2 rods at about 22:00.
first rod was my plugging rod with a 1-up 1-down flapper with 3/0 hooks, this was cast out about 30 yards with a mixture of lug and rag for bait. (One day I may even use it for plugging...
)
2nd rod was my metalite beachcaster coupled with a centurion fixed spool and 30lb braid. Rig was an up-and-over wishbone with 3/0 hooks baited with worm or sandeel, and cast to the horizon.
10 minutes in and the close range plugging rod starts nodding like crazy, pulled into it followed by a brief scrap saw me beaching this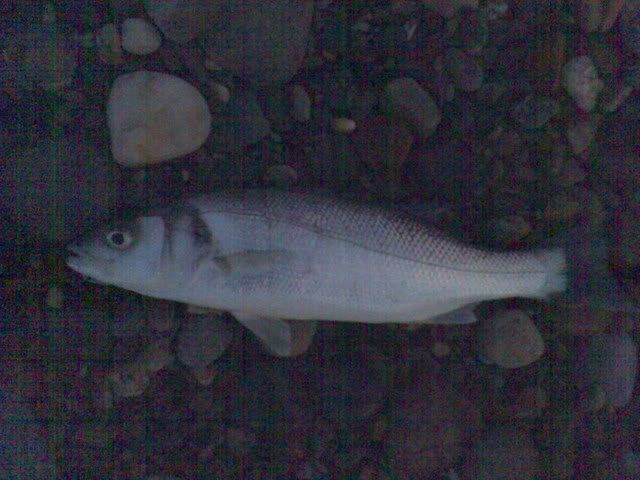 Schoolie of around 12" long. My first Bass of the year. All counts towards species, and size really doesn't matter!
I had no more bites in the next 30min and all my baits were coming back untouched. A voice entered my head saying 'Try Trefor Pier, you have been after Bass and Huss solidly for 6 weeks, it may be your lucky night!'
I don't normally get voices in my head, so I took notice.
Arrived and had my rods set up at Trefor by 23:30. the plugging rod was set up with a 2-up 1-down avis boomed scratching rig with size 6 hooks and pieces of ragworm. This was flicked out 5-10ft.
2nd rod, the same beachcaster combo as before was set up with a 6/0- 4/0 pulley pennel and baited with sandeel or squid.
I got chatting to 2 anglers already there, who were catching my favourite fish (doggies!
) and nothing else, and it wasn't long before I had had a brace of them to the pulley rig.
after the 2nd was unhooked and returned I put a whole squid on and cast out, 10 mins later a huge bite got me scrabbling for my rod, and I lifted into a huge weight.
I turned to the 2 other anglers and said, Think I've got a spider crab here, it's too heavy for a dog, and not fighting.
That was the cue for it to start scrapping, bending my rod double and forcing me to let out line. After a touch and go scrap that lasted 10mins I got a large Huss to the surface.
Those of you that have read my previous reports on Trefor Pier know that I have dropped 3-4 big fish there trying to handline them in the past month. I wanted this fish landed, so opted for walking around to the harbour.
I told the 2 other anglers my plan, to which they asked whether I was keeping it. I replied no, I'll get a photo and weigh it, but if they wanted it for the pot they could have it. At this they decided to help me out. Which I was most grateful for as 3 headlamps checking positions of fish, various pier beams and timbers and rod positions made my life a lot easier.
After 10 mins I had it round by the steps of the car park, where I landed it. Took this photo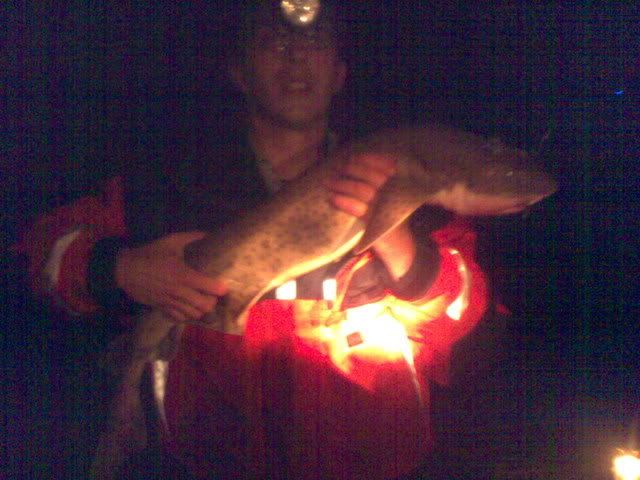 and weighed it. Scales settled on 10lb 1oz. My first ever double figure fish, and also a new species for the year.
I was well made up!
I continued fishing unti 01:15, but only succeeded in legitimately hooking this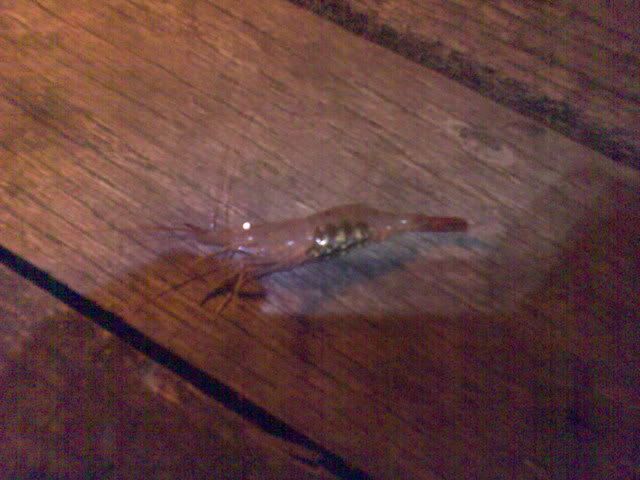 shrimp in the mouth to a rag bait on my plugging rod.
Drove home exhausted, but happy!
Days Scores 1 Bass, 1 Huss, 2 Dogs