Discussion Starter
·
#1
·
Arrived on the Clash site Friday tea time in the middle of a monsoon!!things were looking a bit iffy for fishing the next day. Had to console myself with loads of wine and beer
Sat morning did the husbandly thing and took wor lass into Stanraer for a bit shopping. I am sure she must half bought just about every plant in the garden centre. One thing is for sure if you ever come looking for my caravan on the site there is no way you can miss it!!!
Left Dorothy and her sister sorting out pots and plants and drove to a hw bass mark in the Ardwell area.The conditions looked perfect and I was feeling quite optomistic. We had a cup final party planned back in the van so that left me about 1.5 hours to get my first bass of the season.Put on my favourite Youzori Aile Magnet popper and set away.
There was a load of gannets and terns divebombing sandeels a short way out and I must admit they were taking my attention as I "popped" away.Got snapped out my trance by a bloody gull trying to pick up my popper,the swine. Anyway gave the place a good going over and never rose one fish.
This morning tried a lw bass mark just a bit north of Drummore. Again the conditions looked perfect and I thought I just had to raise a fish. After about an hour or so of working a favourite stretch of the shore the gannets and terns were again starting to get my attention.That is when my popper took one almighty take. Unfortunately I did not hook it but all I can say was that it was not a small fish. Fished on for another hour or so but had no more takes :blink: Decided to call it a day and head back for breakfast.
It was then time for another "family thing" and a stroll around Drummore(camera in hand)Took a couple of shots on the site first. Martin has had a fishing cabinet built in the bar stocked with a few basic items.Here it is
Took a photo of two the rental vans to give you some idea of what they are like!
Had a walk along Shore Street and bumped into this handsome galloping gourmet!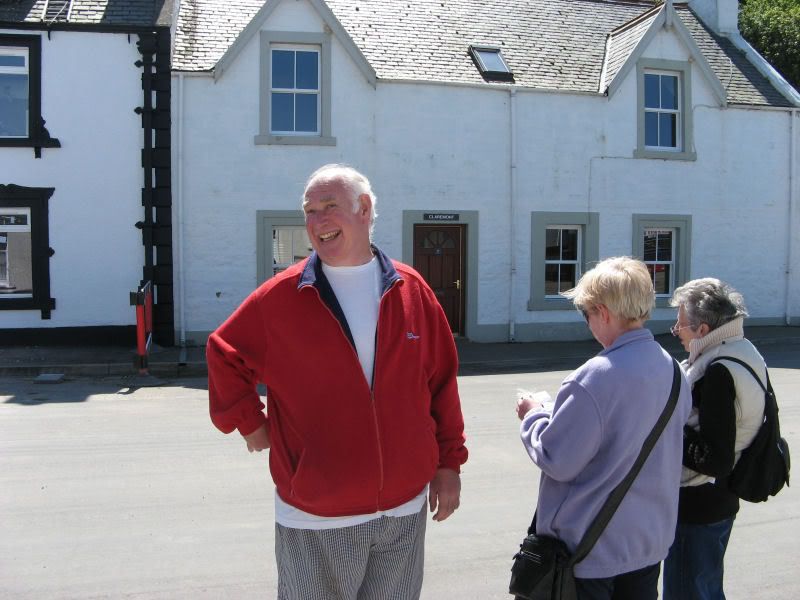 Next it was into the local armoury for a quick coffee
On the way back to the van took a shot of the harbour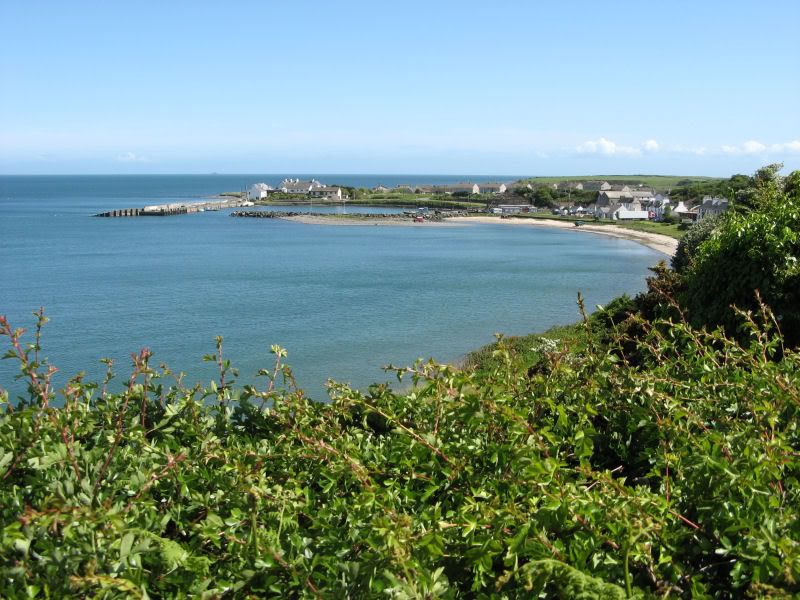 When we got back to the van the girls once again got their gardening heads on so I sloped off once more with my popping gear. Started off right in front of the caravan park this time and worked my way slowly to the north.Again I had high expectations and the conditions were perfect. Fished around as far as the goatfield with not one take. This part of the shore does look "bassy" and I know it will come up trumps one day.
Packed up the car set away for home just as Ian was bringing his boats in so stopped for a bit crack.I must say his tractor drivers are getting more attractive!!
Never got the full details but some tope and a bull huss had been caught. I love this shot of Mally looking miffed
Well the fish did not show for me but back over in two weeks for another attempt