Discussion Starter
·
#1
·
Hi,
Just back from a week in a cottage right on the beach in North Pembrokeshire - just a minute downhill to the sea so a fisherman's dream. My second trip this year to this idyllic spot. This is the walk to "work"
Picked up a bucket of live sandeels from Country Stores on the way down and charged up the aerator pump. Day one we tried live sandeel in the surf at Abermawr but no luck. Hmmm, was this going to be a blanker of a week...?
Day 2 and I was out early to a local rock mark I'd recc'd last time in search of mackie. Bit of a mountain goat descent but safe enough. First cast: small pollock.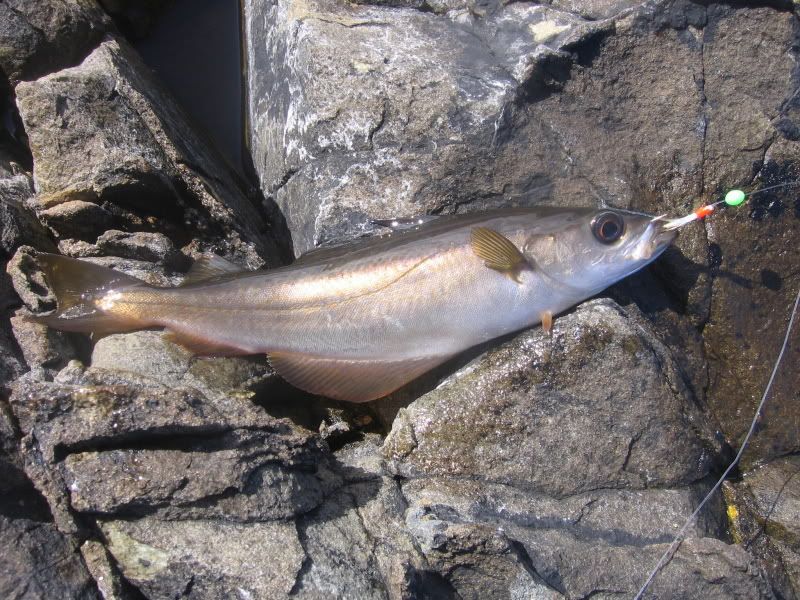 Second cast: small pollock. Third cast: a big fish, I thought, but was actually two small pollock on the same string. This went on an on until I had had around 20. All went back of course.
After brekkie, back to the same mark for more spinning but fish had gone off the feed. So tried ledgering for a bit but the snags got on my wick - and this was a holiday after all.....didn't want the stress to spoil my sitting in the middle of nowhere with nothing but the beautiful coast and the deep blue sea to enjoy.
So.....on went the float with a sandeel. Give it a go I thought, despite not having had much previous success with the float. Size 2/0, a few feet of Amnesia and...Bang. Nice pollock. Big attack on the bait and then a dive to the rocks so a real fight on the light tackle and bass rod.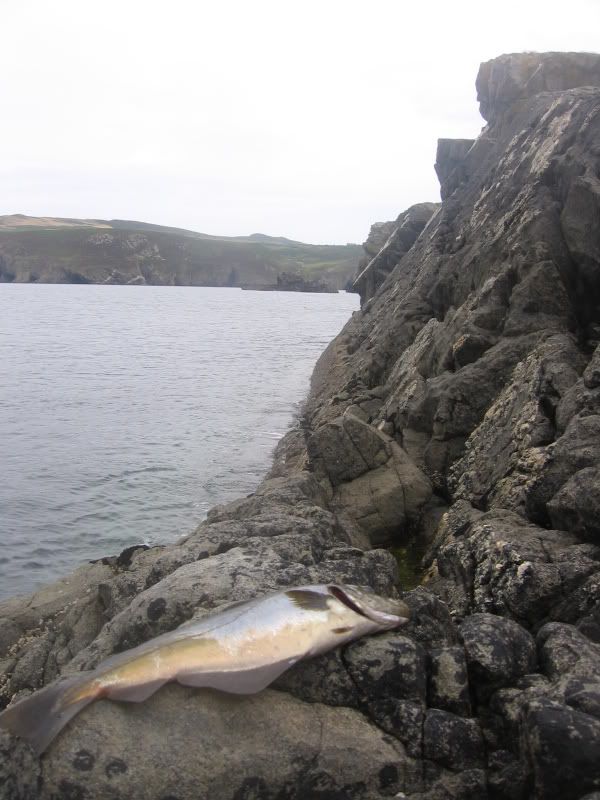 And then the pollock started getting bigger and bigger.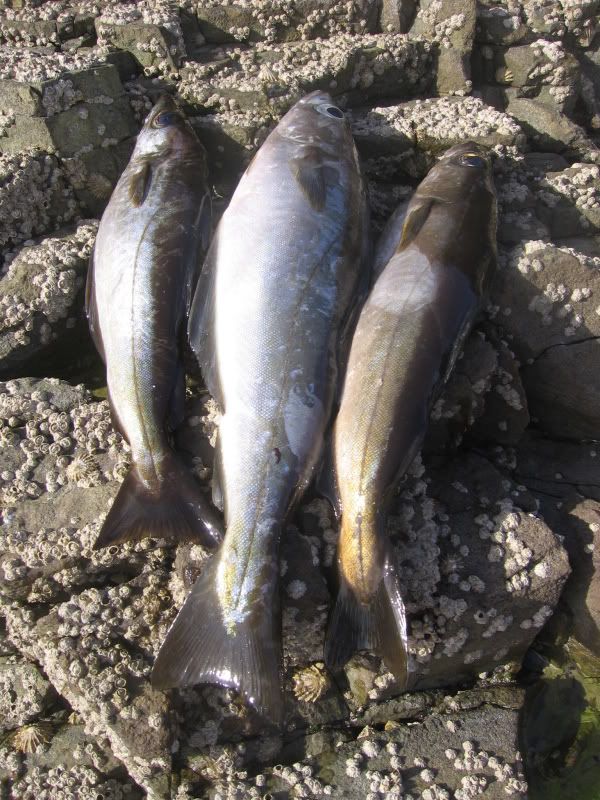 By now the sandeel had been frozen and they still worked really well. Just 1lb of eel lasted the entire week for both of us and it was only on the last day that I resorted to artificials and, ironically, caught my biggest pollock of the whole week.
Day 3 sweated away over to another rock mark 40' walk in the other direction only to have a massive bass snatch the sandeel from my feet, dive for cover and cut me off. It was a beauty and honour was only saved by managing to re-claim the float. A mackie went bananas before throwing the hook off and I lost a pollock.
Day 4. Still no mackie but no complaining due to the continuing sport with pollock back at my regular mark but then, just as I was about to head off for lunch, the mother of bites, a battle to keep the fish out of the snags and.....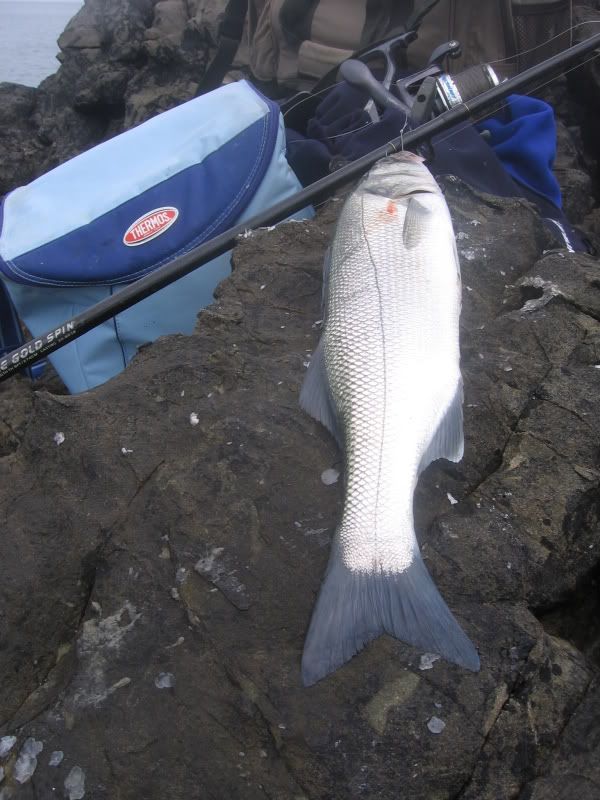 my best shore caught sea bass. How happy was I....? A very productive session: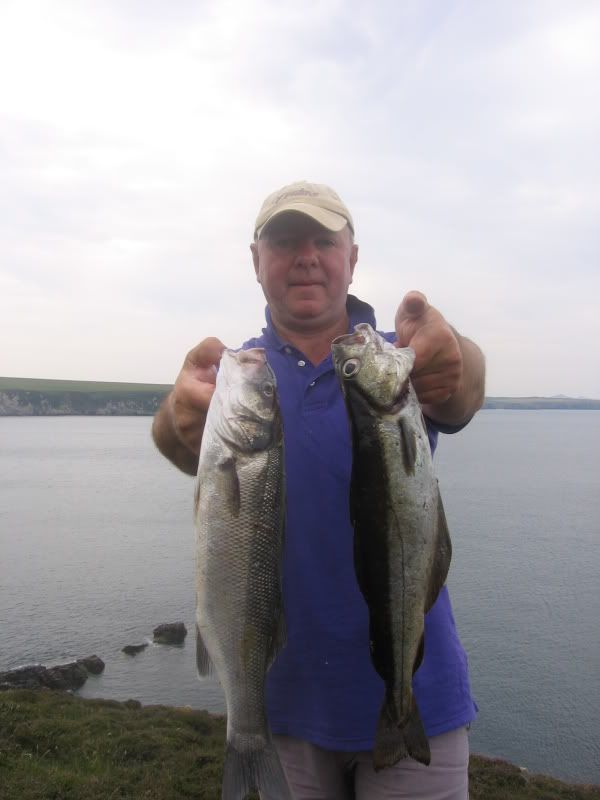 Our group had lunched in Porthgain the day before and (unknown to me) paid a small fortune or "London prices" as it was later described for a sea bass main course. We had this beauty on the barbecue and I know it was sweeter still.
Spent the rest of the week floating here and there and always picking up a few nice pollock - which I love to eat so we cooked them each night for supper.
And that was the story of this lovely week really. All day spent fishing and dozing and enjoying the sea and getting away from it all. Hardly saw another living soul all week: one or two walkers and only 2 other anglers. The only excitement was when I cast over a newly laid lobby pot (having just had a sign language discussion with the owner about how good the fishing was). Anyway, as it was very very calm and I was in company, I swam the short distance to retrieve it. That salt water was good......
On the last day, the Ladies Team managed a lovely sized mackerel at long last which took a sandeel off her float.
Sadly the excitement was too much....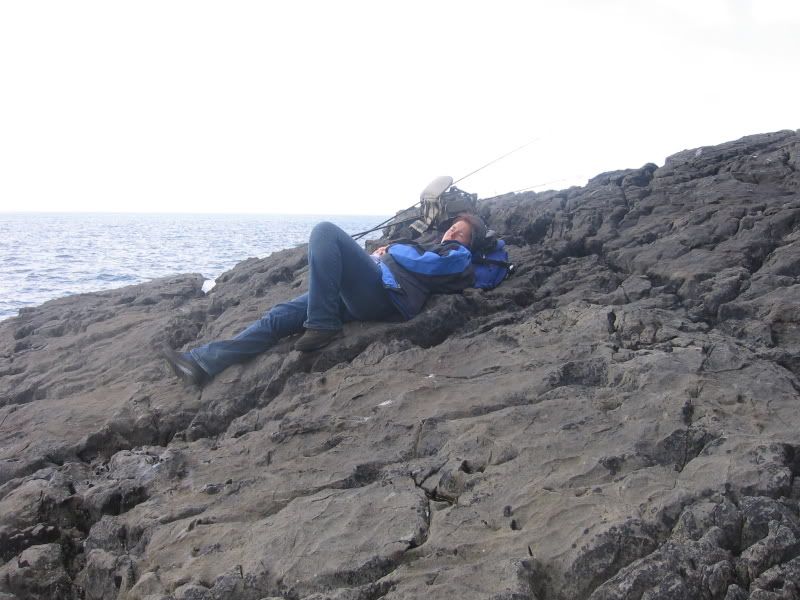 I switched over to spinning again and landed another four, but they were few and far between. These were big summer-fat fighters and were great on the light gear.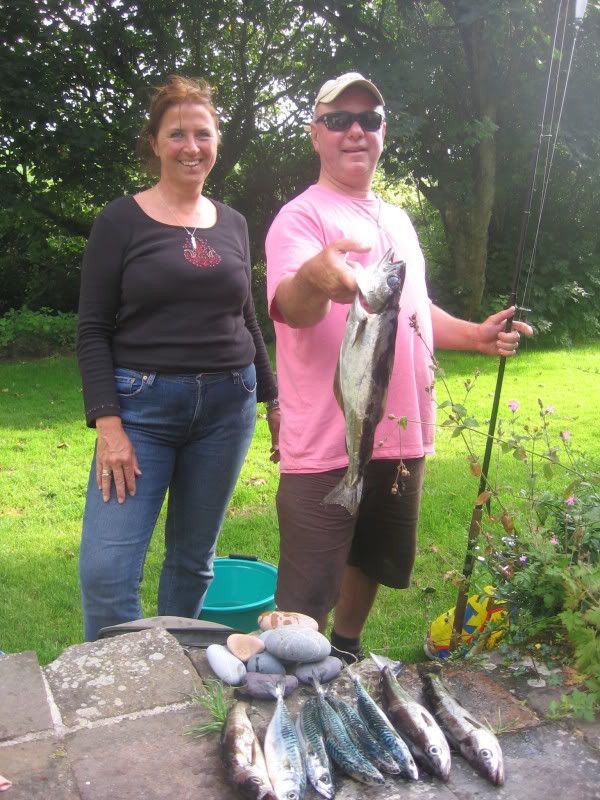 Do you like the pink shirt to match my complexion??
The pollock mainly came at the end of the retrieve, right from under your feet in deep water and gave a heck of fight and tasted fantastic.
Needless to say, we only kept what we could eat. We were lucky to be able to clamber down and stay on the rock marks - there's little access elsewhere and if the seas had shown a swell, would have been unsafe. We were fishing into deep water and at all states of the tide so there didn't seem to be anything scientific about when was best to fish. The only recurring theme was that your first cast was usually productive; if you sat down to have a flask of coffee and a sandwich, the next cast usually landed a fish. So my guess is that obviously good to rest a spot for a while and roam around. Next time I'll try fishing much earlier and then later in the day but didn't want to test those "other" waters too hard. As it was, the group were clearly pleased to see the back of me for the day and delighted to receive my offerings for supper....
No idea of weight sorry, just had a tape-measure.
So really, to sum up the week, it was pollocks.
DH