Discussion Starter
·
#1
·
We headed off from Bude on the stroke of 7:30am full of anticipation and excitement. Our destination was Beer on the south coast of Devon and we were heading out for some inshore fishing with for whatever we could get with our skipper John.
In my car from Bude were Nicko and Mike. We were due to meet up with John and Mike from Bristol. This could get confusing with two Mikes and two Johns I thought. Anyway.. we pressed on with the early mist rising and the sun was out and we couldn't wait. Everything was perfect.
As we approached Exeter on the A30 we could see there was trouble brewing ahead. Traffic was tailed back for a long long way and we slowed right down to a stop-start. Oh c**p!!!
"We could be here some time guys!!"
A quick phone call to Bristol John followed and we were reassured as they were going to go to the café and get breakfast. "Mmmm breakfast"
Well nearly a half hour later and having left the motorway, numerous lane changes and some interesting side road choices put us back on our way. Albeit heading slightly the wrong way but we were moving. Creeping dangerously over the speed limit (BAD!) we eventually made it to Beer in 2 hours and 15mins. 45 mins later than it should take.
We hastily threw our gear aboard and climbed on with various p**s taking from the skipper and the Bristol lads. The boat slid backwards down the shingle bank and into the calm sunny waters. As we chugged out our skip informed us not to get our hopes up as it had been quiet.
As we approached our usual spot it appeared we weren't going to be able to fish here. The entire bay seemed to be strewn with boats with booms out. They were dragging their f'in scalloping chains out everywhere!!! As far as the eye could see there were scalloppers annihilating the sea bed by dragging their chains.
HOW CAN THIS BE ALLOWED????
The whole area was unfishable. The bottom being raked…. FEATURELESS!!!!
It's WRONG!
I'll save the rant for another thread and move on.
We pressed on further out to sea headed for a mark about 7 miles out where we could still sea the ecological and environmental disaster ships reeking their havoc in the inshore waters.
I will move on.
We arrived at the mark to see 2 Lyme Bay boats at anchor already and a calm 5-7mph NE breeze just rippling the surface. The sun was out and all seemed fine for our fishing at this location apart from the really small tide. We were ready with various feathers, tactics and baits consisting of squid, mackerel, sprats and juicy rag.
We readied our gear and on the word "go" dropped our various tackle to the sea bed. The reason for the sychronised drop was for the purpose of competition. 3 quid in the pot from each man. 3 catagories as follows…. 1st fish, best specimen, most species. It adds a little fun anyway.
Within minutes I was into the 1st whiting. Just over a pound but worth a few more pounds to me
)
What followed was a constant supply of fish of mixed species with the whiting slowly increasing to 3lb as time went on. This was encouraged by the skipper ground baiting into the barely moving tide.
(Nicko with a fish on)
We started to get into Mackerel near the top for fresh bait and scad started showing in tentative numbers. A Herring found my line and the odd dogfish was caught by the guys just to mix it up. Bristol John even lost a very good sized Garfish as he attempted to heave the beast aboard
) Bude Mike was targeting species rather than hauling constant whiting via baited feathers. He was using a 1 up 1 down rig using different baits and concentrating on presentation instead. Bristol Mike was filling his boots and christening his new boat rod with some of the biggest whiting of the day and Nicko just pipped it with the best whiting. He also brought up a quadruple shot of decent mid sized whiting at one point.
Boy were we having fun or what?!?!?
(Nicko with channel whiting)
Bude Mike was busy sharing in the banter about the rag and how a fisherman urban (or is it coastal) ledgend told of a chap losing the end of a finger to a king rag. Hmmm.. that's nasty we thought. Not 15 minutes later Mike yeledl out with expletives and threw a worm in the sea." ****ard!!!! It just got me"
It had nipped him under the finger nail.
Ha ha ha… Brilliant!
John found himself with a little birds nest to contend with and as he left his baited feathers on the sea bed and pulled out the nest it was nearly a minute or so before he wound back up and realised he had a fish on. It came to our attention that he was heaving a little and it might be bigger than a channel whiting. The rod had quite a bend and at times he was having to pump the rod.
As he teased the fish up and off the bottom we all watched with a bit of a natter as to what it might be. "Come on John, you're just trying to make it look good. Give it some muscle".
We were happily taunting him because in 3 weeks we're off to stay at his house on the Ebro in Spain with a possibility of Catfish to 200lb+. "How will you cope?" we laughed.
And right there it broke the surface.
He had a lovely Thornback Ray at 6lb 7oz. Nice.
(John M's Thorny)
He grinned. "That's winning me both the species and specimen categories. What are you lot playing at??"
Right I though. I'm gonna put my bait hard on the bottom and let out some line too. I've never had a ray you see.
Well after a while it was evident that the hungry whiting were winning the food chase.. most of the time, and if left ledgered on the bottom they would swallow the hook deep. This made it difficult to put some back so leaving a tight line nearly right on the bottom would result in a nice clean lip hook every time using 1/0 to 4/0 hooks.
After a while of filling our boots with the various species it felt like we'd had our sport and some keepers and it was time to try something different. On our way back we took a slightly different line and we were very quickly upon what seemed like mixed rocky/weedy bottom. We hoped for Pollack and had a go with some red gills and worms and a few live rag. It seemed no Pollack were around for us but we could hear on the radio the charter skippers had managed to find an isolated Pollack or two with their "customers vast array of artificial's".
)
What we turned up with was some was a few different species. Bude Mike wound in a couple of stunning mid sized male cuckoo wrasse.
He was still in the species hunt against John and I. Bristol Mike then hooked into a lovely mid sized female Ballan Wrasse and I hooked into a lucky tiger striped Pout!?!? This drew me level with John resulting in a split pot on the species. We were only on this mark for a couple of slow drifts but this brought our species tally to 10 for the day. Awesome!
We proceeded back to Beer and over the 6-7 miles we gutted our fish.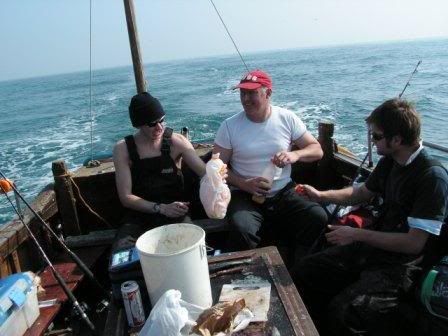 (Heading home)
Many of the whiting were full of roe and we felt glad we'd put loads of decent fish back. The black back gulls and gannets following were feasting out of the guts, heads and leftovers.
We were joined by a small female linnet (we think) that was really puffed out. She had stuggled to cross the channel in the light winds and she seemed as pleased to be given a lift as we were pleased to see her.
(Linnet)
As we arrived back to the shingle bank to be hauled, boat and anglers, up the steep shingle bank all that was left to do was get the beers in and dish out the winnings.
It felt like the long dark winter was truely over. We were all left mildly sunburnt and excited about the prospect of getting out again and the prospect of great shore fishing just around the corner