Discussion Starter
·
#1
·
Are you ready it's gonna be a bit of a Browny type report lol:roll1:
Only had the one real chance for a session so......
After a bit of advice from 1 or 2 locals, Blackcat and I fished a mark along the Pembrokeshire coast path. With high water around 10pm on a big spring tide it seemed conditions were good,. We would be fishing from around 5pm til high into darkness. After walking for around 10 minutes along the cliff path and only seeing cliffs there it was a gap in the hedge and a path down to the mark.
An unspoilt wilderness of clear blue water!!
A nice set of ledges with a big gulley of deep water running back into the cliff.
As we got on the ledges we saw a man feathering on a small boat around 40 yards. As we approached he started his engine and moved off. Strange we must have put him off we thought!
Then as we set up our rods Blackcat shouted up "aaaaggghh lets go somewhere else!"
Turned out the reason the man feathering had moved was because Sammy the seal was in the area!! To make things worse the cheeky sod swam up in front of us with what looked like a mackerel and proceeded to chomp it in front of us!!
Just as the seal turned to swim away a few fish jumped clean out of the water within 10 feet of the seal.
We decided to stay and carried on setting up and within a few minutes Mr Seal had disappeared.
After some difficulty getting bait (goodwick marine was closed), we had some peelers that we had taken with us and a few fresh mackerel from the local supermarket. I meant to get some rag and take it with us but forgot.
I had a plan though and with a crab/prawn trap I would try and catch us some bait.
1st thing mackerel head in the trap and down the side, then set up the beachcasters with pulley pennels baited with crab and cast out. Then we set up lighter float tackle to have some fun.
Nothing for an hour or two although I had a knock to a crab bait which I missed. Also tried a bit for feathering for mackies but no joy so gave up
Blackcat then had the 1st fish a small but very welcome Pollack to float fished mackerel.
His 1st float caught fish for a few years!!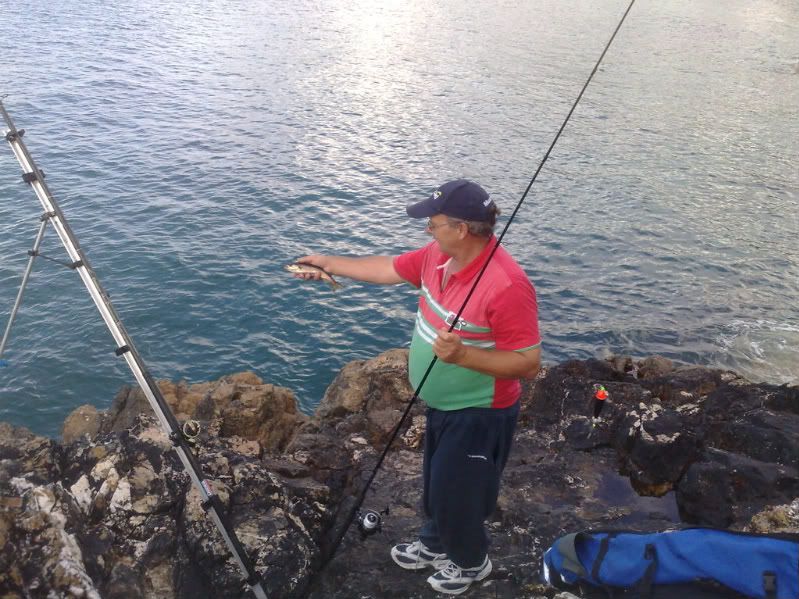 Went quiet again for a bit but Blackcat landed another Pollack to the same tactics a little while later.
I checked the crab trap and inside were 2 stonking great velvet swimmer crabs(not peeling) and a 2 inch pouting (which went on blackcat's float as live bait but didn't work though).
I struggled to get a bite on the float so altered the depth to fish at around 10ft and moved to where blackcat had been fishing as he had moved to fish in the gulley and Wham!!!
A take straight away which resulted in a small Pollack….1st proper float caught fish (only had gobies down the side of porthcawl pier before).
Next chuck with the float and same again bit this time the fish went mad and tried to dive back to the depths several times, before I managed to land it. A better Pollack just under 2lb!
Flipping heck for a small fish it went like crazy….would love to hook one over 5lb just to feel it diving!
Checked the trap and in it were a few small crabs and another 2inch pouting which this time I used as bait on a float.
Chucked out to the same spot and didn't have a take so put the rod down to re bait my beachcaster….turned around to see my float pulling under and rushed to grab it but I missed it! Sods law as soon as I turned away best pull off the night!
Also while grabbing the smaller crabs out of the trap a little one pinched me real hard in between my fingers so I kept him for bait in case there were any wrasse about. No joy though so went back to mackerel strips and both me and Blackcat landed another small Pollack each. With blackcat's pollack coming out of the big gully.
Checked the trap again and this time it had another 3 velvet swimmers in there but with a big male sitting on top of female peeler….bait!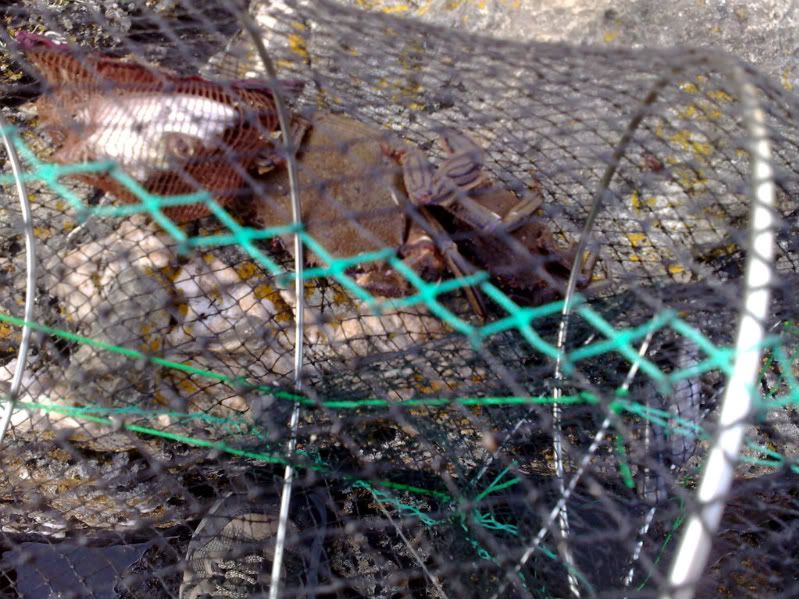 The crab was peeled and half each to me and Blackcat was put out on the beachcasters, not long after had a good bite and struck into a good weight…fish on!! Really heavy but no fight and on landing turned out to be the darkest marked doggie I've ever seen and about 6lb of weed.
After packing our beachcasters away as it got dark we concentrated on the float rods for the last half an hour and I managed to land another 2 small Pollack and blackcat had another one before we packed up.
On the last time the trap was brough up to pack it away it had 2 tiny pouting and a colourful type of goby thingy.
Fishing with a float is great fun!!!! Nice calm evening and some fishies........5 pollack and a doggie for me on rod and line and 4 pouting and a goby thing in the trap lol........4 pollack for Blackcat
Can't help thinking we may have done better with some ragworm though