Discussion Starter
·
#1
·
After a very disappointing last few months, and wondering if I was ever going to catch a fish again my last couple of trips have been pretty good. I took Dave Barham and his photographer out a couple of weeks ago after Plaice, and although the fishing was far from spectacular I did manage to get a couple of the target species along with dozens of tiny Whiting, They were even coming up 6 at a time on Sabikis meant for Herring. These were my fist fish for around 6 months, so I was grateful for anything:happy:.
Today I had my first trip down to Kingmere after Bream. Crew for the day was Fisherman Figg and we set off about 9am from Newhaven. Although not as calm as we expected we covered the 20 miles in around 50 minutes, and as we got closer the sea flattened off nicely.
Good sized bream came aboard thick and fast, as well as the odd doggie and before long we had caught around 40 up to 4lb. Most went back but I took enough to stock my freezer for the year. There were probably around 100 boats on the reef, and from what I hear not everyone did as well as we did. I guess the fish were condensed in small areas
.
After a few hours it started to blow up a bit so we upped anchor and headed closer to home in case it got much worse. We had an hour or so after Plaice on the same spot I fished last time out, but only managed small whiting again so called it a day.
As we got closer to Newhaven we saw an Osprey (I think it is owned by a notorious wind up merchant on here) being towed back in by a rubber boat:laugh:. Now being the nice sensitive person I am I would not dream of posting any pictures or video of such a thing, especially as I know he would not dream of doing the same to me if he ever saw me being towed in, so I wont...........NOT!
Fill yer boots lads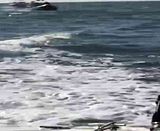 Revenge is very sweet Mr Smith:bleh:. I hope you get it fixed very soon, my wallet needs topping up with some of your crispy brown notes:1a: