Century Kompressor Super Sports, Penn Mags, Sloshes
Discussion Starter
·
#1
·
me and crumpy decided to give friars point a bash fishing 2 1/2 up and all the way to low and back up an hour or two...... armed with macky, sandeel, squid, whiting and a pouting with the eels in mind we set up on the right hand side..
with an hour gone there were no bites to be seen until i decided to fish 1 rod with a whole squid on an up and over for the rays andthe other with a flapper 2 yards out with macky baits. this then produced a slack liner on the whole squid which i later missed as when i struck there was nothing to be...... :schmoll:
crumpy then managed a nice bite which i noticed while he was'nt looking which after a good scrap and me jumping down the rocks trying to get closer to the water a conger of 5lb 15oz which was weighed, photographed and returned safely into the murky depths of the channel........ as high water had been and gone it had all gone quiet again with no bites to be seen. a man who had been fishing the other side was having doggies and had 3 by now, with one being a fine 2lb 4oz...... crumpy then pulled in a small doggie of around the 1lb mark and so i then decided to have a couple of casts on that side which quickly produced a doggie on each rod both being over 1lb 8oz.......
i then heared a loud shouting 'sam!!! sam!!! sam!!!' from crumpy and as i got over there he was into a fish holding bottom and kiting in the tide..... as i scarambled down the rocks to get it a fine thornback ray of 4lb 15oz surfaced which again was weighed, photographed and returned......
as the tide had ebbed out to low i decided to put an up and over on with a doublke sandeel and squid rap looking for that ray whic quickly produced a good knock which was hooked but later jammed up and all was lost!!! :schmoll: :uhuh:
i then decided it was conger time so i put out a strong trace with bigger hooks and a rotten bottom set up and put the pouting out in the deep water gullies straight out the front of the point which later i left the drag on a bit and after about 20 minutes it started to click and i looked at the rod for a bit with no bite so left it. as it was time to bring it in i produced a good strike with a good weight which was slowly moving with the tide..... i had it on for about 5 minutes pumping the big weight slowly until it finally let go with just leaving a big bite mark right through the middle of the pouting.......
after an hour had passed from low all had gone quiet we decided to call it a day.......
overall a fantatstic day with beautiful weather which we caught the sun and some fish!!! :clap2: :clap3:
SOME PICCIES OF THE SESSION..........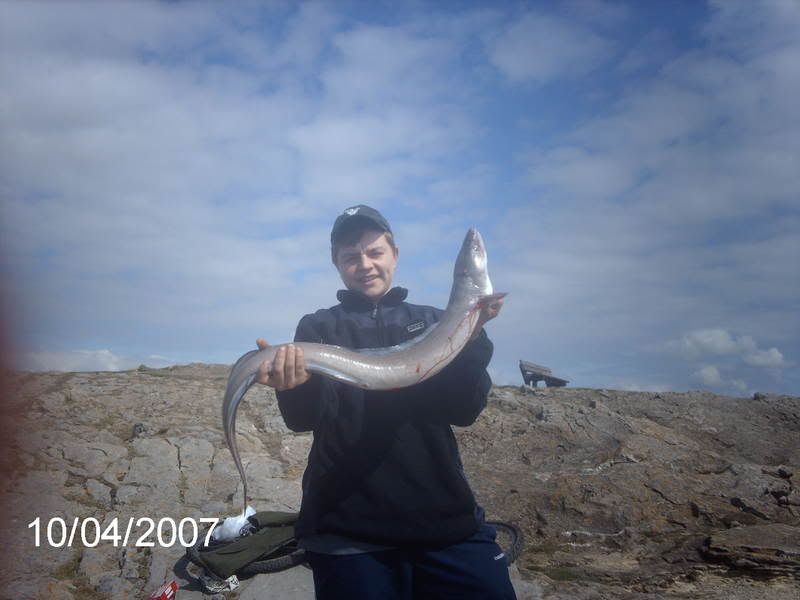 CRUMPY'S 5LB 15OZ CONGER EEL.......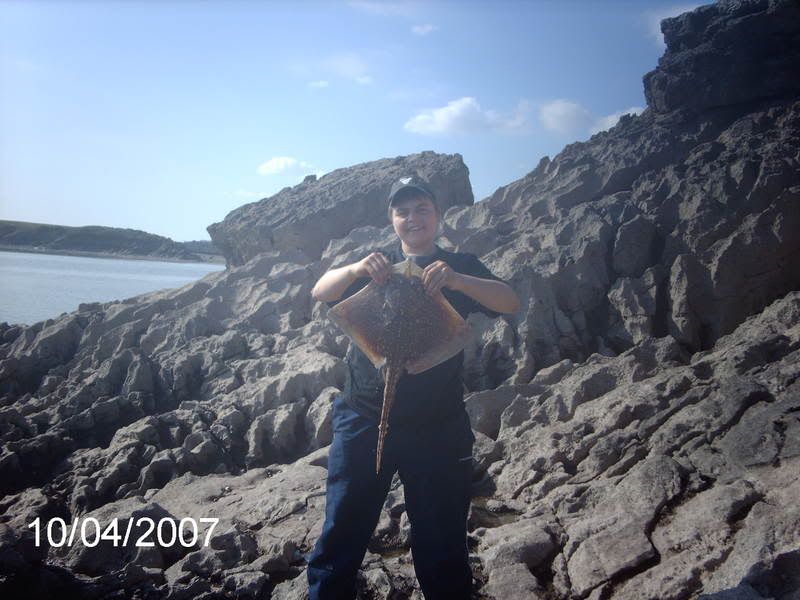 CRUMPY'S 4LB 15OZ THORNY......
tight lines and all the best,
steffyenck.