Century Kompressor Super Sports, Penn Mags, Sloshes
Discussion Starter
·
#1
·
me and stanton decided to give friars a bash from the previous success from saturday's session. we got there for 3 hours up and planned to fish 3 down with mackerel, sandeel and squid. as we got down there and set up, other people were already fishing without any success. with first casts in the water it was'nt long for the action to start with both rods knocking within 5 minutes of being cast out. both resulted in doggies both averaging 1lb 1/2 each. with a few more casts and stan finally managing to get bait in the water after leaving his bait and bait elastic at home, with a quick call home it soon arrived and he quickly got into the fishing. bites continued for me with a constant string of doggies all averaging around the same weight mark. bites were non - existant to stan most of the session. as high water arrived and went i decided to put some bigger baits out in search of a conger or ray. by now the people next to us also managed a steady stream of doggies along with me on consecutive casts with in the start they were every cast, hopefully this would give something else a chance. as it did, with a few taps on the rod tip, i watched the line shoot downtide and backup again with little but gentle doggie knocks. after a more of a pull i struck to set the hooks home into a good weight. after a good scrap with the fish holding its ground and kiting in the tide a fine thornback ray of 5lb 14oz surfaced. after the quick photo and weighing i released it back to where he belongs, it soon shot off into the deeper water seconds after laying on the surface for a few seconds. scott was having no luck with no bites at all coming his way all of the session with me by now bagging a triplet more of doggies. by now 3 hours down had come and the water was getting shallow so decided to call it a day after what had been a fantastic session for me and a bad day for scott. whether it was that i was casting that much further than him or the way that it went.........
the final tally of the day for me was:
+ 11 doggies averaging between 1lb 4oz and the biggest being 1lb 14oz.
+ thornback ray of 5lb 14oz.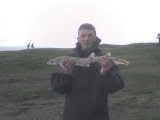 MY 1LB 14OZ DOGGIE.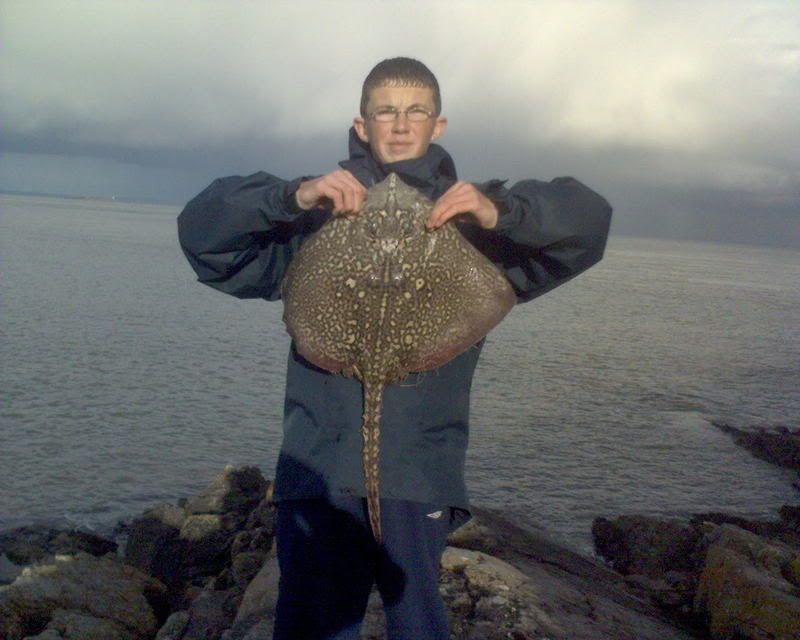 MY 5LB 14OZ THORNBACK RAY.
tight lines and all the best,
steffyenck.