Discussion Starter
·
#1
·
The big advantage of being off through the week is that I can get access to spots that are usually only accessible when I'm at work. Getting the tide,the time of low water,and sea condition right doesn't happen often when you only really have the sunday each week to catch it right. Anyhoo,today worked out just fine and I copied F1F3R and Martyboy and headed off early at the crack of 9 o clock,(well I am on holiday),to a spot where I haven't ever fished and not caught something decent. Got set up with one rod and it was pulled off the stand as I was setting up the second rod.Stuck fast in the kelp and had to pull for a snap-off but at least it showed there were fish there. First fish landed was a wrasse of about the 1lb mark,followed by a 3lb codling. Lots of bites and another couple lost in the tangles,then a wee while later struck into a wrasse of about 2 1/2lbs which was about 100 shades of green and one of the bonniest I've ever had.The pic doesn't really do it justice. Next up was a colding of 5 1/2lbs which put up a real good struggle. Yet another couple lost in the tangles again and finished off with another wrasse of about the 1lb mark. Headed along the road at about 12 with a stop to pull my creels which produced 2 sized,and 2 undersized lobsters which made 11 sized lobsters from 2 creels in 6 days. Now to put my feet up and watch the telly for a couple of hours.I like this holiday lark.
First up,wrasse of about 1lb
Then codling number 1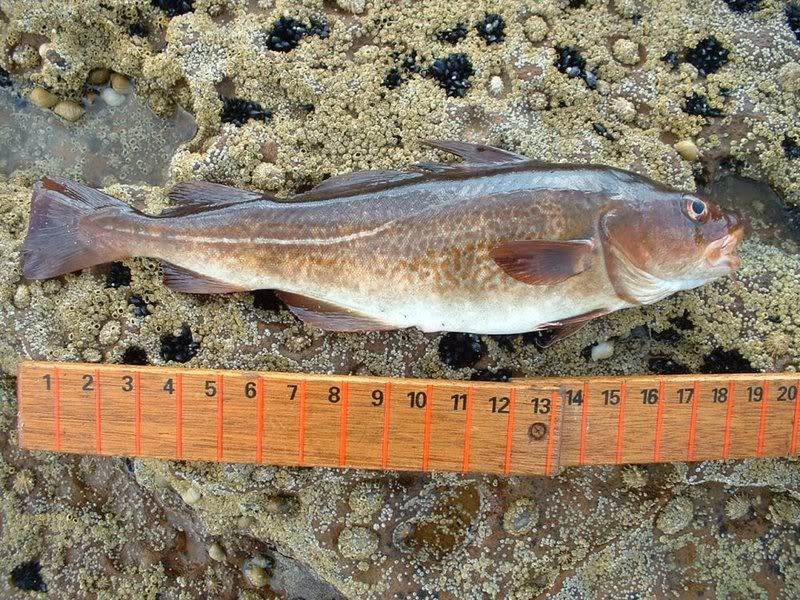 Really nicely coloured wrasse of about 2 1/2lbs
Then my best red codling of the year so far.
And another wrasse of the 1lb or so to finish