Discussion Starter
·
#1
·
Being the glutten for punishment that I am I offered to take Andy out to a wreck or two for a bash at the Cod :wacko:
The wreck I wanted to get to was 17 miles out and conditions didn`t look that great as we headed out the marina. Stoped off at a wreck 10 miles out and it didn`t seem to bad,no fish there so we ploughed on out and the swell got bigger but we battled on with the thought of plenty of Cod in mind.
Made it to the wreck and on the drift it wasn`t too bad and it didn`t take long (first drift iI think) befor a Cod was in the net. Andy got a lesson on rigging up and using a shad as a hopper and soon got into the cod and got his PB of around 7lb . don`t know how many we had but it must have been over 20.
One of Andy`s Cod..
Moved to another wreck with the hope of some nice Pollack but it only had small ones on and we headed back towards the marina.
Stopped off at another wreck on the way which I know has some nice Bass on at times and pulled off a small one along with another Cod for myself and one for Andy.
Last drift of the day saw me get hit by what I was hoping was a big Bass only to be a 10lb Pollack :doh:..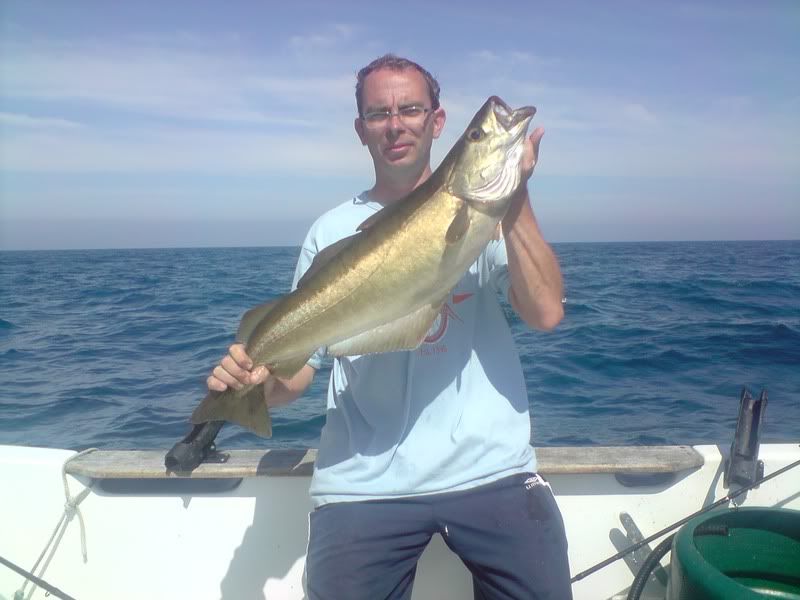 Another marathon filleting session at the marina when I got back and after the lot me and Ron had on Wednesday I don`t want to fillet another Cod for a while..
Alan