·
Deputy Jokes Forum Examiner
Discussion Starter
·
#1
·
Hakin Point Thursday 13th August 2009
After a fairly lengthy absence from our noble sport I finally motivated myself to get out and go fishing. With one thing and another fishing has been low down on my priorities so was nice to get out for a couple hours fishing the tide up at Hakin Point. Hakin Point as viewed from Milford docks:-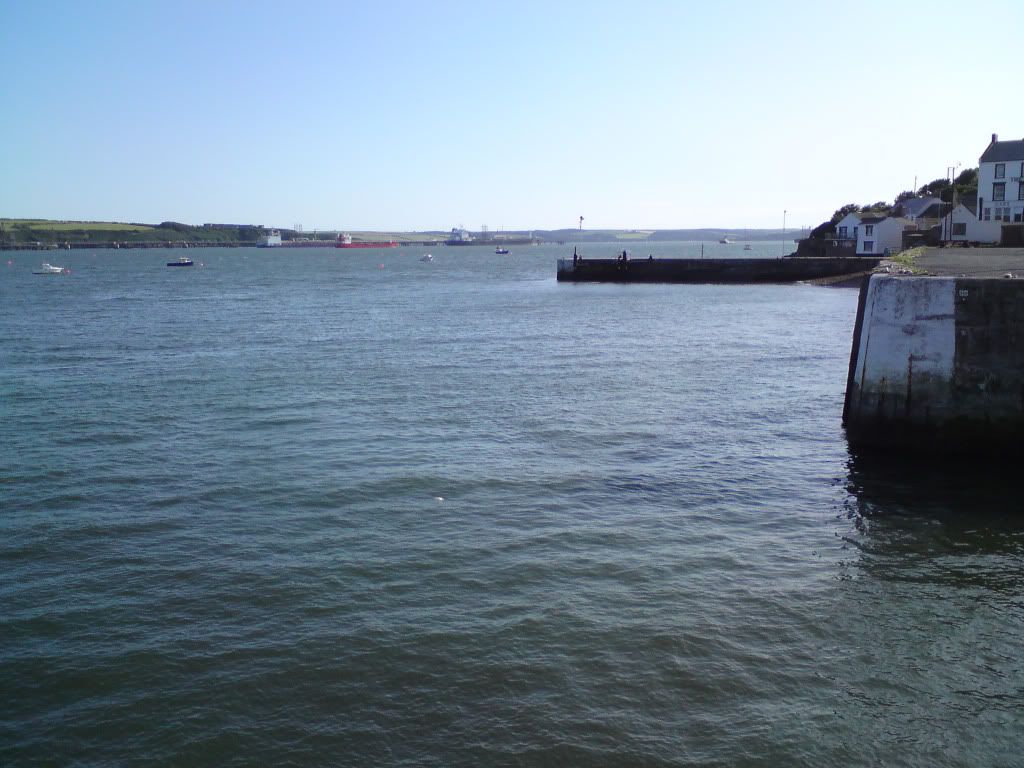 A lovely and calm evening. Armed with ragworm, squid and some manky mackerel began fishing around 7pm. First cast produced my first wrasse of the year and I thought this was the shape of the evening.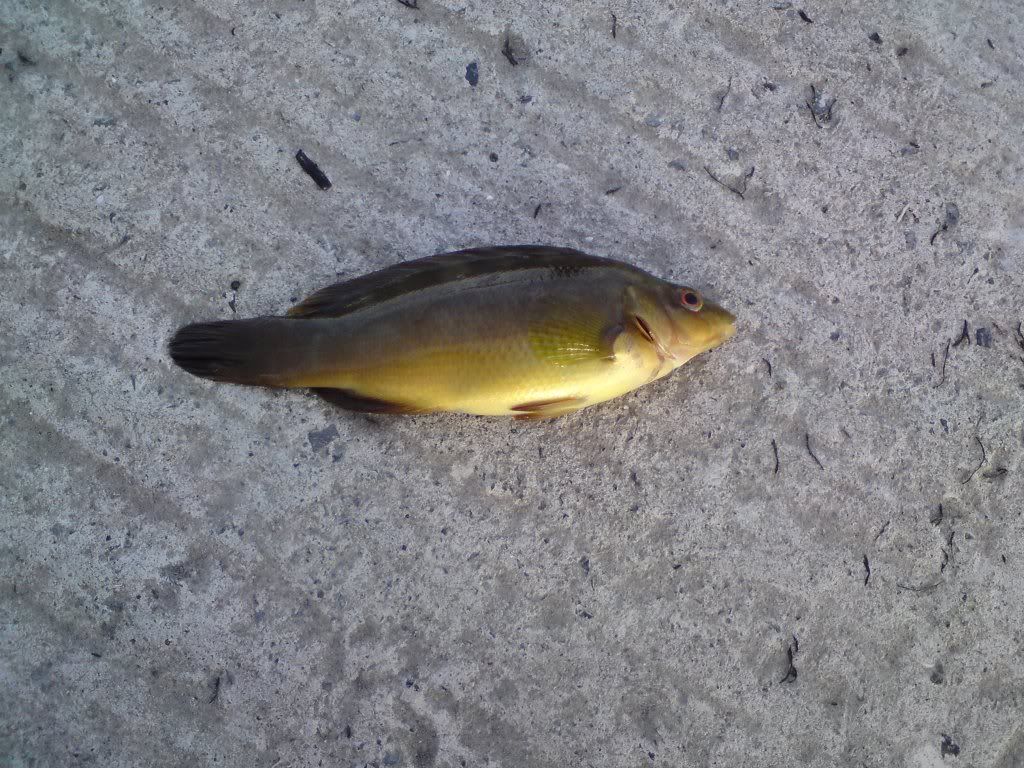 Had a couple more tentative bites then all went quiet for a couple of hours except for being dogged by huge lumps of weed. About an hour before high tide things started to pick up and the bites started coming again. Then disaster struck! Had tidy bite struck and started to reel in. Could feel dead weight so knew Id missed the fish instead hooking a rather large and heavy clump of weed. Whilst reeling in my rod decides to give up and snaps! Gutted but hopefully can repair it. Slightly dejected headed home but at least avoided a blank.
Burton Concrete Jetty Sunday 16th August 2009
With my new found motivation for fishing was up and at them early Sunday morning to catch the tackle shop and sort tackle bag out for a few hours fishing on the concrete pontoon in Burton. With high tide around 3ish and a nice slack tide was fairly confident of bagging a fish or two! So with mackerel, squid and ragworm off I set for the jetty.
The weather was a bit hit and miss with intermittent showers forecast and a stiff south westerly breeze coming straight up the harbour. Set up on the right hand side to begin with and with the wind fishing was proving difficult to say the least.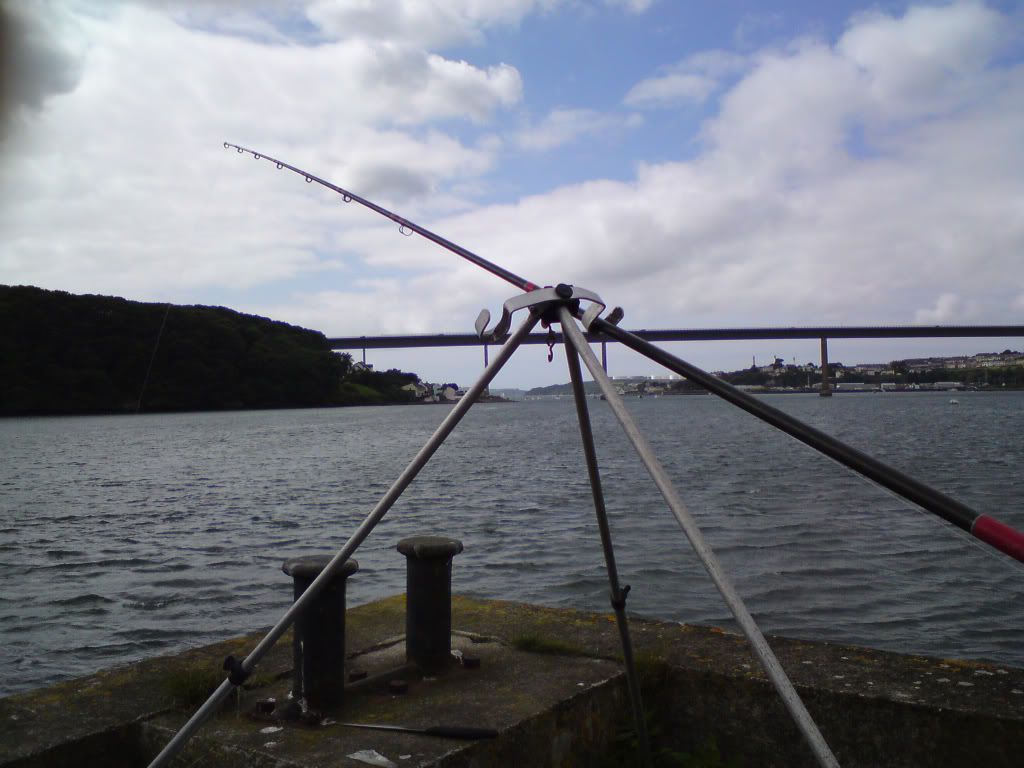 Gave it a couple of hours and then moved down to the left hand side of the jetty, again another mark lifting with litter. This proved far more sheltered and on reflection proved an inspired move as my fortunes changed dramatically.
Set up a second rod to scratch about the kelp and one rod banged out with big baits in the hope of a decent bass. Within minutes of setting up caught my second wrasse of the year.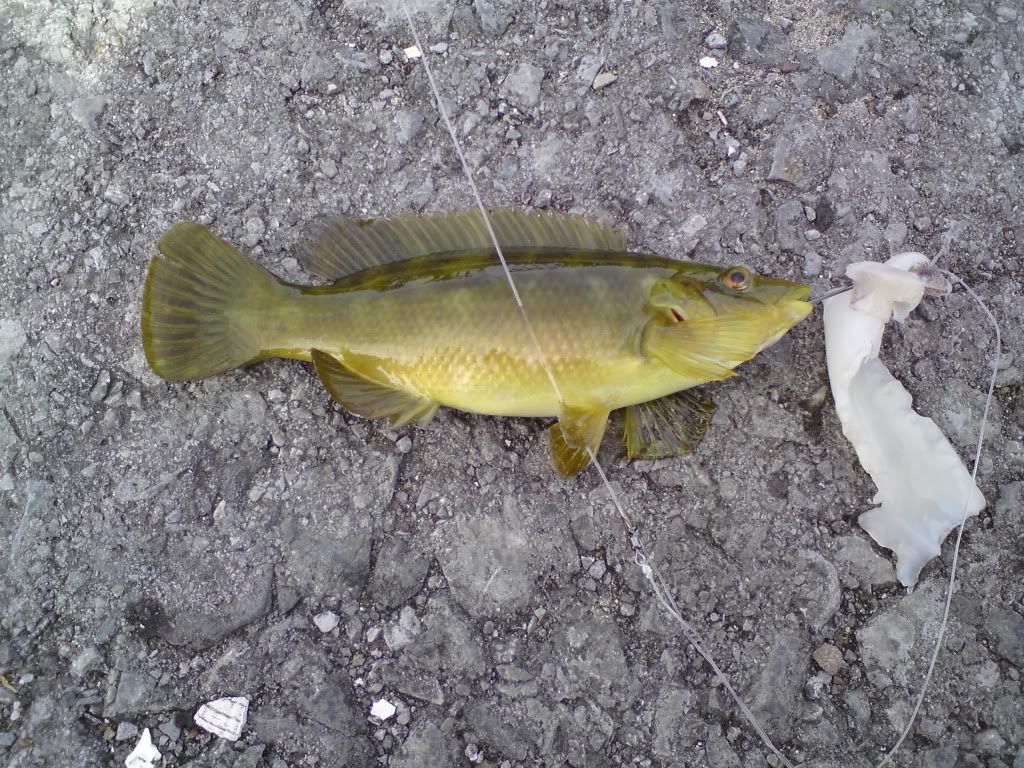 This continued with bites ding dong and a wrasse nearly every other cast. This being the biggest around 1/2lb.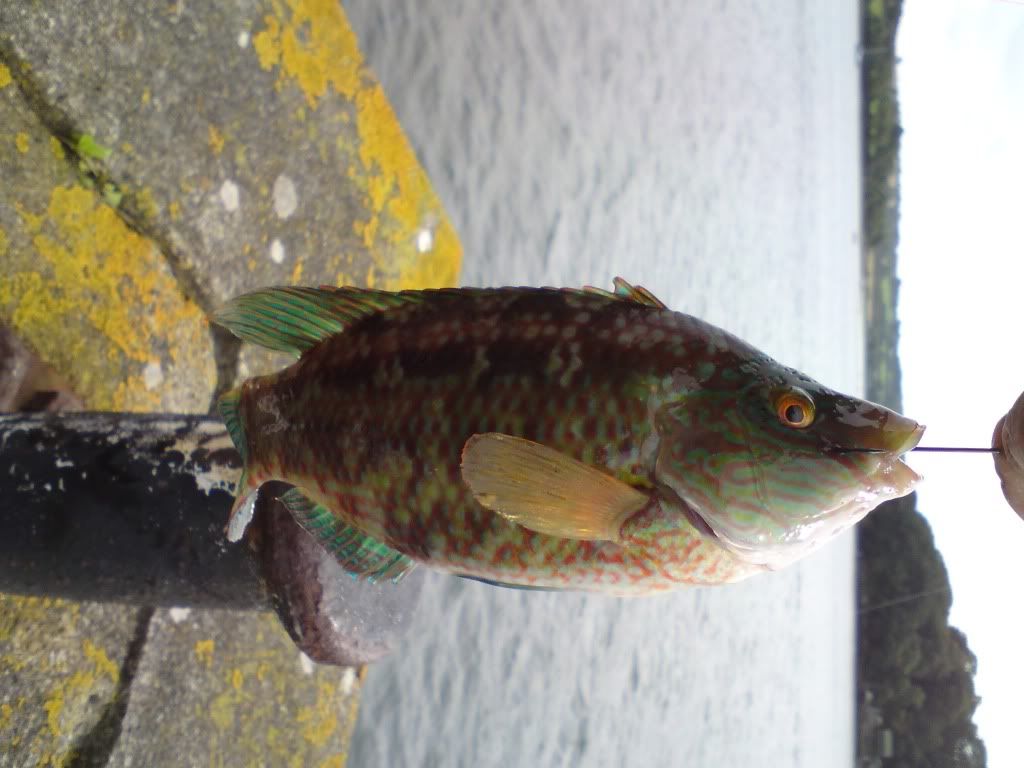 Queenie then came down to join me for a couple of hours and she was soon off the mark with her first wrasse of the year.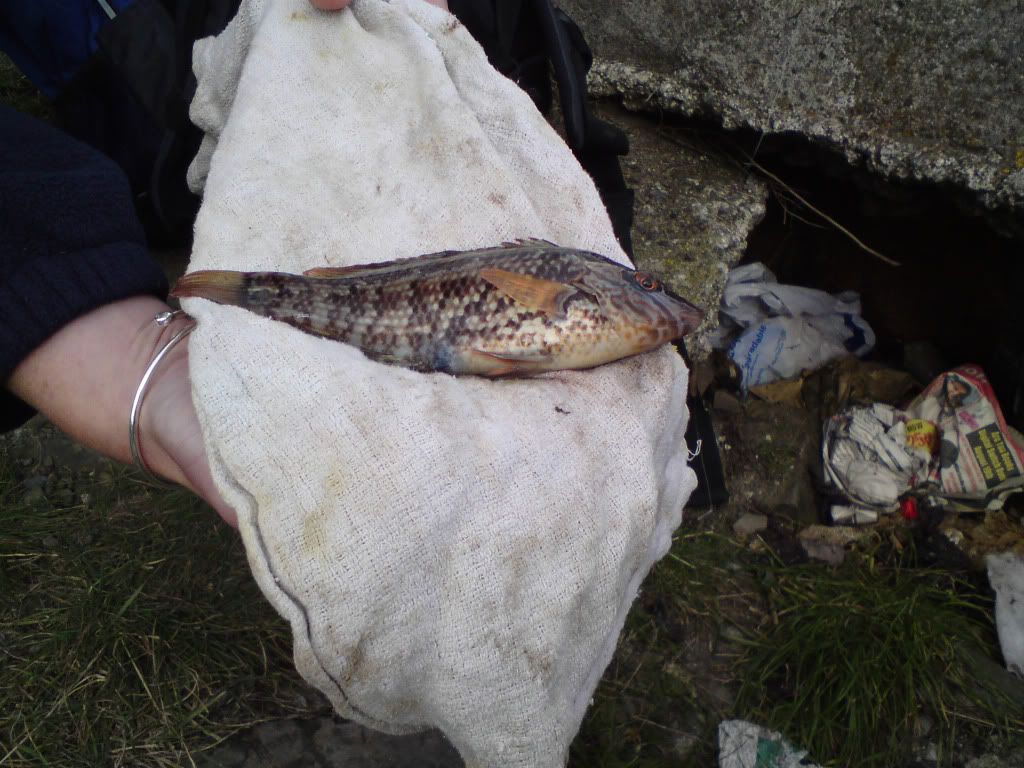 Not much was happening out in the deeper water but did manage a small doggie.
A couple more wrasse later all similiar to this one.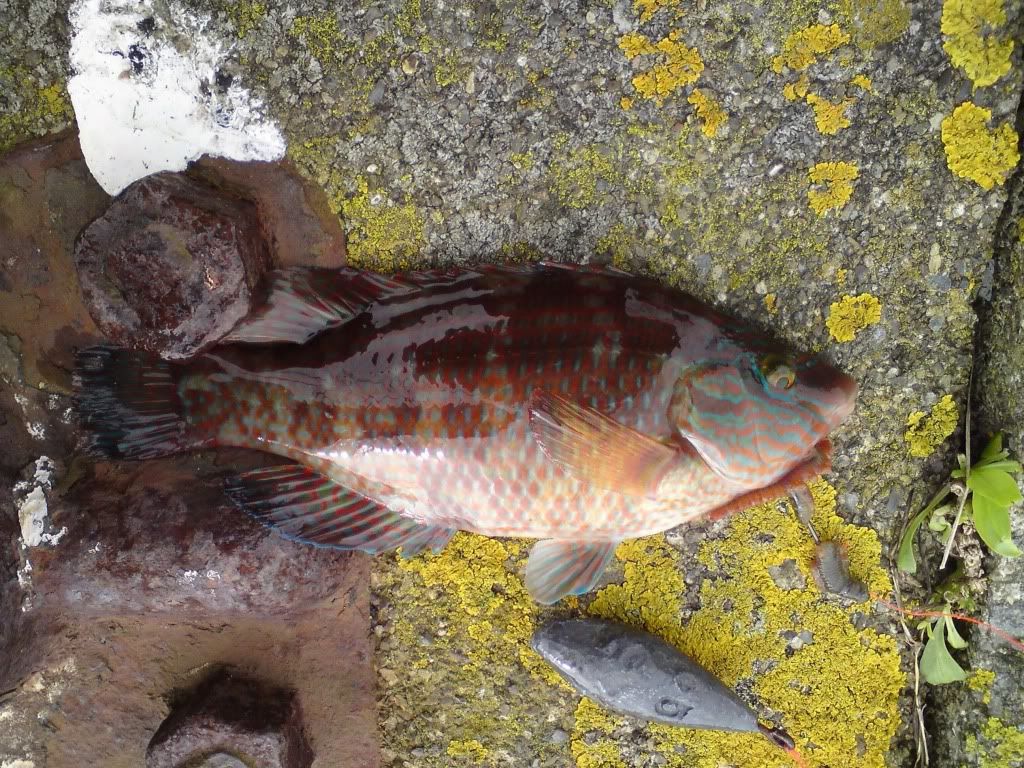 About an hour and half after high tide it started to go quiet by which time we had run out of bait so it was time to head home. All in all I had five wrasse and dogfish and Queenie bagged two wrasse, not bad as she only fished for an hour or so.
Best days fishing I have had in a long while. :thumbs: