Discussion Starter
·
#1
·
Well i decided to fish Herne Bay today. I wanted to fish from low tide at 4.15pm up until 10pmish, but by the time i had got back from London, sorted my gear and drove there it was more like 5.15-5.30pm. As i got to the shore i could see that the water was still coming in but the mark i was looking for was still slightly uncovered, so i decided to set up to the left of this bank (Rand) to try my chances at getting a hound or a Bass. First chuck out with peeler crab (i didnt use anything else), i had a big knock but when i brought it in there was nothing.
At around 7.00pm i was met up with Dave (Excel) who i had arranged to meet down there. The fishing was slow and the waves were quite choppy with a strong NE wind. It looked like ideal bass weather! Dave set up and started to fish to the right of me. One of my rigs that i reeled in was literally tied in knots and covered in slime....guess what that was then??!! Lucy (the wife) had now turned up with sausage and chips for my dinner and sat and watched me and Dave fish, although she did moan about the weather! LOL.
So i continued and when i next reeled in i had a nice eel of around 1/2lb in size. The stupid thing had taken the hook straight through its jaw and decided to wrap a shed load of mono round its snout, thus clamping its jaws shut with the hook inside! It was a nightmare to free the thing to say the least! But hey at least i didnt blank. By 8pm Dave and i decided it was time to call it a day, with a small tide of 4.4m and the conditions i didnt hope for much else. It was at this point dave asked if i wanted to go to the pub. So lucy made her way home in her car and i followed Dave to Herne bay Angling Club. I have never been there before and i was surprised how big it was inside. I saw the British record boat caught bass up on the wall stuffed, its a beast! All the guys in the club were very friendly and quite a few of them had very very good local knowledge. A few even getting double sized bass from Herne bay beach most years (You dont hear about that often!). I even met a record holder, a lad who caught a blenny or gobby cant remember now of 3 grames!!! LOL he had to take it to a post office to get it weighed as no one else had scales small enough LOL.:lmao:
I get the feeling now that Herne bay fishing wise has alot more to offer than i originally thought, its all about local knowledge, timing, hitting the tides when they are right, knowing marks well etc etc. It has certainly given me a enlightened view of what herne bay has to offer.
Cheers Dave (Excel) for showing me the mark (another knowledgable bloke with good experience), oh and i owe you a pint next time.
Enough of me warbling on now for the pics....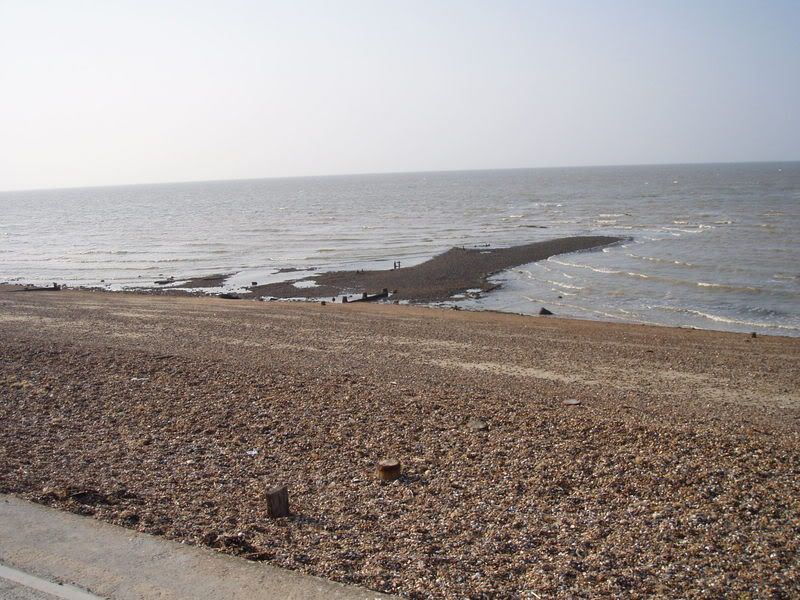 The mark. Locally known as the Rand.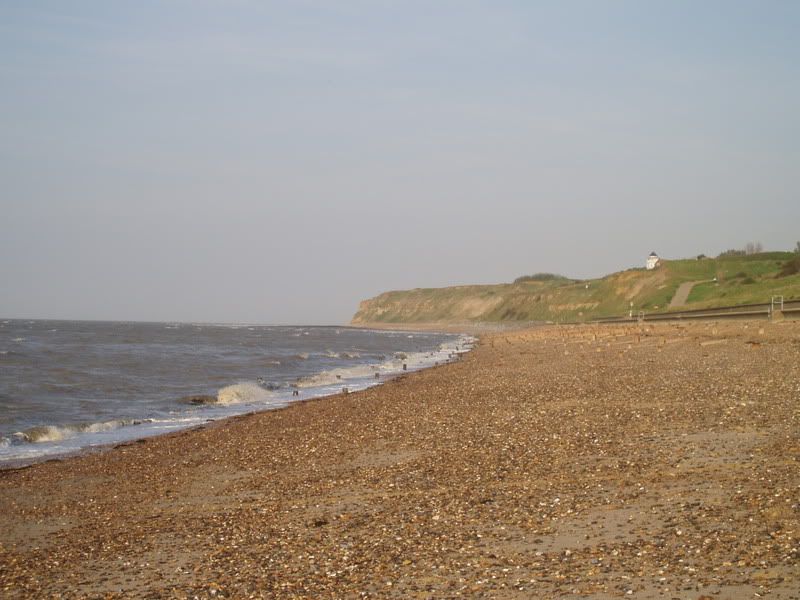 Looking up the beach towards bishopstone glen.
Satan spawn eel YUK!
Tightlines.
Lee.