Discussion Starter
·
#1
·
After a long flight and a 3 hour drive we arrived at our beach house on Fort Myers Beach late evening, Me , Woody ,our wives & my 4 year old twins.... as usual it was hot (high 80,s) so on with the air-con...
Next morning a trip to the local fishing supermarket (the new Bass Pro Shop) fantastic.. & $350 later we were ready to fish, i only bought a few bits or so i thought.... first a trip down to the local pier to see if the snook had arrived from their winter havens.. this time last year they hadn,t shown at all.. five minutes on the pier and i,d spotted about 50 or so with the biggest about 50 inches.... a quick trip to the local bait shop had us fishing using large shrimp baits on 5/0 circle hooks .... no sign of any interest from the snook so i rigged up a light spinning rod with a sabiki rig to catch some bait fish....... in ten minutes i had a bucket full of greenbacks (sardine like)all between 4 & 8 inches so a good variety of bait sizes ... first drop with a small fish bait produced a nice fish about 30 inches........
Woody has never fished for snook befor so if you don,t know what your on with it can be very tedious work hanging over the handrail with as little line out as possible as to not let the fish swim around the pier legs.... he opted for the "cast a bait & wait" method , which on this occasion wasn,t productive, though he did enjoy using a sabiki rig to catch baitfish.... soon after my first snook i put on a large bait & lowered it slowly to the water as i,d seen a few bigger snook in the area.... as soon as the bait touched the water a snook of about 50 inches and about 20lb+ came up from the bottom and just rolled on it,s side a engulfed the bait with its huge mouth, i lifted the rod smoothly but not striking to to set the hook as with circle hooks they set themselves with the line tension & the actual take.... this was a very big snook and for 20 seconds or so i kept it,s head clear of the water knowing if it got it,s head down it would be straight around the pier legs, even with 80lb flourocarbon leader it wouldn,t last long against the barnacles on the pier legs.... from a pier these fish have to be bullied into submission and it only takes a minute on the right tackle.... sadly mine wasn,t quite right as my mainline was only 15lb ultima F1..... the clutch on my reel just let out enough line for it to get it,s head below the surface and it was around the pier leg in a split second and gone... i was devastated and shaking like a leaf with excitement just at the thought of "what if".. it,s the biggest snook i,ve ever seen let alone hooked... with the snook all spooked we had no more takes that day...
Our next trip out took us to Sanibel island fishing pier where a guy was launching huge spanish mackeral baits in the hope of a few sharks, Me & Woody tried again for snook and redfish but to no availl.. though we did manage a few ladyfish of good size , blue runners and plenty of baitfish , the pier was very overcrowded and fishing was difficult with pellicans everywhere chasing your bait & hooked fish too, the guy fishing for shark had more success with a 4ft black tip and a lemon shark but his fish of the day was this 8ft nurse shark.........
with the help of three of us it was on the beach in under ten minutes...... Sanibel is a fantastic venue for sharks especially at night and if i had the choice we,d have been on the beach all night.... this is a family holliday...
The wildlife is also great ,with this guy having more success than all of us put together....
though he did have these two to feed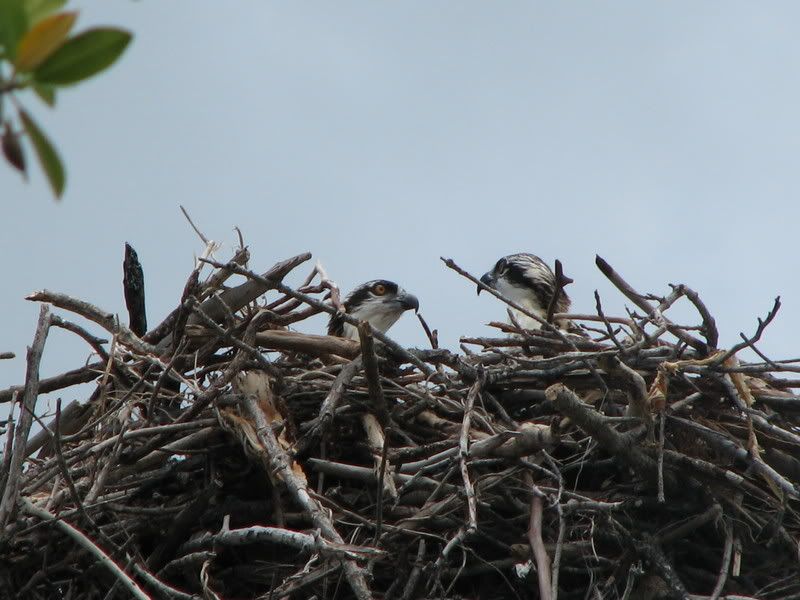 A few days on the beach with the family to relax was called for by my wife so we headed to Bowditch point on F/M Beach... just had to take a couple of rods and bait to kill the boredom so off we went.... a full afternoon of catching sail catfish on frozen baitfish we caught the day before......... Woody was in his element as i,d told him the risks of catching such a nasty fish, and i was the one with the long t-bar for unhooking them and got to do it nearly every cast.... check out the fins on this chappie , the slightest jab from these will leave you wanting to cut your hand off to relieve the pain believe me........
Even my boy Reece got in on the action with one of about 3lb, here he is pulling one in....
A few late evening sessions outside our beach house only produced plenty more catfish, though one night i managed a small Black tip reef shark which wasn,t worth a photo , it was rearly but we never had the camera with us ...... the black tip was only 18 inches long and it took a big chunk of spanish mackeral on a 10/0 circle hook and was cleanly hooked through the bottom jaw... how greedy was that?
Another day out took us to Naples pier , always a busy place to fish where all the locals seem to do is spin small pink perks for Pompano, apparently they taste great......... Here anything is possible, you can dangle a shrimp for several species and hook a hammerhead out of the blue... there wasn,t much action so i cast a greenback about 20 yards with the hope of a small bonet head or hammer head shark (done this on previous trips) usually they are 2-3 feet max, after 30-40 minutes my rod went crazy hooking into a sand shark on my 5/0 circle hook , this was a new species to me and what a scrap they put up ... i can,t remember how long it was but after seing it in the picture on the computer it seemed a lot bigger.... here,s a couple of pics, check out the teeth, Woody was a bit hesitant unhooking the dropnet from them too.........
Half an hour later the same again but twice the size... my Penn surfmaster 850 started to complain a bit and sheared the teeth on the gears which made life very difficult , the fish got around a pier leg which chaffed the leader a bit but i managed to turn the fish only for it to make another run after i,d locked the drag on my 850 resulting in a straightened hook.... gutted...
After a few days break in Orlando we returned to the beach where more catfish were caught and a few other wierd small specimens too. We stuck out a few more evening sessions hoping for a decent shark without any luck and a few days throwing spinners of all shapes and sizes again with not much luck though i did manage this little chap on a D.O.A Cal tail lure of the same size....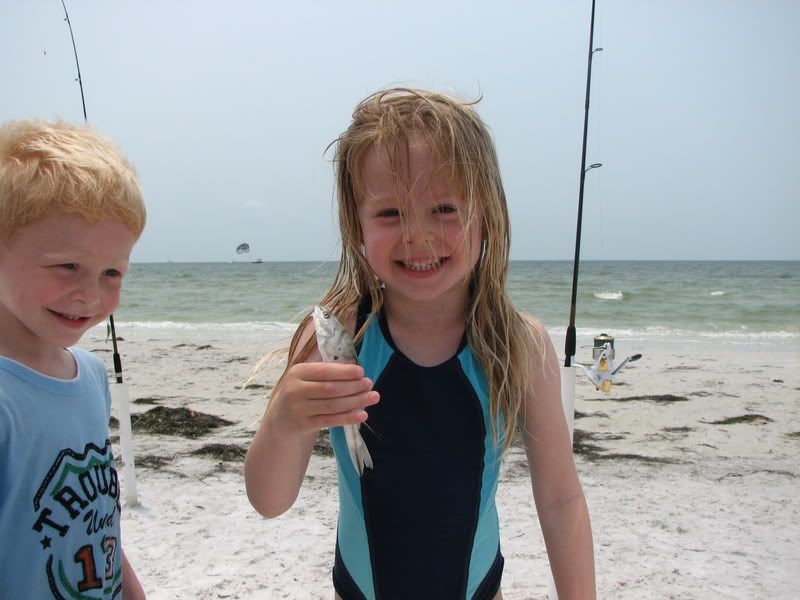 All in all it was a relaxing holliday and it was great to be able to share it with my fishing buddy Woody and his wife Julie..... i,ve been coming here for ten years now and i,ve a feeling Woody will be back again soon as well, i,m back in October when fishing is much better .... counting down the days already...... Cheers.. Chris...WRC