Century Kompressor Super Sports, Penn Mags, Sloshes
Discussion Starter
·
#1
·
hi all........ sorry for the late reply but here we go anyways.......
me and my dad set off on an early start at 7am to fish part of the seaview lads 12 hour rover comp. armed with enough baits for a week consisting of macky, sandeel, squid, tiger prawns and peeler crabs we set of to our first mark which was meant to be porthcawl pier but as we got there it was already getting busy so decided to take a drive back to ogmore carpark but there again it was getting busy, a final thought by my dad and ended up at hutchins point in search of the elusive raymondo's...... :clap2:
we got there for 3 hours to high and were planning to fish about 2 1/2 to 3 down. with the first few hours to high quiet with no bites at all until an hour down when my dad noticed a small rattle on the rod tip which later produced his first ray of the year a baby small eyed of about 8oz.... :clap3:
a couple of casts later, this time his rod really pulled down and after a fine scrap a fine small eyed ray of 4lb 14oz was landed. we fished for another half an hour but with no luck so we packed up and headed for our second mark to fish over low water which was of course st. donats.....
as we arrived and walked to our desired spot it was'nt long for the fish to start playing ball with my dad landing a slug of 8oz and me an undersize turbot. after this the fishing was good with doggies and conger for my dad and a lot of missed and dropped fish for me...... with 1/2 hour to go i had a good knock on the peeler crab bait and landed a fine doggie of 2lb 6oz but we are not sure if it was a huss or not....... :blink: i then managed a pouting on my last cast and dropping a doggie on the surface on the other...
overall my dad managing:
+ 2 small eyed raymond's........ 4lb 14oz
+ 1 slug.... 8oz
+ 6 woofer's.... 1lb 12oz.......
+ 2 conger's 1lb 6oz....
for a total weight of 18lb 7oz..... :yeah:
me having:
+ turbot.....
+ big woofer or possible huss?? :blink: 2lb 6oz......
+ pouting 6oz......
overall a fantastic day with a good number of fish being caught!!
MY DAD LATER FINISHED 2ND PLACE GETTING BEING BY A TOTAL WEIGHT OF 18LB 8OZ - A SINGLE OUNCE!!! :yucky:
SOME PICCIES OF THE DAY..........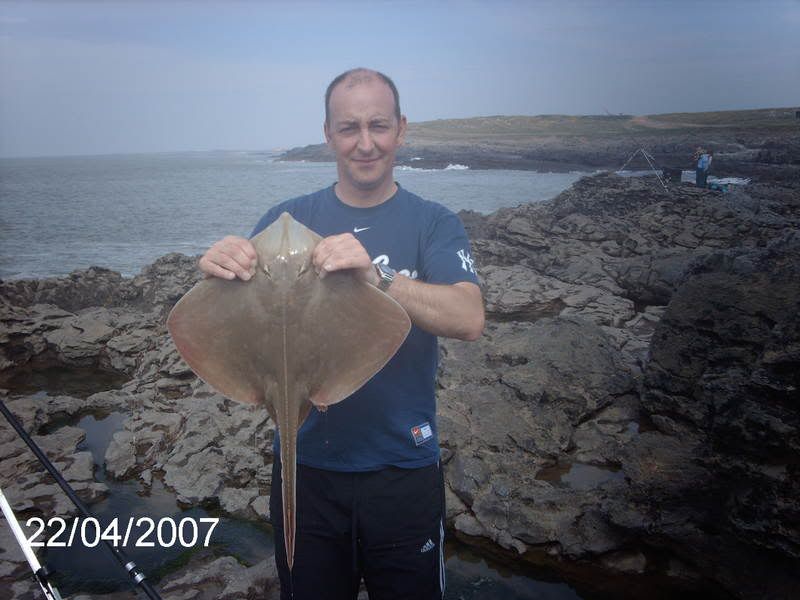 MY DAD'S FIRST RAY OF 2007 - A SMALL EYED OF 4LB 14OZ.....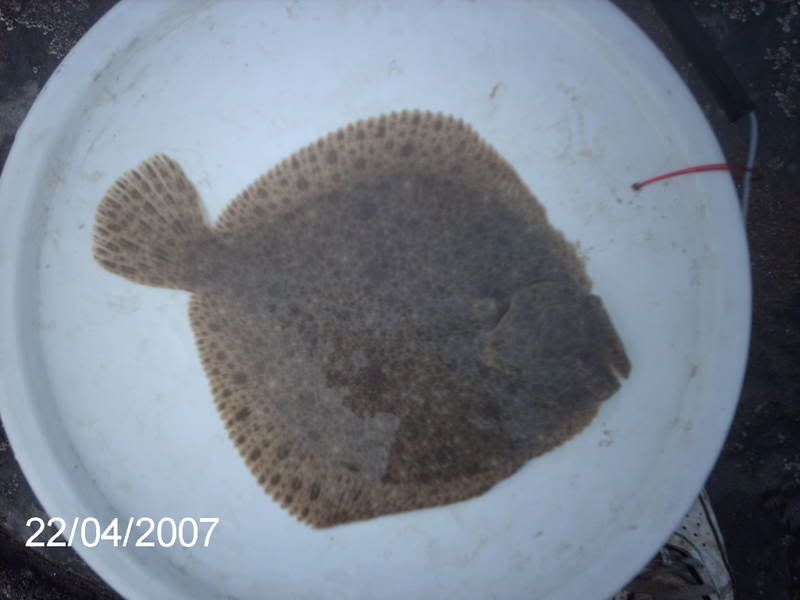 MY FIRST TURBOT OF 2007.....
tight lines and all the best,
steffyenck.