Discussion Starter
·
#1
·
Information sheet for anglers wishing to fish Orford Ness for the first time.
Almost every week there is a post on the east coast forum wanting information about Orford Ness, how to fish it where to park etc. I know how daunting it can be to approach fishing a new venue when you have limited info on it. So I thought I'd put together a handy reference guide. Now I'm by no means saying that I am an authority on the Ness and therefore the information I give is based on my experiences and bits and pieces I have picked up over the last few years. I would invite other users to add their info so that we can get as much as possible. The Warden for the Ness has said he will add some comments as well which is really handy.
Well first things first, how do you get there?
Orford Ness is in Suffolk and from a driving perspective off the A12 between Ipswich and Aldeburgh. The nearest post code for Orford itself is, IP12 for those of you with sat nav. For those that don't have sat nav, the most convenient route in off the A12 is to follow the brown signs from the roundabout just outside Melton and follow the A1152 and B1084 into Orford. Once in Orford itself follow signs to the quay. Just before you get to the quay there is a large car park on your left. The car park contains a public toilet and bins. The car park isn't free parking charges vary, (see photos below for parking charges). If you have some time to kill then you can't fail to miss the Jolly Sailor pub and a walk onto the quay and there is a tea room just to one side.
Getting to the Ness.
The only sensible way to get to the Ness is by boat, unless you want about a 10 mile walk with all your gear from Aldeburgh. Peter Merrin runs a ferry service to and from the Ness on the Regardless. Booking is essential as Peter can arrange a suitable time with you and can advise whether or not he is planning to operate the boat on the day you want to go. The usual arrangement is to go over early morning and come back in the evening, or go evening and come back morning. If you are adventurous an all day and all night stay can be arranged. Peter's times can be pretty fluid and it's best to double check with him on the day what time he's planning to pick you up. He can be reached on
01394459984 or his mobile is 07900230579.
There are two drop off points on the Ness.
The Crouch has the advantage of being closer and is about £8 return. Journey time is approx 10-15 minutes dependent on wind and tide. One disadvantage with the crouch is that it is a fair walk across the shingle with your gear, I would advise packing as light as possible for the crouch for this reason.
The Narrows is the other drop off point, It is about £10 return, Journey time is approx 20-25 minutes. The narrows has the advantage of being a shorter walk across the shingle to the sea, should take no more than 5 minutes.
Wellbeing and comfort.
Unlike normally accessed beach fishing, once you are there you are not coming back to the mainland until Peter picks you up. Therefore, you need to plan your trip properly. A shelter is a must. A fishing umbrella or windbreak is the minimum requirement, most people use a beach buddy. Be sure to bring something to anchor it down with, the most popular method is to bring plastic supermarket carrier bags to fill with pebbles for that extra security in the wind. Warm waterproof clothing. There's nothing worse than being cold and wet when you are fishing. Fleeces, waterproof sallopettes and bibs are the mainstay, along with balaclavas or woolly hats. If you are lucky enough to own a floatation suit then that's perfect. As I always say, you can take something off if you are too warm, but you can't put it on if you haven't got it. Food and drink. Take what you need and a bit more, you don't want to run out. Above all keep safe, know your tides and look at the shelving of the beach, never pitch up too close to the high tide line and always tread carefully especially on the route from the crouch. Follow obvious paths and don't stray into the marshy areas. Oh and warm waterproof boots.
Species
Well what can I say, most of the fish available to east coast anglers are available to catch. Most people to fish between September and May as this is the most prolific. Cod, Codling, Whiting, Bass, Dabs, Flounders, Pouting, Dogfish are the mainstay. In summer months, you can target Bass, Smoothhound, Dover Sole, Dogfish and Thornback. Lesser fished for species also put in an appearance such as Rockling, eels, Weavers and Wrasse.
Tactics
A sturdy beachcaster capable of casting up to 8oz is advisable. The tide does rip through there and 8oz fixed wires are often needed to hold bottom. A multiplier reel of 6000 or 7000 class or beachcasting class fixed spool for the reel. Although there are some snags, the beach is generally clean shingle and therefore rough ground tackle is not essential. It isn't always necessary to bang a lead out 150 yards to get fish. In some stated of the tide you will find this a disadvantage due to the current. The Ness shelves away and deep water can be had close in, often the fish are feeding a lot closer than you think. Everyone will have their own preferred method of fishing for different species but I find in winter a 3/0- 5/0 pennel pulley rig or a standard bomber rig is fine.
Bait
Lug, blacks, squid, crab, mackerel, are all very popular baits. Again personal preference will dictate your choice but you won't go too far wrong if you have some or all of them. Most people tend to arrange bait to bring with them. However two good sources of bait are:
Saxmundham angling centre, tel 01728 603443.
James S-H. James is an independent bait supplier based in Framlingham. PM your requests to James S-H or ring him. He comes highly recommended and operates much less sociable hours which can be handy when you don't have to operate around shop opening times. I won't post his number but will happily PM it to you if you need it.
Please respect the Ness
Fishing on the Ness is a privilege not a right. The land is a former MOD testing area is now owned by the national trust. The wardens keep a close eye on activities and have every right to ban access if people abuse it. The Ness boasts some of the best fishing on the east coast as well as being a site with some very rare fauna and flora. Ground nesting birds use the Ness in Spring/Summer. What might look like a patch of weedy scrub to you and me may be something totally different to the NT guys. Therefore dogs cannot be taken over, watch where you tread, try to keep to the marked paths where they are obvious and keep to the shingle. Also, no bonfires. Small gas burners are allowed. Oh and most important of all, take your rubbish home. As mentioned earlier, there are bins in the car park.
This is by no means comprehensive and I hope it helps some people. Please feel free to correct me if I've got something wrong or you feel you have more info to add then post below. The most important thing is enjoy and tight lines.
Cambs John
Orford Car Park
The Toilets
Parking charges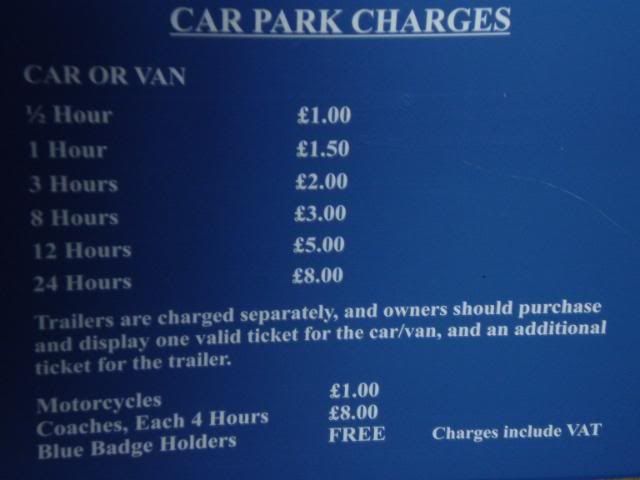 The quay area
Google earth images of Orford Ness