Discussion Starter
·
#1
·
Yesterday me,dad and doyt went to killantringan lighthouse from 5ish (sorry for being late
)
we took a long walk and within minutes dad was puffing for air.His exuse was the weight of his rucsack was tiring him out (but we know better don't we)
i thought this was a place that was too steep for fishing and that we had been here before which it turned out not to be and infact quite a gentle scramble down the rocks.Dad called me a mountain goat because i scrambled down fast and with ease.:wheelchai <- Dad
To me at the start i din't understand the layout of the mark and was curouis and wanted to explore.:g:
we set up and me and dad went round the side to a gulley and dropped some lug/rag down for some wrasse.Nothing was biting so we moved round and we then set up our tri-pods and got out each two rods.
me checking dads rods
doyt looking hopefully at his rods
no bites until it got dark and the first sea animal caught was a starfish by me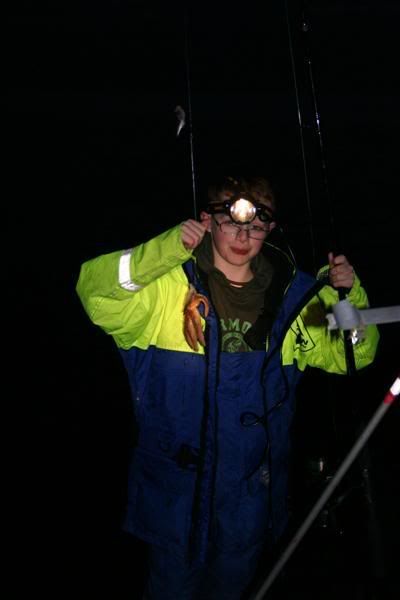 debate followed if it was a fish and would it count on my species list.The grumpy old men said no :schmoll:
finally the first fish was caught by me (on dads rod while he got my rig n line out of a snag) and this one would count no matter what.
then doyt caught a 2.2lb dogfish and dad took a photo of me holding it.It was a fine fish and the biggest doggie doyt had caught in a while.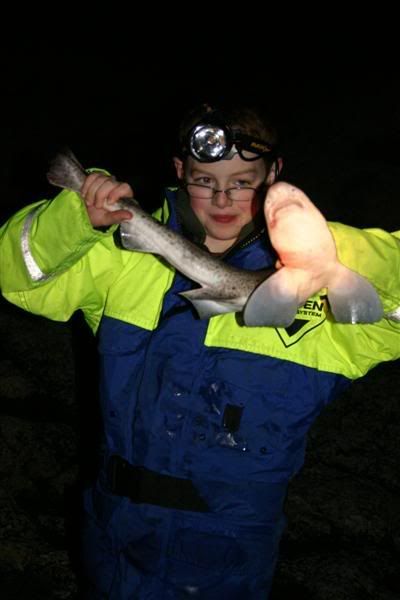 then doyt caught another doggie which we didn't photo or weigh.
eventually dad finally managed a fish and you guessed it, it was a doggie.
throughout the night we caught doggies only and the final score was
Doyt=7 me=4 dad=1
we packed up around 11:00pm and left taking care on the rocks and on the hill i was so tired i fell to the ground twice.Once we reached the cars we said goodbye for now and drove to home for a shower and sleep:sleeping: .