Century Kompressor Super Sports, Penn Mags, Sloshes
Discussion Starter
•
#1
•
after a hectic day in school i got home tired logged onto the forums and had a quick look and posted some replies, after that i got bord so i thought to myself 'FISHING!!!'. with a backpack full of as less tackle as possible a a packet of sandeels i headed off down the knap pebbles to fish an hour up to high and an hour down. as i got there and set up with first cast in the water i decided to set the brolly up top shelter from the horrid south westerlies which was a mistake as the wind caught it and off it went like mary poppins! it went all the way towards the knapo point steps before i could catch up with it and get it...... after another backbreaking attempt it was up safely with bags of pebbles to hold it in place... as i turned around to look atr the rod i noticed slow tugging and the line dropped slack, i thought 'here we go' and after a solid strike to set the hooks the rod bent over and a doggie was soon onboard land.... infact a puppy as it was not even 8oz..... smallest doggie io have ever caught..... it was soon unhooked and returned safely back into the murky depths....... by now a couple of boys from dow corning had set up alongside me fishing a match and were soon into doggies themselves.....high tide had come and passed and 3 doggies were on the score board with plenty of missed bites and a 6th doggie dropped on the surface. as the hour had gone from high i had managed 2 more doggies with biggest of the session being 1lb 9oz. also a few more missed bites had come my way. one other thing to mention was the guy next to me lost a good ray on the surface after a few minutes of huffing and puffing...... unlucky mate..... :schmoll: :giveup:
also the guy next to him had landed an eel of around 6 1/2 lb.
overall a very busy short session and a couple of hours well spent.......
ONE OF THE GANG - A VERY WELCOME WOOFER! :clap2: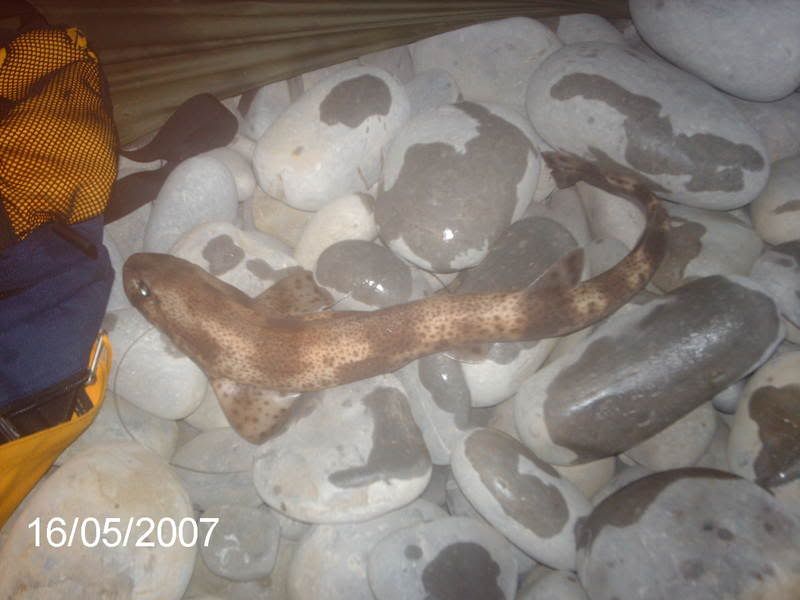 tight lines and happy dangling,
steffyenck. :clap2: :clap3: