Century Kompressor Super Sports, Penn Mags, Sloshes
Discussion Starter
•
#1
•
knap pebbles 1/06/07
me and cagsy set off to fish the early morning high tide down the knap pebbles fishing 2 1/2 up and the same down with mackerel, sandeel, squid and razorfish for bait. with first casts in the water it was minutes going by and i had a little rattle which later stopped and turned out to nothing. as 1/2 hour passed the fish started biting well with some doggies between us. sometimes both rods were knocking the same time in which 1 time i hooked both fish on each of the rods which 1 produced a doggie and the second producing a conger of 2lb 9oz. with high tide been and gone the doggies slowed for a bit with minimal bites. as it was time to go i had one final bite which resulted in another species this year of a baby tope. overall a fantastic morning with great weather and the fish feeding well with me having 3 doggies, a conger eel and a small tope with cagsy having 5 doggies. also nice to meet bluesfan who managed a successful session with a good number of doggies and another small tope. all fish returned to fish another day although the doggies did try and beach themselves a few times!!!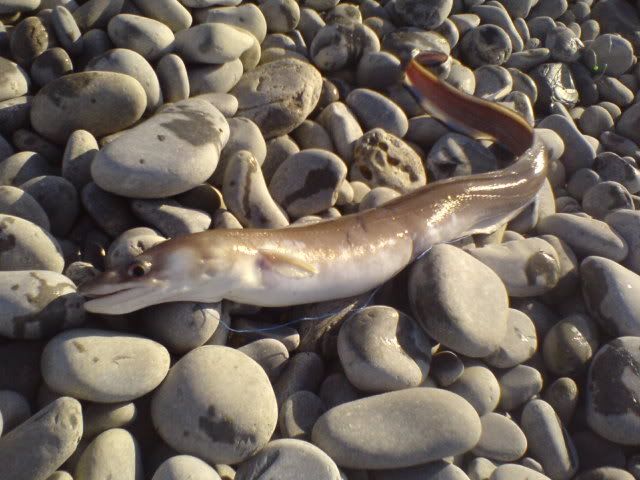 friars point 2/06/07
me, cagsy and a mate of ours liam headed off down friars to fish the early morning high tide. on arrival we greeted an empty point and an incoming tide with 3 hours to high water and were planning to fish 3 back down. with mackerel, sandeel, squid, razorfish, ragworm and peeler crab between us we were sure not to go wrong! with first casts in the water it was'nt long for the action to happen with liam landing the first doggie of the session. it was then cagsy's turn with his first doggie of the session. it was then my turn with bites immediately starting on both rods. the first bite produced a doggie which all so far came to sandeel. the other rod however hooked a much better fish with good lunges and thumps back on the rod. as i kept pressure on it it finally surfaced and started to spin like mad. as i got it to the water's edge an angler nearby who had arrived had a gaff :yeah: who gaffed the eel estimated at around 8 - 9lb and then went mad thrashing the gaff out and the eel dropping back into the murky depths. another eel lost - well gutted!!! :schmoll: this fish coming to a whole squid. the doggies still came thick and fast for all of us with a few missed bites and dropped on the surface. i decided to put a double squid bait out to see if i could get another eel. within 10 minutes the rod slammed out of the stand and i just managed to grab it still feeling it tugging the rod out of my hands and i produced a solid strike to set the hooks home. this fish was a another good one........ holding its ground with good lunges on the rod which again i thought another eel. but to my suprise after the fish staying deep and not surfacing until 20 yards out a nice thornback ray surfaced, with cagsy quickly down with the rubber glove on he grabbed the ray and brought it up to safety where it was photographed and weighed. it pulled the scales down to 9lb exactly - A NEW PB RAY FOR ME! the fish was then returned and quickly swam off strongly to fight another day hopefully....... the doggies were still feeding but not as much giving something else a chance. cagsy and liam now both having a couple of doggies each. i then decided that another double squid was on the menu and again within 5 minutes this time i heard 'SAM!!!!' as i was baiting up to see my rod out of the stand hanging on by the line caught around the rod cup and still on it's way as i picked it up and induced another strike to be greeted with the rod folding immediately and starting to pullright over as the fish gave a few strong tugs, after a hectic scrap with the fish holding its ground a few strong headshakes i was greeted again with another good eel, bigger this time, i then leapt to the lowest ledge i could find where we all scurried down the rocks with the gaff and i LANDED IT!!! :yeah: finally.......... it pulled the scales down to 9lb
4oz..... this again was returned safely to hopefully fight another day............ the fishing continued good from then with a slow run of doggies. another big bait was put out and was quickly snatched up with a fierce tugging on the rod tip which produced a smaller eel estimated around 4lb which dropped off on the surface... as it was time to go i had one final fish..... a surprise small whiting...........
overall another fantastic session on friars with some good fish lost and caught...... with the final results of me having:
+ 4 doggies, 9lb thornback ray, 9lb 4oz conger, small whiting, 2 dropped eels.
cagsy having:
+ 6 doggies and liam having 3 doggies.
all fish returned to fight asnother day with exception of the whiting which had been fowl hooked in the gut and unfortunately died so decided to keep it for conger bait next time!

MY PB RAY - 9LB THORNBACK.
FINALLY MANAGED TO LAND ONE!!! - MY 9LB 4OZ CONGER EEL!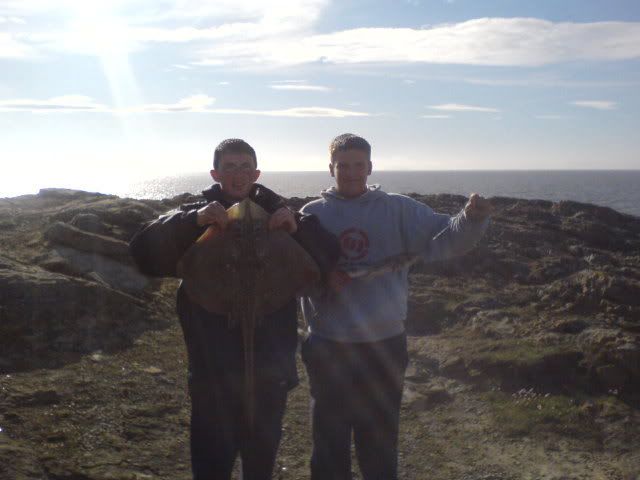 MY THORNBACK RAY AND CAGSYS DOGGIE!
tight lines and all the best,
steffyenck.