Discussion Starter
·
#1
·
Just spent 2 weeks in Playa Blanca, on the south of the island, hoping for some huge fish from the shore and not getting them. Still, managed a fair few smaller fish, had great fun blanking on empty beaches under amazing night skies ... and even one, single amazing session with at least brief contact with those monsters.
This will probably drone on ten times longer than intended but, hopefully, amongst the verbal diarrhoea, what I picked up might just help out some future
El Gróckelo
like myself who went with no idea how to fish there.
Even though I didn't catch that much.
So, tiddler bashing with my son aside, I intended to fish pretty much only after dark. Always better, right?
Hmmm...
I started on the town seafront, out on the rocky breakwater around Playa Dorada beach and chucking out a pretty standard beach setup baited with squid strips &/or fresh prawns into 30'-ish of sea over sand. Flat sea on the flood, warm, dark night – I hung on to the rod in case the bites came before I found a suitable prop in the rocks.
They didn't, nor at any time over the next 3½ hours. In desperation, I strapped my tiplight to a dexter and spun that through all depths for the next 25 mins: still nothing.
Hmmm.
There were fish about the next day, though. I took the wee man down to the same spot, late afternoon, and had great fun jigging squid strips in front of the hunting backs of blennies that swarmed by every few minutes – big ones (for blennies) and aggressive — some, you could whip out on the bait alone – the hook nowhere near their mouths!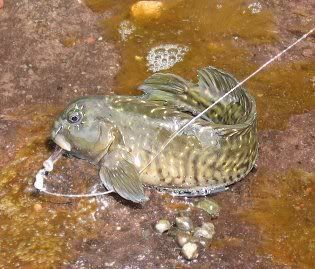 Hake Jr was pleased as punch with his catch, which he rates much higher than any fish as they're harder to catch and his Dad's never had one: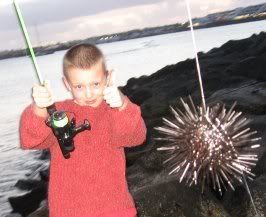 The little smartarse didn't catch any Canarian Damsels, though, did he?!?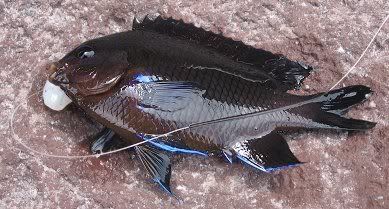 Reee-SULT!!!​
Children: Know Your Place!
​
#​
After another night realising why it's called Playa BLANCa, I hired a new piece of kit.
So, I'm sat there thinking "
It's 1006 miles from Barnstaple, I've got a Seat Cordoba, half a tank of gas, three rods, big baits, it's dark and I'm wearing sunglasses. Hit it
."
I did.
Then I took off the sunglasses so I could see, reversed out of the cactus patch and back up onto the road, and headed off into the night.
We'd been to El Golfo, famous for it's natural snot-green pool, that day, though I was more interested in the steep shingle beach, out to rocks and clear gravel patches: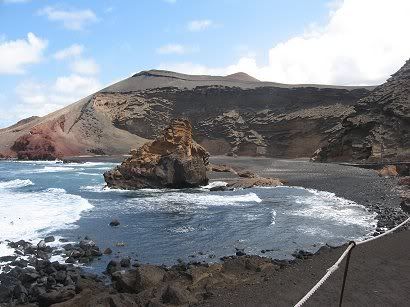 When I got there after dark ... driving for 15 mins without seeing another light, the place was completely deserted, the air still and warm, and a good (but not huge) surf washing the cliffs below the carpark. (To fish this beach, don't go to the tourist carpark to the north, but the one opposite, near the road to Los Hervidevros, and take the long, sloping footpath at the bottom)
Baits were whole crevettes & 'the usual' 6-inch frozen squid.
Lost a bit of gear around the rocks. Didn't get a bite.
Surprised, as it had looked perfect.
The next night out: Playa Mujeres, a sandy beach just outside P.B. on the way to Papagayo.
You hear a lot about Papagayo being an amazing sun beach but it turned out to be just a mildy interesting-looking cove with a lot of crumbling buildings and litter at the top. If you ever see postcards, souvenir pics etc of Papagayo shown as miles of golden sand (many do), it's probably Playa Mujeres.
This looked unbelievably good. Calm sea with 18" waves onto sloping sand, backing onto those miles of flat, golden sand. And the islands are known for big, big rays ... surely, this was the place to find them.
Another blank. The only (small) bites I got came after giving up on the big baits and using tiny (1-2" local squid) on a 3/0 and tucking in close to the rocks th the far right end of the beach. There's a long rocky ridge running out at a 10-o'Clock angle, ~30-50yards offshore, depepnding on tide. Beware fishing off the rocks themselves though – I watched several random big waves roll over it when the sea looked otherwise safe.
#​
Things got better though, when I found a small shop renting out rods & tackle as a sideline and heard English being spoken behind the counter. ["Allsorts" - Punta Limones].
Expats Mike & Mrs Mike in there are good contacts to find *early* in your holiday.
After I'd given him a rundown of the 406 combinations of different marks, rigs, baits, lures and prayers I'd tried already, he was quite surprised I hadn't caught, but hadn't heard of anything decent for a while.
The gist of the rest of his info was:
Squid (6" calamari or the big boys) & crevettes are the best baits commonly available in many supermarket freezers. 1" local squidlets (tricky to get, but he has them) are better, even en masse for big baits.
Don't fish at night - not even the locals do. Too dangerous. He gave me several ripping yarns about holidaymakers washed away by freak waves and sometimes rescued.
Then he gave me "the best mark on the south of the island"! Rocky headland, rough close in, sand at a medium lob ... weeeell over 50' under the surface!
But "Never EVER fish this one, especially, at night," he warned me. "No one EVER does."
Now maybe it's just me, but even though I did take all his warnings seriously, this was beginning to sound like a challenge. All a bit OTT....?
But I took his advice and went in daylight. Lovely scenic spots to fish ... but not a touch on big baits, or lures at any depth. Lucky I took a light rod as I passed the time catching loads of little pretties on the float: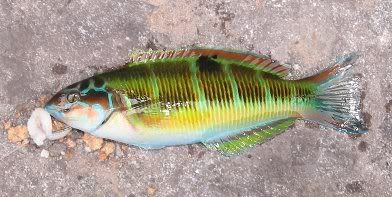 So what could I do but go back at night?
So much for the warnings. Kinda.
True, there are large, inviting ledges exposed at low tide where you might fish in day would would be a true nutter to do in the dark. But there were also any number of cosy rocky ledges, anything from 5 to 25 feet above the water, where you'd be safe from a tsunami. So while I could understand the local chap being overcautious to just another drunken british tourist ... why does no one local fish it after dark? The first night there (my last with a car) was fantastic!
I've never, EVER seen bites like I got ... almost all the time: no knocks, no warning, just suddenly the whole rod/tripod setup was in mid-air and sailing seaward. Impossible to connect for more than a few seconds though, then the fully loaded 10/0s were coming in bare! A couple dived straight for the rocks - huge bend in the rod - but then snagged up and left me tied to the cliff several times. One close in bite dragged straight over the rocks and shredded the midsection of the trace - somehow the weight stayed on, tangled up – and 5oz of lead shot straight back out of the water and smacked me in the arm!
I think it's left me with a haematoma or something ... had a big bruise come out over the next few days ... that's gone, but it still feels like there's a conker embedded in my biceps!
All too soon I had to drop down a few gear sizes as I was running out of bait so fast ... did manage some nice bream then (of some kind – any offers?) — only a few pounds but the fight made our bass or pollack look like the nancys of the sea!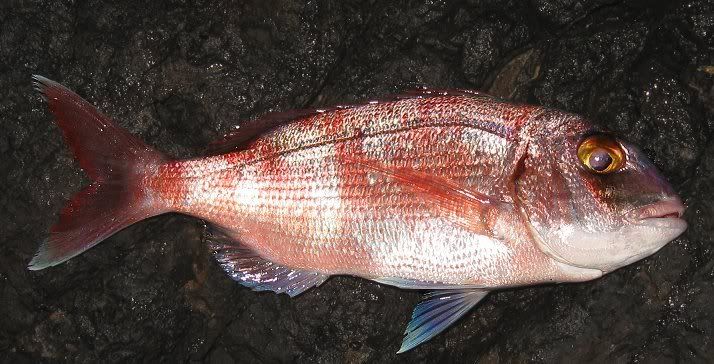 ID? This picture isn't that great. 16-18" long, it was more clearly banded than
shows here and didn't look so reddish overall. Is it simply a red bream? Never had one before but didn't think they had blue underside fins (much brighter, light blue than shows up here).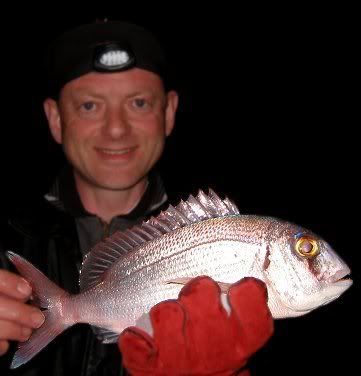 This one was lively as hell, conger-slippery, fins full of daggers, plus it bit me ... so the ray glove got its only usage.​
I fished until I ran out of rigs and bait.
I went back the next night - no car, then, just a 45 minute walk across desert & building sites - and didn't get a single touch. All I had for company were these babies: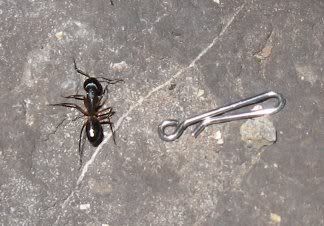 I did see another one wearing a tiny dynamite waistcoat. I think he was an insurg-ant.
And these, too, caught on an index-finger rod in the deep rock pools when I got bored: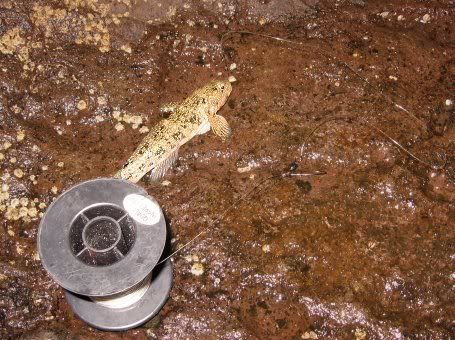 And then I came home.
And first time out, broke my rod.
~~~~~~~~~~~~~~~~~~~~~​
All this left me with a couple of Questions:
This was Springtime. Is it possibly off-season?
Yeah, yeah, I know you're thinking 'He hasn't caught so he's blaming the weather' and you're probably right. But with the number of mark/time/tide/rig & bait combinations I tried in the first ten days without a bite do make me wonder.
Is it
ever
worth fishing the beaches? There are two types: volcanic and man-made, and I never got a bite on either. Could be me, but could also be that the sea bed is pretty much sterile and therefore pretty fishless. Volcanic ash is like fine, black pumice gravel, and there are no wormcasts and very few shells etc on the golden manmade beaches.
Finally, here's my Advice for the visitor:
(
advice?!
:lmao
​
~ Take the safety / freak wave warnings very seriously. VERY seriously. But bear in mind that, if you're a regular, responsible rock-trotter and you stay well clear of the sangria during daylight, there are safe niches to be found on some great potential marks
~ Take all the large leads you think you'll need, but you'll only need them
IF
you get better info that you might catch from the beaches. I couldn't buy anything bigger than plain 3 oz over there, though they're plenty for the close-in, steep-sided rock work when 25 yards is over-casting.
~ Get good gloves and take a large towel from the hotel, just in case you get a stinger. They're common in the summer (
allegedly
). The lady in the tackle shop had a 70lber on light gear (
allegedly
) and they can reach up to 8½' (
yeah, right
)
Don't be like the Aussie – Get the right cozzie!
~ Take small hooks & a few cheap float kits. Size 6 did catch, but were too big. Ended up buying some "Chinese size 6" which were barely over ¼". And however ambitious you are for a big one, the tiddlers really are worth spending some time on, if only for their colours.
~ Talk to everyone you can who's fishing. Most speak some English – if they don't, push them in. But local advice is even more valuable here than at home. If you find anything remotely resembling a tackle shop, buy some leads & bait and pump them for everything they've got.
~ Take enough clothes. This was Springtime, in the low-mid 20s and hot sun all day, but sat on rocks in the breeze under clear night skies meant I was wearing almost everything I'd packed!
So, as those of us now highly skilled at Spanish say,
El mucho goodo lucko to you, Señores!