Discussion Starter
·
#1
·
Fri 1st august
off to Gourdon harbour to try the in coming tide at 10am as there had been a swell the night beforehand the water had a fair colour about it fished till 2pm and fed the crabs. With bait lefted i had a go at Bervie from 10pm till 1am and fed the crabs.
Oh my these crabs must be getting fat. The creel boats will be cursing me as there creels will be rather heavy
sat 2nd into sun 3rd august
P.M.s sent over the week and its meet you at Catterline at 12noon
and i gets a text at 11.30am (mate thats us at Catterline) guess oh these boy must have fallen oot of bed (reply; ok u go on me catch up) then theres a rumble of thunder, "oh dear", well it will be fine as there wasn't much swell when i was digging the bait. "Oh dear was i rough"
so i'm sure most are familiar with the verse "3 craws sat apon the waw" well this is the tail of 3 anglers sat be the ledge
well we 3 anglers (me, tamoshanter, richiebaird ) sate beneath a ledge as the swell did wash our feet for 3 hours we did sit. With time to comtemplate on things that have past to endure the ins and outs of of toe nail manicure, the biting of finger nails and the picking of the nose (where we board ) just like a Sunday school picnic we eat our sannies and WE all drank MY coffee as the other 2 had run out of juice just as well we didn't get fishing at this point as we would have run out of lug to. They had dug that morning and had got SIX (i was told that it was the fifers that were tight) as the day goes on and the peace **** are getting low we hears a bleeping from the ledge from above, was that the mating call from a welsh valley or a mountain goat no we were to be joined by (grumpa) unlike the craw that was not there to flaw awa' he did come to stay
we 3 had another hour to wait till we could get out of were we where so i hands the goat, oops grumpa, up a rod and 2 lug and sends him off to try a wee spot just to his left, which seemed like 30 seconds hes back with a 3lb wrasse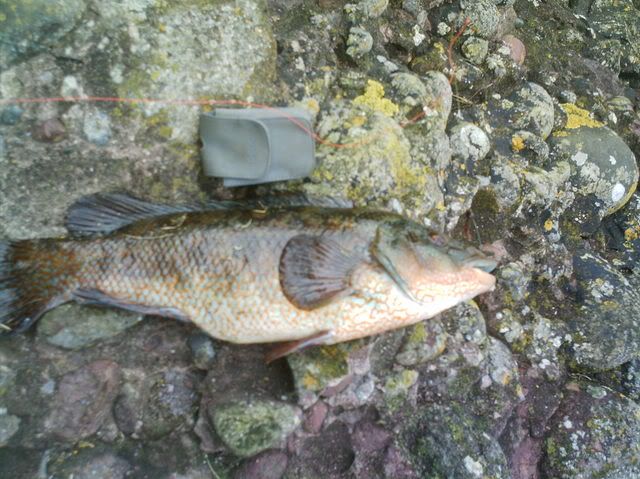 (now that did cheer us up a lot i don't think}
when we aventually get out we all have a go at drowning a lug or 2 in the same hole for me to get 1 of about 1/2lb for the other 2 to blank (sorry lads)
in the 1st part of this session at no point was any angler in danger, neither was MY lug (well thats the once that i dug don't know so much about the 2 on side of my head)
part 2 of the session took us to stonehaven to have a bash at the cod throw the night arrives as the tide is starting to come in and tamoshanters into 5 macky as he for having a go at the conger (no joy) its now into bark and tamoshanter has something on and its into a snag (fish lost) 12.30 and tamo and richie, for the off, away home they go to leave the nutters behind to "fish" on about 2.30am and the goat, oops grumpa into something and YES its into a snag (FISH LOST)
4.30am me and grumpa have had enough for the night
we had not given up the chance of a fish as yet. Were on a boat at 1.00pm out to see if we will get that fecking cod. back on shore at 6.00pm and not a dish washed. Well thats what the f.p.o. Told me when i got home (i've be away for 2 weeks and you haven't done a dish) yet another ear bashing
yes we did go fishing its definitely not called catching
thats the holls over for now and i'm happy to get back to work for a rest.