Discussion Starter
·
#1
·
posting this on behalf of Kyle (littletack4)
went bait digging friday pm now that i know how to dig rag properly!!!!(shown by a member of LSAA)with kyle and were trying to decide where to use our freshly dug rag when we met and chatted to another digger called Billy
another LSAA member who mentioned a match saturday night.
i could hear the wheels turning in littletack4's brain:idea: and asked would he rather fish that instead?.........
Please dad and can we join the LSAA(Lochryan Sea Angling Assoc.)
bait stowed in boot and with wellies removed we headed to Erics to get the low down
luckily Davey Goupilot (LSAA secy.) was there and broke down costs so that was it our first match was imminent
the morning and early afternoon was spent as a family at a beach area on the opposite side of lochryan at Lady bay(good wrasse marks just north following the clifftop footpath)
On return home the boys got their act together and set about setting up for comp.
once all organised all that was left was a quick visit to erics for latest info and a wee bit of extra bait......then the adventure part 3 really began
we arrived just before 5:15pm to pay our LSAA subs and register for the match, juniors were allocated firts pick of pegs from bags so as to know which pegs were given a wee bit more space so accompanying adult can fish with them.
PEG 27 ......(supposed to be a decent peg) was drawn by Kyle, he wasn't impressed :schmoll: as it meant a fair walk to get to our alloted peg .
we set up a rod each and had a cast or two to check our set ups and test the grounds
bait box was opened rag , lug, n mackie were available so we both opted for worm baits initially as it was still well light and heard whisper that the dogs dont appear till later for the start at 6:00pm
kyle after a few casts before the HSS caming flying by.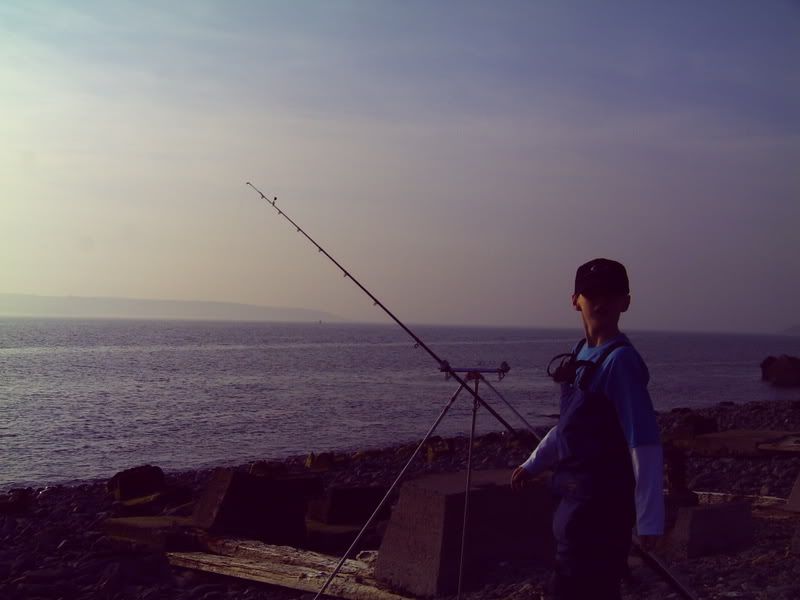 we both were still bightless and i suggested we start to tip our baits with mackeral as brain on next peg (26) had just landed his first doggie which we duly did and i got him into the habit of rebating another trace as soon as his fresh rig was cast and in the water.
still no knocks and i could see him start to get restless, when he came up with a brilliant suggestion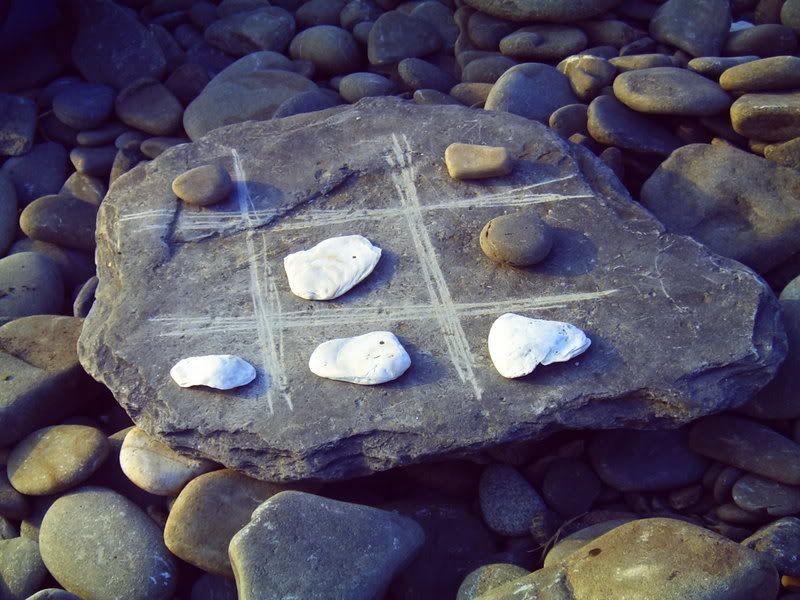 the score started to stack up in his favour from the off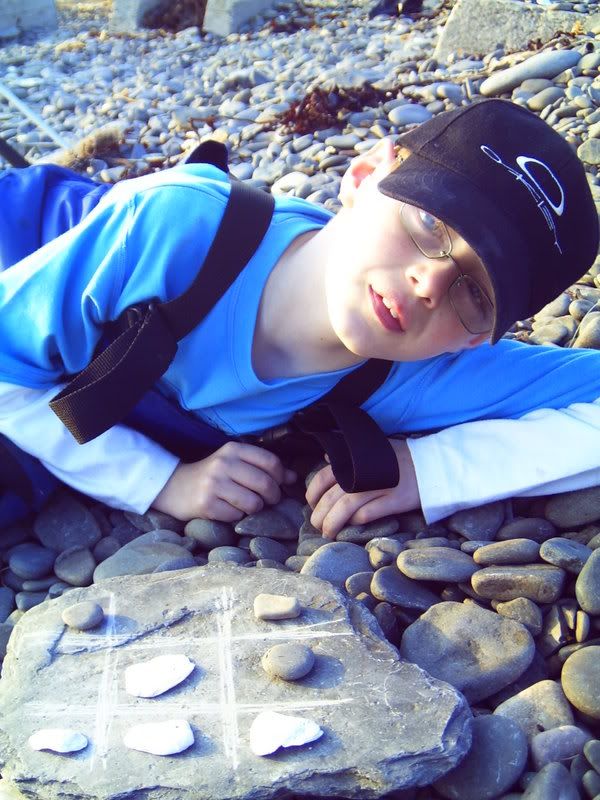 and he also had a clever idea that we watch each others rod as we played this continued for a while the HSS had been and gone as had some other boats and dusk was almost about to fall.
By this time we had both had a couple of knocks to no avail when my rod satrted the unmistakable doggie dance and with all my strenght to be patient finally i set the hook on my firstever competition fish a doogie (that at weigh in turned out to be 1lb 10 oz)
Kyle satrted to look glum again but soon picked up when Brian (peg26) and Miguel (peg 29) both landed doggies and asked before it got dark should we fix on our tip lights?
Good idea Kyle.............I'd left them in the car.
Well says Kyle i ain't getting them. Above in the sky which was all colours of re orange and light sky blue was the first star of the night which i could see Kyle staring at ....
as i returned from the car and having a couple of chats with fellow anglers i was greated by yelps of delight from littletack4 as he was reeliing in his first competition fish also and yup a doggie,
whereas seniors had to keep their fish alive in a bucket Kyle was on measure and release so off we went to find some one to measure
Davey Goupilot duly obliged and and the smile on Kyle's face said it all ,as did his card PEG 27 KYLE KNOTTS FISH . LSD 60cm.
on the way back to our peg he told me " know that star we saw earlier?.... well i made a wish on it and it came true"
bit of a lump in my throat for a few minutes after that remark...
it was unfotunately to be a quite night for the most for us until just before the comp ended at 11:00pm
we were both rebating every 15 mins or so with the makeral tips chaniging to bigger slices and less worm, after a wee scout about Kyle had found out another junior had three fsih and he would need a decent doggie to close the gap..
and low and behold the wee man secured his next doggie with only 15 mins of the comp remaining 2nd LSD measured 63cm
no more fish for me, had missed a couple decent bites as had Kyle but them's the breaks, as the pack up commenced with minutes to go.
Time was called and we once double checking and tidied any of our rubbish up we set off for the weigh-in.
I was no where in the standings but happy to have entered , caught and not blanked and enjoyed a fantastic evening with Kyle.After returning my weighed fish, we were packing our gear away and about to depart when Billy from the digging the night before shouted for Kyle to come back..
He it turns out finished second junior by 3cm but was chuffed to bits and his unexpected prize for 2nd place a £5 voucher for erics shop was a real bonus.
As we walked back to the car (well I did Kyle kinda floated) he was full of thanks for letting us join and come to the match when he pointed out.......
"You know what dad i had a great time but i have realised that in the three fishing adventures we have had this holidays i have beaten you every time.........if you want i could start lesson say at £3 per hour if you want?"
what could i say or do but laugh and give him a big hug from his very proud dad
but you wait boy my time will come!!!