Discussion Starter
•
#1
•
Hello again all, well 5 of us set off from Shrewsbury this week with our hearts set on loosing loads of tackle at an Anglesey rock mark:group:.
So we hit the Island around 2pm and called in to see Malcolm at ABC who had kept me by some ragworm. After a quick chat and a brief description on how to use Azzys newly aquired petrol lamp ( more on this later) we headed up to Llanbadrig.
Well cars were streaming to and from the road to the church and soon the doom saying started "oh its gonna be packed", "oh we are never gonna get there!!!" but I had remembered previous posts and enlightened the group with my knowledge of local welch vineyard based festivals LOL.
We parked up and went to have a reckie of the area and to sea how much of the glorious Anglesey wind was gonna hit us. It quickly became aparant that we were racing 2 other anglers to the spot and I started to worry all the doom saying was gonna be true but fortunatly the two guys were not fishing but just assessing the area. After a brief chat with them ( hello guys if your forum members!!) we got our gear out and started the decent onto the lower rocks. We managed to space ourselves out I decided to start with a single pulley with a size 1/0 baited with last weeks frozen peeler and BANG!!! first cast first fish and the inevitable cry of "FISH ON!!!!!!!!!!!!"
It was only a poor cod but it was a fish
next cast I decided not to waste crabs on poor cod and possibly save them for when the light started to fade so I baited up a full sandeel and sent it out again and BANG!!!!!!!! FISH ON!!!!!! :fishing:
this time a LSD ( you dont need pics of one of them LOL).
This was shortly followed by a shout from azzy with his prized catch only a small one but it was his target and he nailed t in the first 20 mins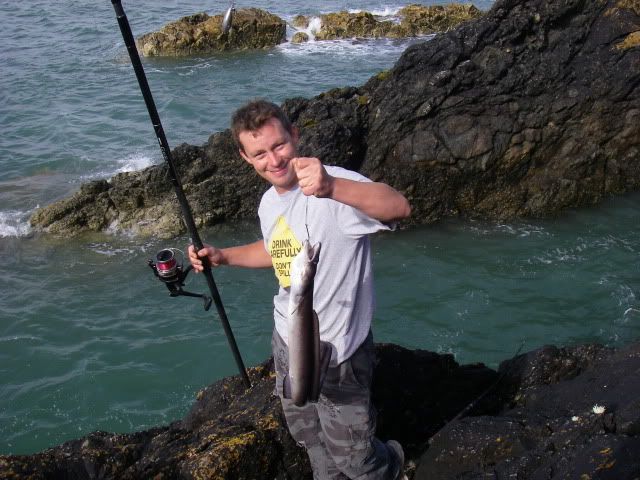 then Azzys better half and son started on the floats taking the odd pollack and blenny, then this fella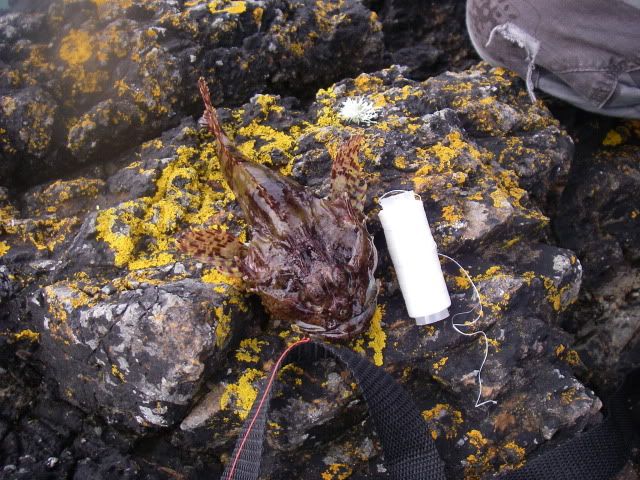 it had some stunning blues and greens on him and the picture didnt do him justice however seeing as I was the only one of the party that knew what it was ( i am right with long spined sea scorpion arnt I lol) I had to un hook the bloody thing and I managed to drop the little bugger into a pool below our feet that looked like a rainwater pool so not wanting to risk the poor fishes life a set about trying to get him out without getting a spine or two LOL and with the help of some nifty forcep work he was safely returned.
species kept tumbling with these all making an appearence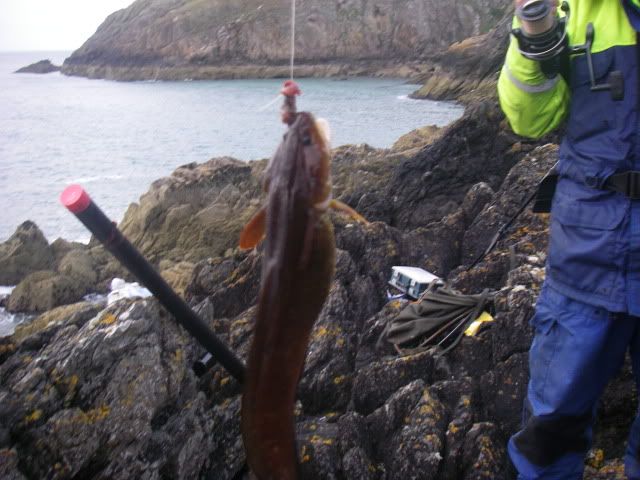 this last one I was forced to take a picture LOL I think the ragworm had it by the throat and my poor camera even struggled to focus
:g:
so we were then treated to a visit from a pair of dolphins no more than 70yds off shore swimming in and out of the lobster pots.
As darkness fell out come azzys new toy and jesus was it bright, I definatly thought he could have been a danger to shipping it was that bright. I tried to get a picture to capture its mighty power but all i got was this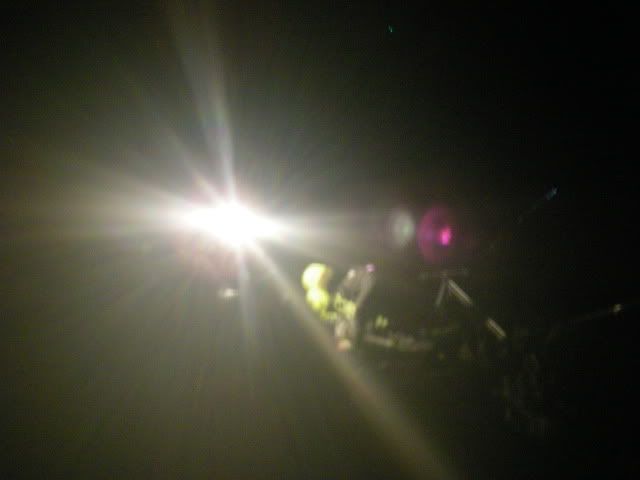 no its not a solar flare thats the bloody lamp :idea:
So as darkness came so did the doggies then another shout from Azzy but this time anguish as I heard a loud splash, now I thought he had fallen in and as my headlamp swang round I could see the sad solemn face of Azzy holding about 5ft of free line in his hand. Now allegedly there was a monster conger on the end that he had attempted to lift up by the main line not knowing its size and it snapped him off but I didnt see it so it never happened LOL!!!!!!
Anyway last knockings and I was rewarded on my Conger rig, baited with double squid, with this fella
again not a monster but my biggest shore caught conger so far.
We had a craking time and definatly have marked this down as one ofthe good marks for us to fish.
I totalled that we had 10 different species including Blenny, Ballen Wrasse, Corkwing Wrasse, Long Spinned Bullhead, Conger Eel, Silver Eel, LSD, Poor Cod and 3 bearded Rockling. A succesful day for the group if I may say so myself.
I look forward to my next trip however not getting in till 5.30am this morning and having to be up at 8.30 am to take the misses to work definaltly has contributed to the delay of and the many spelling mistakes in this report
Tight Lines all
John
Oh and I have finally found the reason why I could not cast my Greys Pz300t and Penn 525 mag and why it has been flaring up on me. I stripped her down Thursday night to find all 4 mags had fallen out there carrier so I had been trying to cast a 525 mag extra with 0 mags LOL a few drops of glue and HEY PRESTO I can cast agin!!!!!!!!!!!