Discussion Starter
·
#1
·
My nephew Scott and myselfe got picked up by Action Jackson at 03.45 and headed round to For William ,got there abot 7ish and took out a wee rod for a couple oh species,rag bait and we soon into small Codling and Whiting then a nice wee Grey Gurnard,it was only just above freezing so we did not stay too long.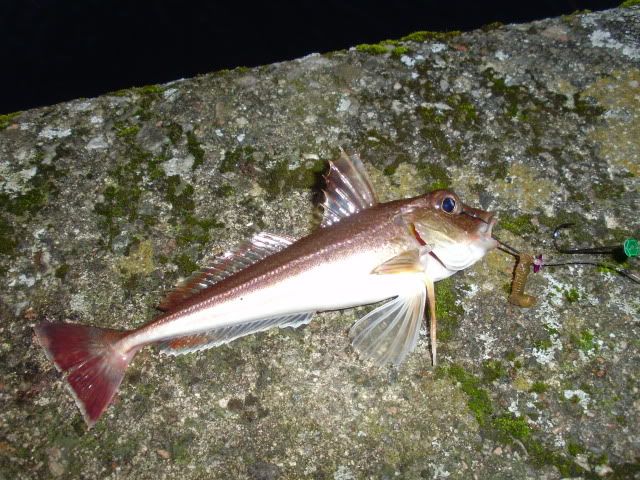 We then headed to LA to meet up with Davy Holt and Linda,got there and were soon out into Wrasse,think Scott was impressed as he was outfishing AJ with Cuckoo and Ballans,great fun and a couple of 2lb Pollack for me and Linda.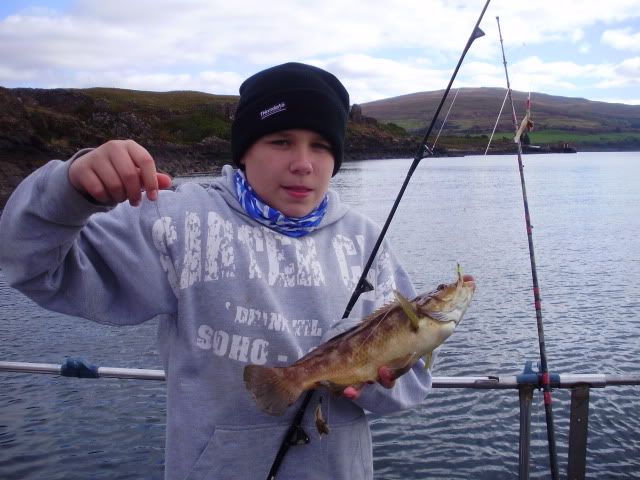 Davy went shooting in the afternoon so we played about on the back of the boat for a wee while catching Coalies and Wrasse for an hour before heading out to the west pier for a couple of hours ,we only took the small rods and bagged up with Ballan,Rockcook and Goldsinny Wrasse,also had a few wee cod and a butterfish.
Went out to get some Mackerel with Davy later on and caught some micro Mackerel along with the usual ones.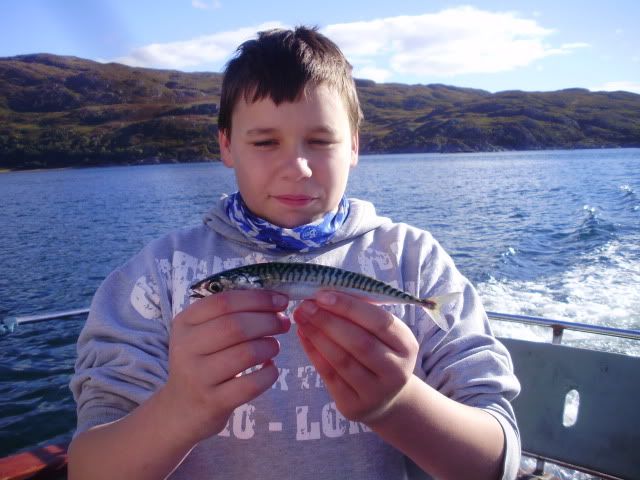 Got in after 6 and Scott fished for wee Wrasse and Coalies for a while till we decided to tent up along side the hotel.
had a couple oh pints and a few games oh pool before calling it a night .
Round to the boat at 6am and after the windscreen had been scrapped on Linda's car it was off to the Firth of Lorne for some REAL fishing:bb:
Started of with three hook set up for BMD's first fish was a LSD then something smaller "At last i thought it was my BMD but no a Spurrie pup then another and some more dogs ,AJ and Scott were getting a few dogs as well Then a fairly aggresive take and the rod bent into what i thought was a decent spur a few minutes later it was just at the surface when Davy let out a YESSSSSS ,there it was my first Black Mouthed Dogfish it was quickly unhooked and put in a mesh bag and put over the side till we got the camera ready ,a few back slaps and hugs (from Linda) and it was photo time after a few snaps it was weighed ...2lb 3oz before it was gently released back to the depths.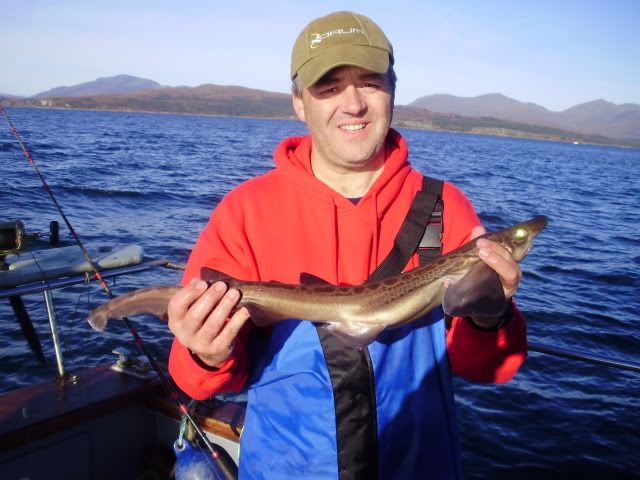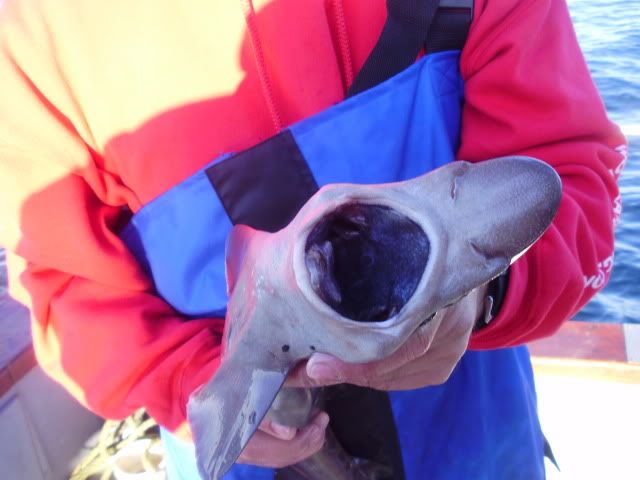 One very happy angler and Skipper and crew :clap2::fishing::yahoo:
We had a few more dogs then the Skate rod folded over and Davy was no time in pulling in a nice 110lb male skate,have to say that the poor chap had been threw the wars with some horrible Gaff scars in its wings and a few leaches over it and a stumpy tail ,it was quickle returned,Not long after the other rod went and Linda pulled in a very nice 100lb female in nice condition again quickly released.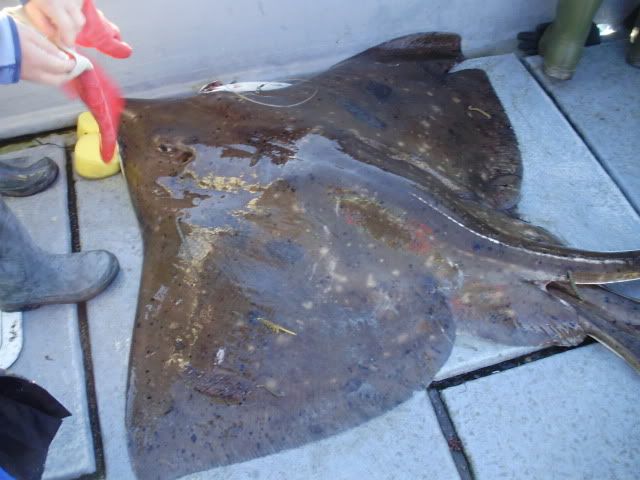 Went in to Lady's Rock to try for Pollack but bright sunshine did not help and only one Coalie and a small Pollack were caught,so off to try for Tope further up ,rods out chum bag on anchor rope and we waited for a couple of hours with little interest apart from the odd doggie ,so time to head in and pack the car up.
On the way in it was all to much for AJ so poor auld man zonked oot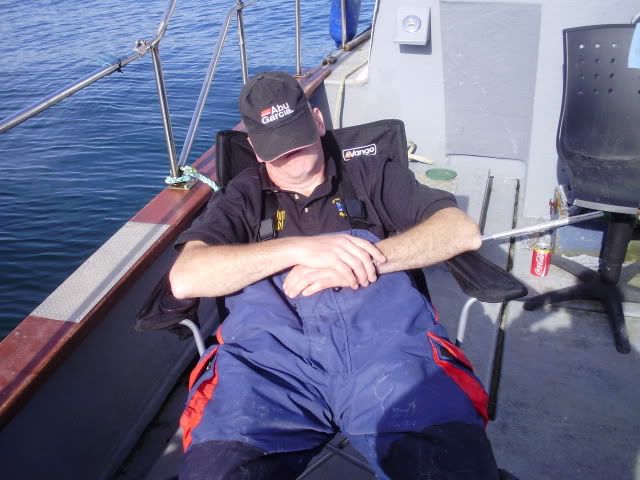 Got back in and after eventually getting Scott to put down Davy's wee rod after catching coalies off the stern it was a tired but very happy young lad that slept most of the way home.
A massive thankx to Davy and Linda for a brilliant weekends fishing and one we will all remember for a long time ,the weather was great all weekend with calm seas and sunshine on both days,
Think the tally for the weekend was 19 species