Discussion Starter
·
#1
·
after leaving edinburgh on thursday night with an overnight stay in oslo we arrived in alta to be greeted with clear blue skies and 20c, a bit breeze and no taxi waiting for us..
a quick call to ian peacock, a bit to-ing and fro-ing and eventually a mini bus pulled up driven by the norwegian rod stewart going by his haircut, a change of driver and a refuel and we were off to oksfjord to miss the ferry by 20 minutes.
we were met by the transport guy who was totally honest and had forgotten to write our trip in the diary, as we had 4 hours til the next ferry he took us to the oksfjord village fair and we were watered and fed with a bowl of reindeer soup and a cold can of arctic beer.
while we were waiting on the ferry davey and liam decided to have a fish from the wharf catching coalies, codling and (a surprise for me) some big mackerel.
on arrival at sandland at 9pm we were met by steinar our host and shown to our digs then on to the boat, it was sunset at approx 9.30pm but still a bit of light around but the fjord was bumpy with the s/e wind whistling through it.
back at the digs the lads were milling around getting settled, unpacking etc when i appeared in the living room with my waterproof strides on, my boat boots on and my fishing smock with 2 rods in my hand, they thought i was winding them up "who's going fishing?"
we left the pontoon at 9.45 and headed out, luckily it was pretty dark and i couldn't see the waves, we headed over to the far side on the fjord behind a wee curve in the shore and started fishing, not great, one nice haddock for supper and we ended with a hairy ride back to sandland in the dark coming in at 1pm in the pitch dark, next morning the adventure began properly...
this trip was arranged by me for my son's 21st birthday and it will be a birthday present he'll never forget...
oksfjord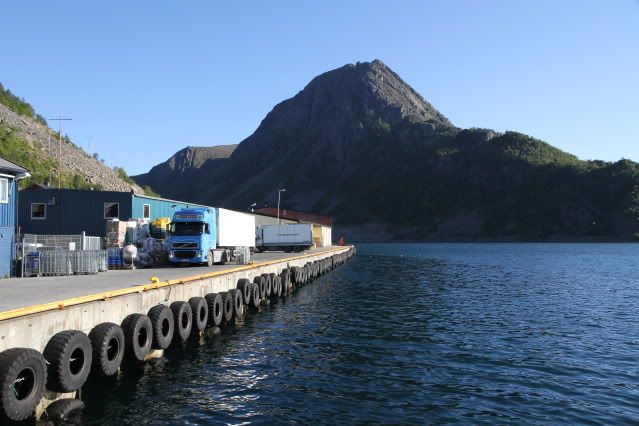 liams first cod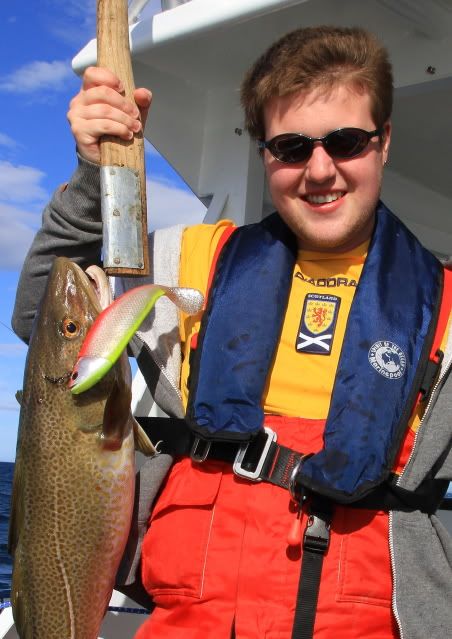 liam's second halibut, don't ask about the first...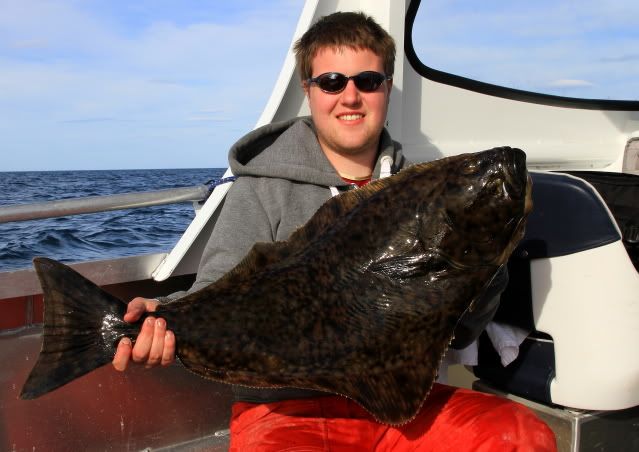 another cod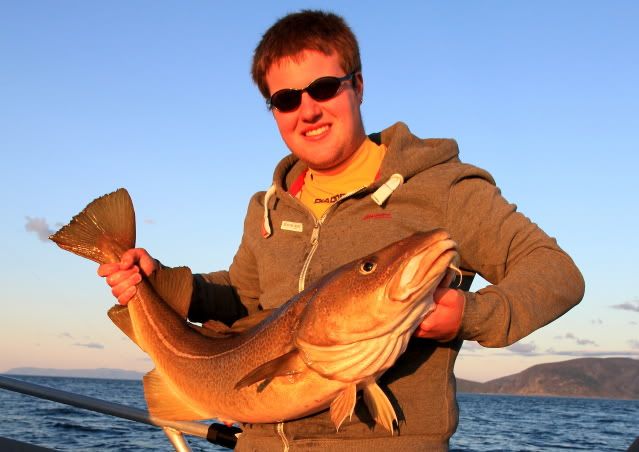 while fishing for haddock for the dinner he was winding up a small fish which was hit in midwater and taken straight back to the bottom, halibut we thought, no no.... a 43lb cod...taken on a 12lb class kenzaki...
his first catfish
and his second biggest cod @ 38lb which took a small tusk which had taken his pirk and was hit on the way up...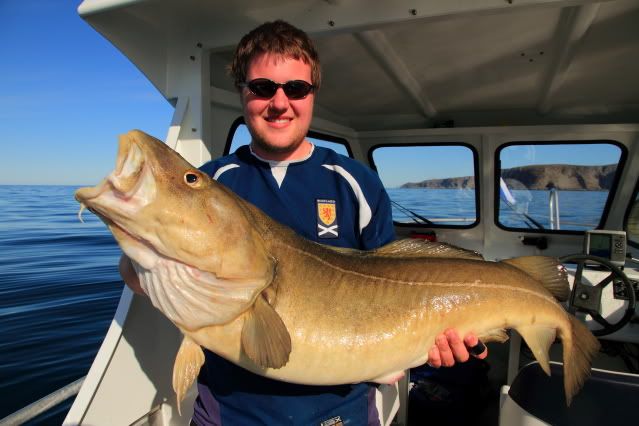 heeeeeelp meeeee!!