Discussion Starter
·
#1
·
I was on holiday this week and had planned to go down monday and tuesday for a couple of days with my mate Brian but he pulled out due to work so I headed off myself,(The Lonely Fisherman) got to my mark about 11A.M. and wolfed down a couple of sandwiches. It's funny how you never lose that excitement when you go fishing like one half of me was eating a sandwich and the other half was already on the rocks fishing. I headed to my spot and tried out my new 60 gram Koster spinner just travelling light and trying different spots, after about a half dozen casts I was into a fish,felt like a pollack but it got off so after a few more casts I headed to another mark. Although it was nice and sunny it was Quite windy and there was a big swell.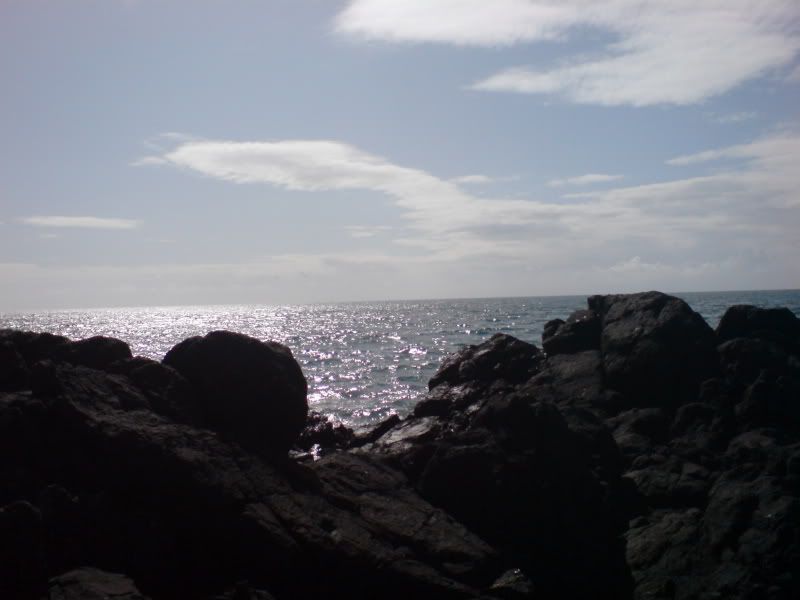 This photo dosen't do it justice, but the waves were coming right over that part and soaking me and I had just caught a big pollack on my first cast with my new koster and lost it on the rocks. I had afew more takes on my Dexter, knocks all the time on the jellies, the fish were following it right up to the surface then diving away. I was enjoying myself anyway, I eventually caught one about 1lb & a half and back it went. I headed back to camp, trying a few spots on the way with no success so pitched the tent and had some dinner and a few winks then got up and fished the night tide on the beach with lug that i brought with me and sandeel that someone gave me there. Well it was a great night weather wise as the stars where out in full swing, shooting stars, and you could see the milkyway right across the sky. A couple of cans of beer and four crabs caught for a night session saw me retire about 6A.M. after a couple of burgers cooked on the stove. I woke about 10.30 A.M. and headed off to my usual marks. Weather was as the day before, sunny and maybe a bit windier. Well nothing on the first mark but on the second I was right in first cast to a nice pollack but lost it again on surface. Then changed to jellies and hooked up right away with this wee fella.
He went straight back and I decided to move down to the rocks a bit as the sea was getting a bit mental. When I was fishing at this spot I noticed something long and grey swimming past the rocks right at my feet, at first I thought it was a huge Tope or conger, then when I looked closer I could see it was a shoal of sea Bass all swimming in a line, It was nice to see.I wasn't having much luck so decided to change to floated sandeel and got 4 pollack on the trot. I only had about a half dozen left and ran out of bait just as things were getting really good.
This guy put up a good fight so had to put him in this recovery pool until he came round. I headed back to camp about 6 P.M. and done the same as the night before only difference was the weather when I woke up at 00.30 for the night tide It was chucking it down and blowing a hoolie so went back to sleep and woke at 06.30A.m. to rain and wind, so headed for home. All in all a most enjoyable 2 days losing more fish than I caught but loved every minute of it.
Cheers,
Davy.