In defence of roofer32 i have seen flatfish photographed and incorrectly identified on this site ive also heard many small flatfish given the name "dab" especially when caught far up estuaries that are clearly flounders and several spotted flounders called plaice. Recently ive had reddy /orange spotted flounders and yellow/red spotted big dabs both of thes could easily be misidentified .The easiest way ive used to explain differences is that flounders have solid white bellies ,plaice are slightly more oval but you can see through the whiteness on there belly they are slightly opaque,dabs when stroked on there back from tail to head have a roughness whereas the flounder and plaice are smooth either way .Please feel free to add to this but its worked for me for 33 years
Just to complicate matters.......!!
The top fish in the picture is obviously a plaice.....the bottom fish looks like a flounder but like midas says has the oval shape of a plaice.....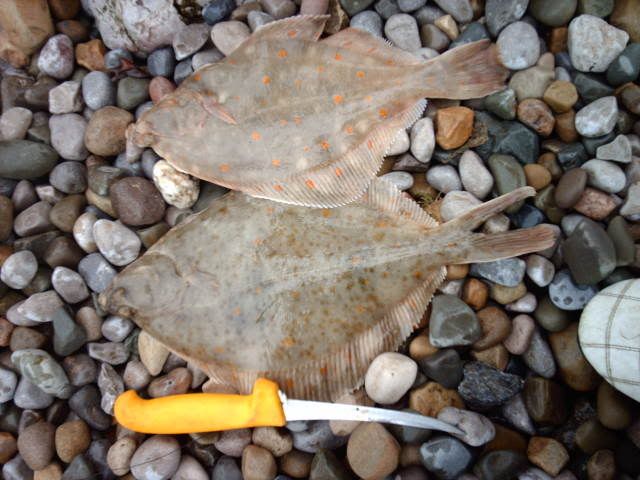 Turn them over and I wasn't so sure......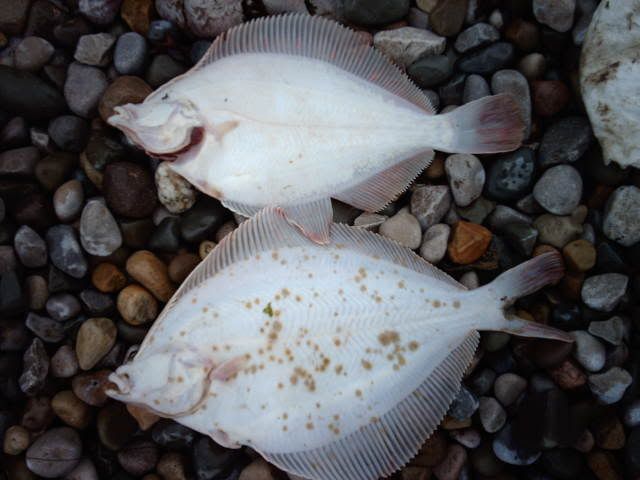 I emailed Dr Mike Ladle with the pics and he suggested that it was possible for plaice and flounder to hybridise i.e. interbreed but it wasn't scientifically proven I don't think:g:
He also said it could be proven by tissue samples from the fish........too late I'd already eaten them!!
And they both tasted the same......of plaice:g: